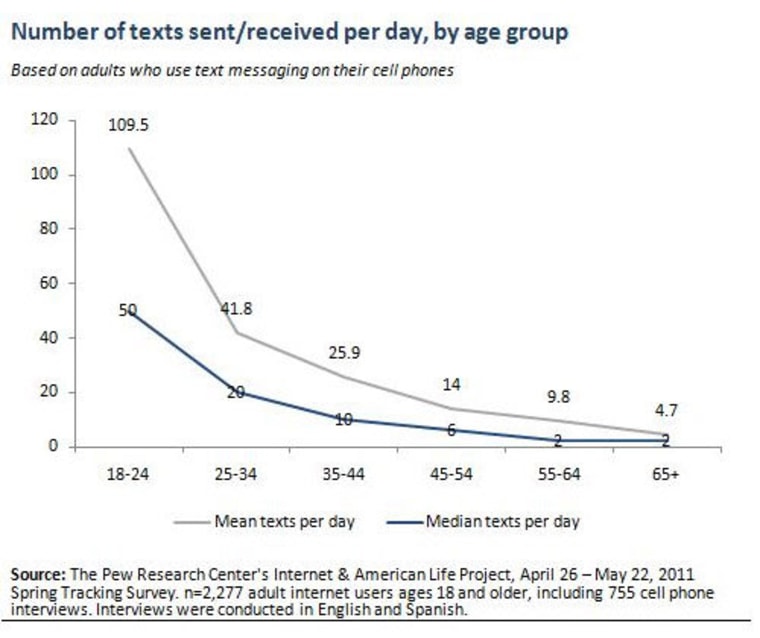 Cellphone users between ages of 18 and 24 send and receive an average of 109.5 text messages on a "normal" day, or more than 3,200 texts a month, according to a new report.
And a small number of them — 12 percent — say they do almost double that kind of texting traffic, exchanging more than 200 messages on an average day, or 6,000 a month, according to the Pew Research Center's Internet & American Life Project report, "Americans and Text Messaging," released Monday.
Another 23 percent say they send or receive more than 100 texts a day. In contrast, among all American cellphone owners, users exchange an average of 41.5 messages on a typical day, with the "median user sending or receiving 10 texts daily."
Those who are deep into text messaging also prefer getting a text over a phone call as a way to communicate.
"Heavy text users are much more likely to prefer texting to talking. Some 55 percent of those who exchange more than 50 messages a day say they would rather get a text than a voice call," Pew said in the report.
Among the other findings:
"Along with taking photos, text messaging is the most common non-voice application Americans use on their mobile phones."
"Overall, text messaging leveled off between 2010 and 2011, even as users send or receive more than 40 texts per day on average."
Cell owners make or receive an average of 12.3 voice calls per day, with the median cell user engaging in five voice calls — "both of these are largely unchanged from what we found in our May 2010 survey," Pew says. "Voice calling remains extremely common overall, as just 4 percent of cell owners say that they make or receive no voice calls on an average day. By comparison 27 percent of cell owners do not use text messaging, even on occasion."
"When asked how they prefer to be contacted if someone needs to reach them on their cell phone, a majority of cell owners (53 percent) say that they prefer a voice call, compared with 31 percent who say that they prefer to be contacted via text message. An additional 14 percent say that the contact method they prefer depends on the situation."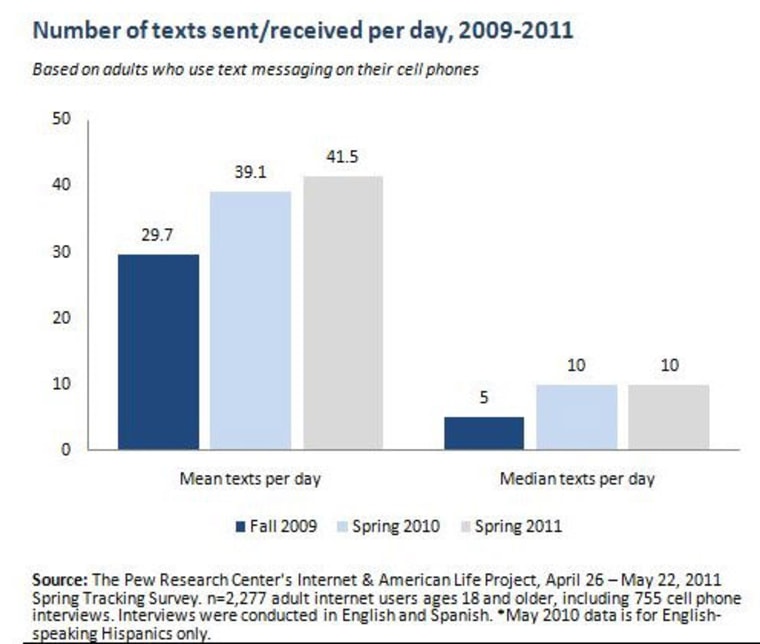 Pew's results are from a nationally representative phone survey of 2,277 adults ages 18 and older that was done April 26 to May 22, including 755 cell phone interviews. The margin of error is +/-2.3 percentage points, while the margin of error for cell phone users is +/-2.7 percentage points.
While those 18 to 24 are texting more than older Americans, there's still another group that has them beat: 13- to 17-year-olds, who on average send and receive 3,339 text messages a month.
Related stories:
Check out Technolog, Gadgetbox, Digital Life and In-Game on Facebook, and on Twitter, follow Suzanne Choney.