NAIROBI, Kenya -- As workers continued to sift through the debris of Kenya's ruined Westgate Mall Friday, the country's Red Cross told NBC News that 18 people believed to have been inside during an attack two weeks ago are still missing.
Members of the Kenyan defense forces have been painstakingly searching through the rubble of the destroyed luxury shopping center since Islamists killed at least 67 people in a four-day-long raid there.
International forensic experts from the FBI, Canada, the U.K. and Germany are helping to identify human remains. 
On Monday, searchers found the bodies of two soldiers, along with eight different body parts. Peter Outa, a spokesman for the Red Cross, told NBC News that the organization was prepared to provide support to any families affected.   
"We are on stand-by in case people need support," Outa said. "Of course this is very upsetting for everyone involved, so we will do the best we can."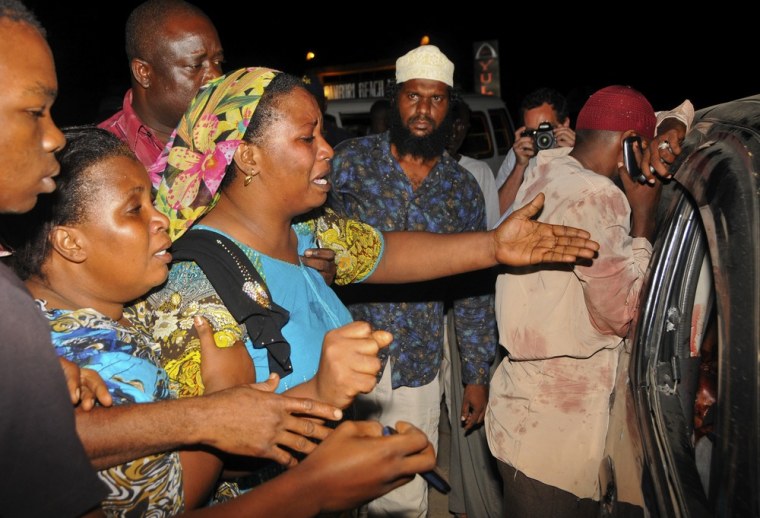 Security forces continued to hunt for members of al Shabaab, the Somalia-based militant group and offshoot of al Qaeda, which claimed responsibility for the massacre.
Kenyan authorities are also searching for the killer of a popular Muslim cleric who was gunned down in a car with four other men in the port city of Mombasa late Thursday.  
Close associates of Sheikh Ibrahim Omar, who preached at a mosque linked in the past to Somali Islamist militants, told Reuters he was the latest victim in a string of extra-judicial killings of Muslims by Kenyan security forces, an allegation strongly denied by the police.
"The police have nothing to do with the shooting. That's not how we operate," Mombasa County Police Commander Robert Kitur told reporters. One of the five men in the car had survived, he added.
Meanwhile, a group of Kenyan politicians demanded Friday that any soldier found guilty of looting stores following the massacre and siege be punished by up to 10 years in prison, local media reported. 
Reuters contributed to this report. Henry Austin reported from London. 
Related: