More environmental activists were killed around the world than in any other year on record, human rights advocates said Monday in denouncing what they called "the criminalization of protest."
The British organization Global Witness said 50 of the 185 environmentalists whose deaths it documented in 2015 were killed just in Brazil, where the Summer Olympic Games get under way in August.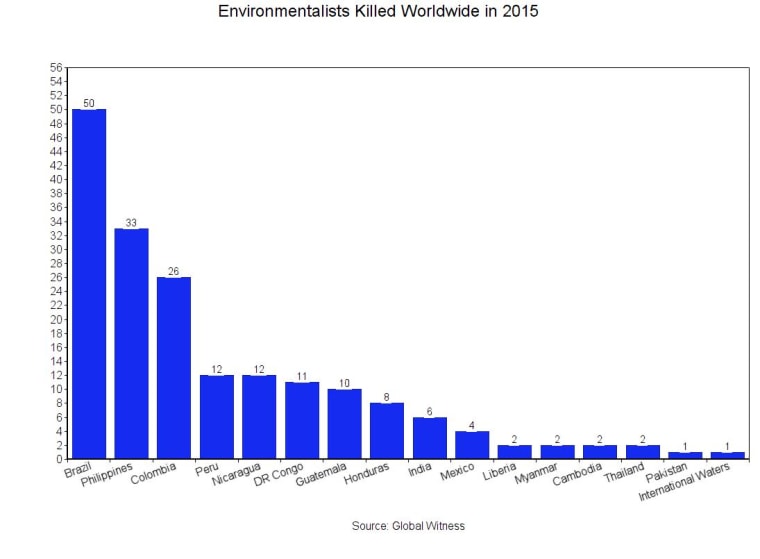 The group said the real death toll is likely higher because much of the violence against environmentalists occurs in remote areas in underdeveloped and developing nations.
"Across the world industry is pushing ever deeper into new territory, driven by consumer demand for products like timber, minerals and palm oil," it said. "Increasingly communities that take a stand are finding themselves in the firing line of companies' private security, state forces and a thriving market for contract killers."
The numbers don't include the killing of Goldman Environmental Prize winner Berta Cáceres, who was shot to death in her home in Honduras in March. Cáceres' killing has drawn recent attention to the danger activists say they face around the globe as they try to protect the world's resources and natural wonders.
Related: Gunmen Kill Honduran Indigenous Environmentalist Leader Berta Cáceres
Three of the four men suspected in Cáceres' death worked for a hydroelectric project she opposed, Honduran authorities said in May.
More than half of the killings in 2015 were in just three countries: Brazil (50), the Philippines (33) and Colombia (26), Global Witness reported.
It said activists in Brazil are targeted ranchers, agricultural plantation owners and illegal loggers, while Philippine and Colombian activists are threatened by large agribusiness corporations supported by police and paramilitary groups.
"Rapacious companies, many of them from the mining or agribusiness sectors, are encroaching more and more onto indigenous land rich in untapped natural resources. Until recently these remote areas may have been out of reach but, as commodity prices fall, companies are taking greater risks to secure larger profits," according to Global Witness.
The group blamed "collusion" between government and corporate interests for protecting killers, saying it documented 51 deaths last year that were tied to military, paramilitary, police or private security forces — more than a quarter of all killings.
"While impunity prevails, the criminalization of protest is on the rise," it said.
Global Witness called on governments to increase protection for land and environmental activists, investigate crimes against them, support opposition to unwanted projects and formally recognize "communities' rights to their land."
"This is a rapidly growing crisis that is showing no signs of abating," Global Witness said. "Our warming climate and growing population mean that pressures on land and natural resources are set to increase, which means that without urgent intervention the numbers of deaths we're seeing now will be dwarfed by those in the future."