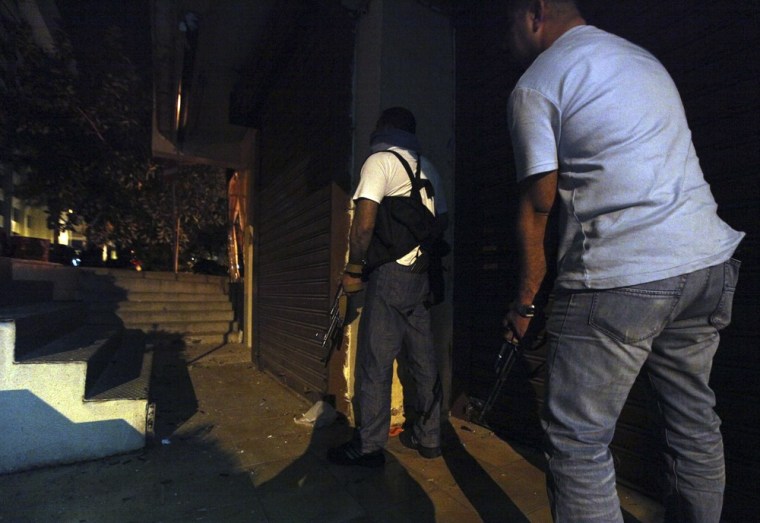 BEIRUT -- Gunmen fired rocket-propelled grenades and machine guns early Monday in intense street battles in the Lebanese capital, killing at least two people and wounding 18 others as fears mounted that the conflict in neighboring Syria was bleeding across the border.
The clashes in Beirut's Tariq al-Jadideh district were some of the fiercest since sectarian fighting four years ago brought Lebanon back to the brink of civil war.
Lebanon and Syria share a complex web of political and sectarian ties and rivalries, which are easily inflamed. Last week, clashes sparked by the Syrian crisis killed at least eight people and wounded dozens in the northern city of Tripoli.
The revolt in Syria began 15 months ago, and there are fears the unrest will lead to a regional conflagration that could draw in neighboring countries. The U.N. estimates the conflict has killed more than 9,000 people since March 2011.
The violence in Beirut followed the killing of two members of a political alliance opposed to Syrian President Bashar Assad on Sunday in the north of the country.
Residents in the northern region of Akkar blocked roads and burned tires to protest against the killing and demonstrations spread south to the main coastal highway and to Beirut, where several roads were cut off.
Report: Car bomb kills 9, wounds 100 in Syria
A Reuters cameraman in Tariq al-Jadideh said shooting could be heard for almost seven hours overnight.
Security sources said the fighting pitted gunmen from the Future Movement, loyal to anti-Syrian former Prime Minister Saad al-Hariri, against the pro-Syrian Arab Movement Party headed by Shaker Barjawi.
The state news agency said two people were killed and 18 wounded.
Fragile political faultline 
The fighting underscores how the bloodshed in Syria, where Assad's regime is cracking down on an uprising against his rule, is inflaming emotions in its tiny neighbor Lebanon. Lebanon has a fragile political faultline precisely over the issue of Syria.
There is an array of die-hard pro-Syrian Lebanese parties and politicians, as well as support for the regime on the street level. There is an equally deep hatred of Assad among other Lebanese who fear Damascus is still calling the shots here. The two sides are the legacy of Syria's virtual rule over Lebanon from 1976 to 2005 and its continued influence since.
Inside Syrian rebel stronghold: 'The city is on mute'
The fighting was the among the most intense fighting in Beirut since May 2008, when gunmen from the Shiite Hezbollah militant group swept through Sunni neighborhoods after the pro-Western government tried to dismantle the group's telecommunications network.
More than 80 people were killed in the 2008 violence, pushing the country to the brink of civil war.
There was no sign that Hezbollah was involved in the latest violence.
'Critical period'
Many of Lebanon's Sunni Muslims sympathize with Syria's Sunni-led uprising against Assad, whose father sent forces into Lebanon during its 1975-1990 civil war. The Syrian army finally pulled out in 2005 under international pressure.
A message to Assad? War games held near Syrian border
Prime Minister Najib Mikati said on Sunday: "The government is determined to continue to shoulder its national responsibilities amid this critical period in Lebanon and the region, and it will take all measures necessary to preserve civil peace."
World powers remain divided on how to end Syria's crisis. The U.S. and other Western and Arab nations have called for Assad to leave power, and the U.S. and European Union have placed increasingly stiff sanctions on Damascus. But with Russia and China blocking significant new U.N. punishments, U.S. officials are trying to get consensus among other allies about ways to promote Assad's ouster.
Reuters and The Associated Press contributed to this report.
More world news from msnbc.com and NBC News:
Follow us on Twitter: @msnbc_world