TEL AVIV, Israel — Two people were killed and at least 15 others were wounded Thursday night in a shooting at a bar in Tel Aviv, authorities said.
A person called a terrorist who is thought to have carried out the attack was later found and killed in an exchange of gunfire with police forces, Israel's internal security service Shin Bet said.
The dead man was identified as Raed Hazem, 28, of Jenin. Shin Bet said he was killed after being found near a mosque in Jaffa.
The shooting at the bar occurred shortly after 9 p.m., Tel Aviv police said. The bar is in a busy restaurant and nightlife district in central Tel Aviv.
Israel's national emergency services, Magen David Adom, transported two men to Ichilov Hospital, where they were pronounced dead.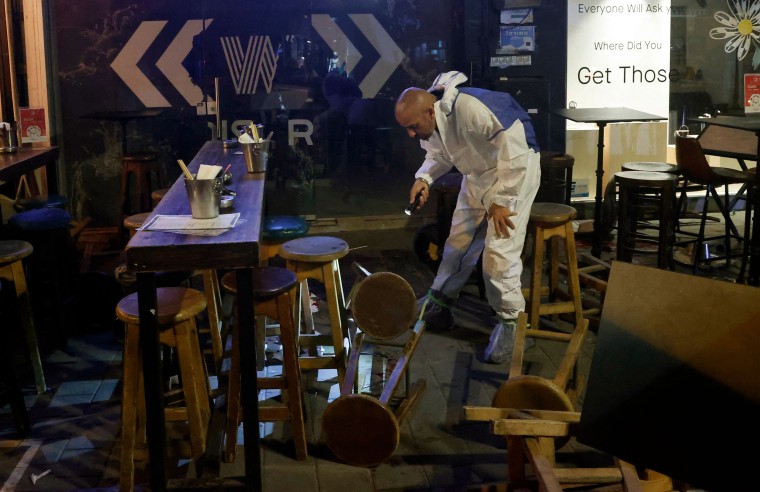 Three other people — a 20-year-old man, a 28-year-old woman and a 38-year-old man — were taken to Ichilov Hospital for gunshot wounds and were in serious condition.
Two people were taken to Wolfson Hospital with non-gunshot-related injuries, Magen David Adom said.
Prime Minister Naftali Bennett called it "a very difficult night," and expressed condolences to the families of those killed and to those who were wounded.
Bennett planned to hold an assessment with defense and security officials Friday morning, the prime minister's office said.
Israel's security service said that Hazem, who it said carried out the attack, has no past security issues or arrests, and no known affiliation with any organizations. The investigation into the attack continued Friday, it said.
Police said earlier there were "indications" it was a terrorist attack — the fourth deadly assault in Israel in less than three weeks at a time of heightened Israeli-Palestinian tensions. The militant group Hamas, which rules the Gaza Strip, praised the attack but did not claim responsibility.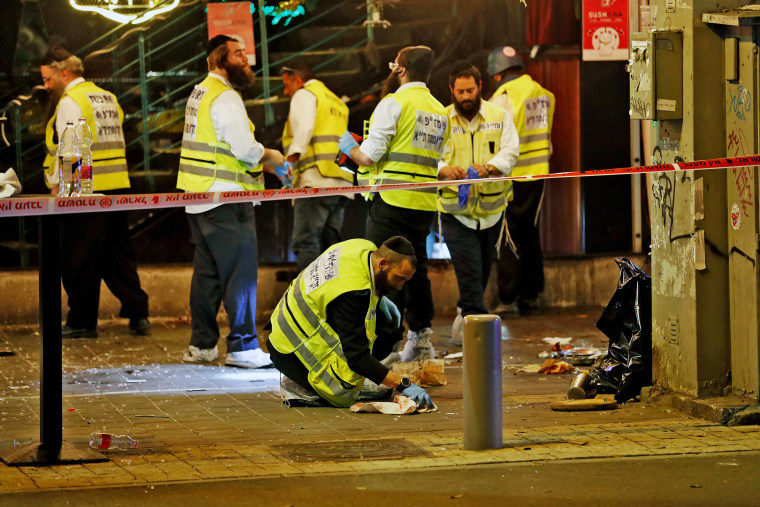 On March 29, a 27-year-old Palestinian from the West Bank methodically gunned down people in the city of Bnei Brak, killing five. Two days earlier, a shooting attack by two Islamic State sympathizers in the city of Hadera killed two police officers.
The week before, an ISIS sympathizer killed four people in a car-ramming and stabbing attack in the southern city of Beersheba. The Hadera and Beersheba attacks were carried out by Palestinian citizens of Israel.
Paul Goldman reported from Tel Aviv, Israel. Doha Madani reported from New York City.