Cutting down the shortlist for the Nobel Peace Prize may just be just as difficult as determining who ultimately deserves the prestigious honor.
That's because this year's finalist will be picked from a record 376 nominees — the highest number ever submitted in a single year, according to the Norwegian Nobel Committee, which has been bestowing the peacemaker medal since 1901.
The winning individual or group will be announced at 5 a.m. ET Friday from Oslo, Norway.
Last year's honoree surprised many: A coalition of four organizations known as the National Dialogue Quartet in Tunisia were cited for helping to build a democracy in the North African nation destabilized by revolution, including the seeds of the Arab Spring in 2011. The quartet claimed the prize over more well-known names.
The Nobel Committee doesn't release much information beforehand but, as a helpful guide, the unaffiliated Peace Research Institute Oslo releases its own list of potential winners.
Major world events — such as the European migrant crisis and the Syrian civil war — will likely once again shape the Nobel Committee's decision, said PRIO director Kristian Berg Harpviken.
"The challenge is to find a worthy candidate, preferably one that will also be an efficient ambassador for the prize," Harpviken told NBC News.
Here are this year's likely front-runners, according to his group:
Svetlana Gannushkina
The Russian mathematician has previously been floated as a Nobel favorite.
As a human rights activist, Gannushkina became a prominent voice in the Nagorno-Karabakh conflict of the 1980s, in which she advocated for freeing hundreds of Azerbaijani and Armenian prisoners of war.
Last year, she criticized the Kremlin for sowing "mistrust" between the Russian people and the government, as well as of foreign nongovernmental organizations operating in the country.
Gannushkina has "a long record as an advocate for human rights, democracy and historical reconciliation in Russia and its neighborhood," Harpviken said, "and a prize to her would also draw attention to the worrying political developments taking place under President Putin."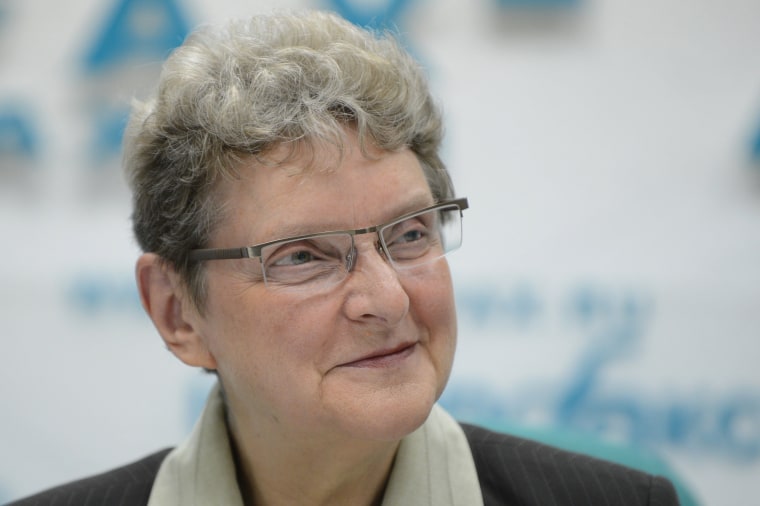 Ernest Moniz and Ali Akbar Salehi
Moniz, the U.S. energy secretary, and Salehi, the head of the Atomic Energy Organization of Iran, were key players in hammering out the nuclear deal between Iran and the West.
President Barack Obama and Iranian President Hassan Rouhani praised the agreement, and earlier this year, a historic moment occurred when international sanctions on Iran were lifted after the United Nations declared Tehran fulfilled its commitment to scale back its nuclear program.
"Peace agreements are always prime candidates, yet no peace treaty has been awarded the prize since 1998, when John Hume and David Trimble were rewarded for their efforts to bring peace to Northern Ireland," Harpviken said.
This fragile deal is important, he added, because it "prevents the escalation into violence and promotes nuclear disarmament" — a foundation for peace.
The White Helmets
The Syrian Civil Defense, a volunteer corps of first responders known for wearing white helmets, were recognized last month with the Right to Livelihood Award after reportedly rescuing more than 60,000 lives since the country erupted into a civil war in 2011.
The award is often referred to as the "Alternative Nobel Prize." (Gannushkina was named a co-recipient this year as well.) Organizers cited the White Helmets' "deep commitment to humanitarian action" for drawing attention to the plight caused by the ongoing airstrikes.
The group was also featured in a namesake Netflix documentary released in September and were hailed for helping a 5-year-old boy covered in dust and blood in a now-iconic image from the war.
Edward Snowden
The former NSA whistleblower remains a divisive figure after leaking a trove of classified U.S. security information in 2013.
Snowden's supporters have described him as a patriot who helped shed light on government spying and asked Obama last month to pardon him. But a blistering House intelligence committee report condemned him, saying the "public narrative popularized by Snowden and his allies is rife with falsehoods, exaggerations, and crucial omissions."
A year ago this month, the EU parliament passed a vote where it called on its members to "drop any criminal charges" against Snowden "in recognition of his status as a whistle-blower and international human rights defender."
Snowden has remained in exile in Russia as he faces espionage charges in the U.S.
Jeanne Nacatche Banyere, Jeannette Kahindo Bindu and Dr. Denis Mukwege
The three are known for their work in the Congo, which was plunged into two major wars after millions of refugees fled a genocide in neighboring Rwanda in 1994. Banyere and Bindu helped create "listening houses" for women who were the victims of sexual violence.
Mukwege, a gynecologist, founded the Panzi Hospital, which has reportedly helped more than 30,000 women raped at the hands of armed gangs. He spent two months in exile in 2012 after he was nearly assassinated, The New York Times reported.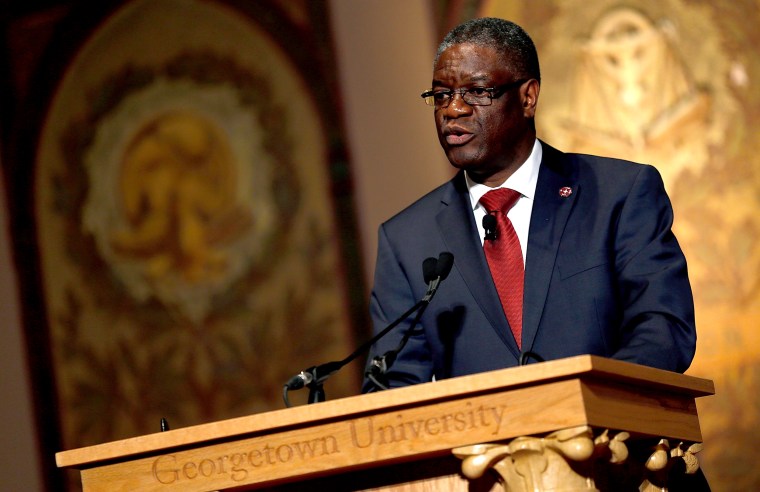 Other Possible Contenders
German Chancellor Angela Merkel: She has been lauded for her handling of the refugee crisis in Europe by permitting in migrants last year, although she has since suffered intense political backlash.
Pope Francis: As leader of the world's 1.2 billion Roman Catholics, Francis remains an outspoken advocate for peace amid global conflicts. But no pontiff has ever won the Peace Prize.
Greek islanders: The nation has been ground zero for the influx of migrants pouring in from North Africa and the Middle East across the Mediterranean. The islanders have been credited for their compassion and humanity as the flood of migrants wash ashore — some already dead.

Article 9 Association: These are people who have supported Japan's peace-oriented Constitution and have argued against loosening the document's clause against no war.

Novaya Gazeta: The Russian newspaper has operated under pressure from the government and was started using Nobel Peace Prize money that former Soviet leader Mikhail Gorbachev got in 1990.

Juan Manuel Santos and Timochenko: Santos, the Colombian president, and Timochenko, the leader of the FARC rebel group, were seen as shoo-ins for the Peace Prize short list after reaching a peace deal. But Colombian voters' rejection of that deal this month has sunk their chances of winning, observers say.