MOSCOW — The pilots of a passenger jet that made an emergency landing in a cornfield outside of a Moscow airport on Thursday are being hailed as heroes by Russian officials.
There were no fatalities, but 55 people, including 17 children, were injured, Russian emergency officials said. Six adults and one child were hospitalized.
Officials said The Ural Airlines A321 carrying 226 passengers and a crew of seven collided with a flock of birds while taking off Thursday from Moscow's Zhukovsky airport.
The pilots made an emergency landing in a field about a half-mile from the airport with their landing gear retracted and both engines turned off, Russia's Federal Air Transport Agency said on Thursday.
The pilots are being praised for their efforts by Russian officials, celebrities and the general public.
Footage from the scene showed the flight commander directing the passengers to walk away from the plane across the cornfield.
"The landing was good. The pilots did a good job, they landed the plane softly on its belly," one female passenger told Russian news website Meduza.
"I was sitting in the fifth row," another passenger, Svetlana Babina, told Russian state news agency TASS. "Passengers quickly realized that there would be an emergency landing. The plane descended smoothly. As far as I can tell, no one received serious injuries. After the plane landed, everyone applauded the pilots."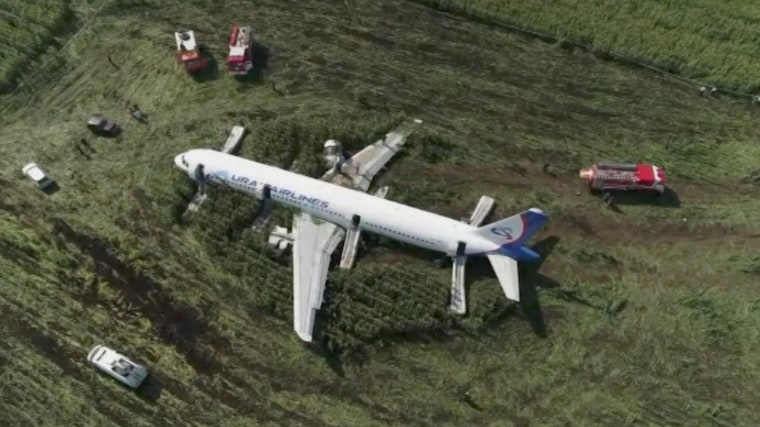 Prime Minister Dmitry Medvedev has asked that the two pilots be bestowed state honors for their professionalism.
"Obviously, the actions of the crew deserve the highest praise," Interfax news agency quoted Medvedev as saying.
"We congratulate the hero pilots who saved people's lives," Kremlin spokesman Dmitry Peskov also said earlier.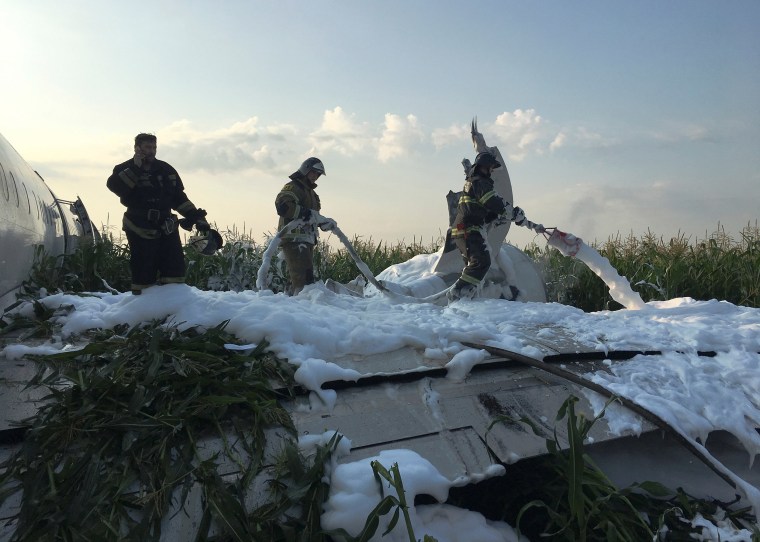 State television said the maneuver was being dubbed the "miracle over Ramensk", a reference to the district of Moscow region where the plane came down more than one kilometer (0.62 miles) from the airport.
Thursday's accident drew comparisons to the 2009 accident involving U.S. Airways Flight 1549, in which Captain Chesley Sullenberger safely landed the plane with 150 passengers on board on the Hudson River after striking a flock of birds.
Safety concerns have plagued Russia's airline industry since the 1991 collapse of the Soviet Union, though standards are widely recognized to have improved in recent years.