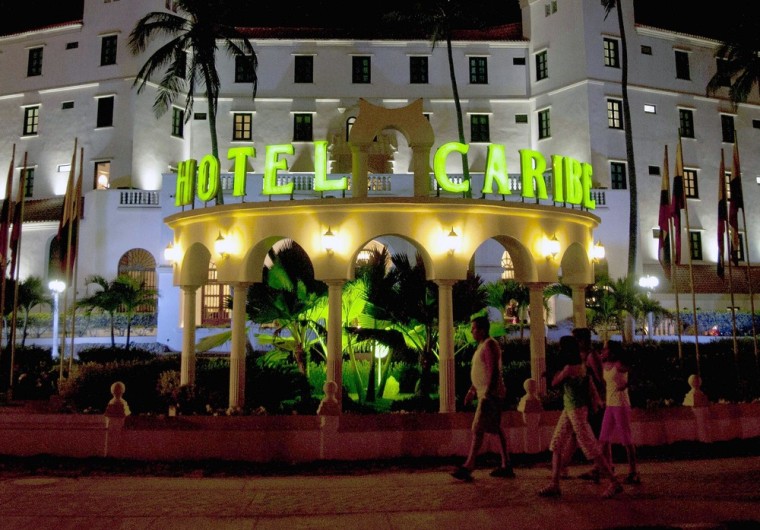 Updated at 6:28 p.m. ET: Three more Secret Service employees are being forced out and two others cleared of serious misconduct in the Colombia prostitution scandal that has tarnished the image of the agency.
In a written statement Tuesday, Assistant Director Pail S. Morrissey announced that the five remaining cases under investigation are being resolved.
Two Secret Service employees are resigning, Morrissey said, and one is having his national security clearance revoked. If the revocation is upheld on appeal that person must leave the agency.
One of the resigning employees stayed at the Hilton in Cartagena, the same hotel where President Barack Obama stayed, The Associated Press reported. The other Secret Service employees stayed at a nearby hotel.
Two others under investigation have been cleared of misconduct but will face "appropriate administrative action," Morrissey said.
All told, the Secret Service investigated 12 people in connection with the Colombia incident. The final outcome was seven resignations, three cleared with administrative punishment, one termination and one retirement, according to NBC News.
Six of the total were forced out last week while one employee was cleared.
In addition to the dozen Secret Service personnel, another 12 military personnel preparing for Obama's visit to Cartagena earlier this month for a summit are being investigated for cavorting with prostitutes. The Defense Department has suspended the security clearances of the military personnel.
Watch US News videos on msnbc.com
As many as 20 prostitutes were involved with the group, officials say, and none are believed to be underage.
The incident broke into public view when one of the prostitutes reportedly argued with a Secret Service agent over her payment in a hallway of the Hotel Caribe. Local law enforcement intervened on the prostitute's behalf. Paid sex is legal in Cartagena, but violates codes of conduct for U.S. personnel who were working there.
Meanwhile, Defense Secretary Leon Panetta on Tuesday revealed details of another incident involving U.S. military and prostitutes in South America -- in Brazil, according to NBC News.
The incident occurred in the capital Brasilia in December. Three Marines assigned to the U.S. embassy were accused of throwing an alleged prostitute out of their car, NBC News reported. The woman suffered minor injuries.
Two Marines were demoted in rank; the third was not permitted to re-enlist, Panetta said.  An embassy staffer who was allegedly involved was returned to the United States. 
President Barack Obama on Tuesday blamed the Secret Service scandal in Colombia on the misconduct of a "couple of knuckleheads" and insisted that the vast majority of agents perform their work admirably.
"What these guys were thinking, I don't know. That's why they're not there anymore," Obama said during a taping of an appearance on NBC's "Late Night with Jimmy Fallon" program while on a visit to North Carolina.
Obama talks Secret Service 'knuckleheads' with Fallon
Obama's comments appeared to play down the extent of the controversy, the worst in decades to hit the agency responsible for protecting the president, his family and other senior officials.
But there were signs of a widening scope of the inquiries stemming from the allegations.
Joseph Lieberman, I-Conn., chairman of the Senate Homeland Security Committee, said "whistleblower people" had called his office with allegations about past misconduct by Secret Service personnel and "we're beginning to talk to them."
Lieberman said he plans hearings on the scandal.
"Some of it seems credible, or at least worth investigating more," he told reporters outside the Senate. 
A committee aide said just one call had been received so far, Reuters reported.
Lieberman said the focus of his committee's probe would not be events in Cartagena, which is being investigated by the Secret Service, but any incidents in recent years.
"I want to ask questions about whether there was any other evidence of misconduct by Secret Service agents in the last five or 10 years," he said. "If so, what was done about it? Could something have been done to have prevented what happened in Cartagena? And now that it has happened, what do they intend to do?"
The leaders of the Senate Armed Services Committee, Carl Levin and John McCain, said they expected to get a briefing on Wednesday from the Pentagon on the part played by military service members in the scandal.
This article includes reporting from The Associated Press, Reuters and NBC's Kristen Welker, Kelly O'Donnell and Courtney Kube.
More content from msnbc.com and NBC News: