ANKARA/ISTANBUL — Fifty-one people were dead and 69 others were injured after a child suicide bomber detonated at a wedding in southeastern Turkey on Saturday, President Recep Tayyip Erdogan said.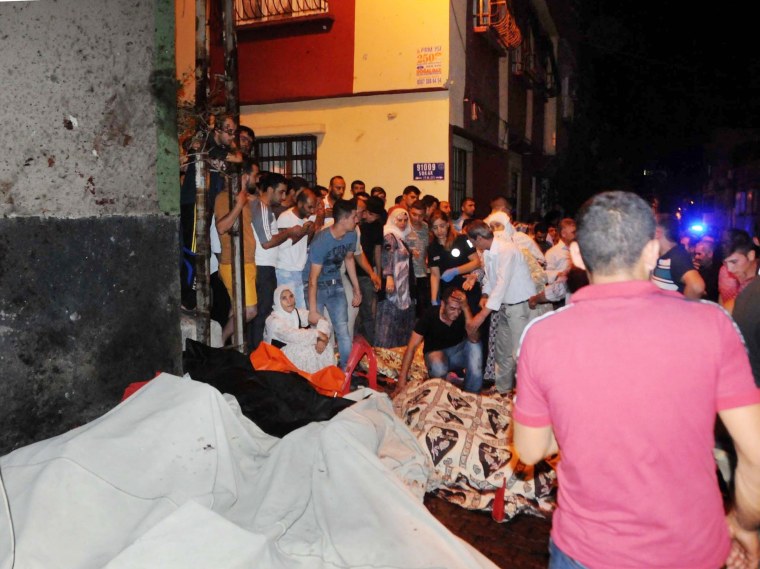 In comments shown live by broadcaster NTV Sunday, Erdogan said the bomber at the wedding in city of Gaziantep, near the border with Syria, was aged between 12 and 14. He said seventeen of the injured were "heavily" wounded.
Erdogan issued a statement earlier Sunday saying that ISIS extremists were "the most likely perpetrator." Photos taken after the explosion showed several bodies covered with white sheets as a crowd gathered nearby.
Deputy Prime Minister Mehmet Simsek said the attack "was a massacre of unprecedented cruelty and barbarism." Prime Minister Binali Yildirim condemned the bombing, which he said turned "a wedding party into a place of mourning." He vowed to prevail over the "devilish" attacks.
Related: Why ISIS Attacks Turkey
The explosion occurred after a traditional "henna party," Reuters reported, when wedding guests had their hands and feet painted.
"The celebrations were coming to an end and there was a big explosion among people dancing," Veli Can, 25, told Reuters. "There was blood and body parts everywhere."
In a statement, White House National Security Council spokesman Ned Price condemned the attack, saying the U.S. "stand[s] with the people of Turkey as they defend their democracy in the face of all forms of terrorism."
The statement added that Vice President Joe Biden planned to visit the country's capital, Ankara, on Wednesday, to "reaffirm" the U.S.-Turkey commitment "to confront the scourge of terrorism."
Related: Turkey's Purge to Coup-Proof Its Military May Backfire
Turkey has been rocked by a wave of attacks in the past year that have either been claimed by Kurdish militants linked to the outlawed Kurdistan Workers' Party — known by its acronym PKK — or were blamed on ISIS. In June, suspected ISIS militants attacked Istanbul's main airport with guns and bombs, killing 44 people.
The bombing comes as the country still reels from last month's failed coup attempt, which the government has blamed on U.S.-based Muslim cleric Fethullah Gulen and his followers.
Earlier this week, a string of bombings blamed on the PKK that targeted police and soldiers killed at least a dozen people. A fragile 2 ½ year-long peace process between the PKK and the government collapsed last year, leading to a resumption of the three-decade-long conflict.