/ Source: Associated Press
KABUL, Afghanistan — The United States announced it will send some 300 Marines to Afghanistan's opium-rich Helmand province to train, advise and assist local forces fighting the Taliban, officials said — a move greeted with some skepticism by Afghans.
U.S. Navy Capt. Bill Salvin, a spokesman for the U.S. mission in Afghanistan, said the Marines will begin deploying this year and will remain in the province for nine months, where they will work with the Afghan army and militarized national police who have been struggling to drive insurgents out of the region.
"The Marine Corps has a long operational history in Afghanistan, particularly in Helmand Province. Advising and assisting Afghan defense and security forces will assist in preserving gains made together with the Afghans," he said.
The U.S. and NATO formally concluded their combat mission in Afghanistan at the end of 2014, but thousands of troops remain in the country, where they train and assist Afghan forces and carry out counterterrorism operations.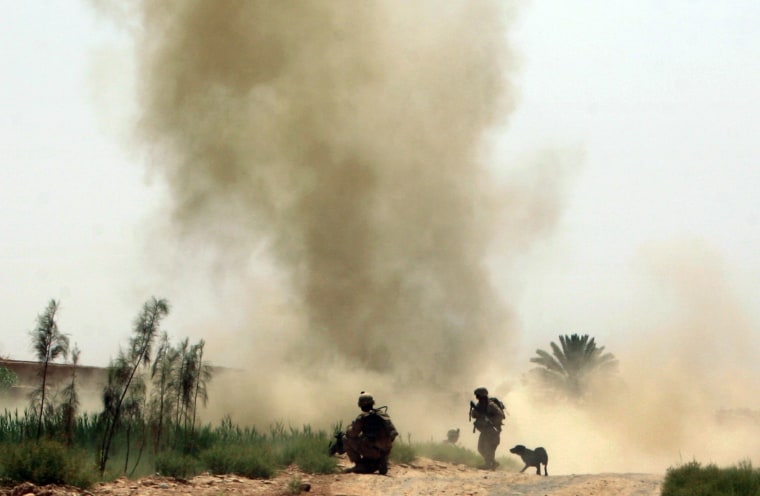 However, there was a cautious reaction in Afghanistan where it was unclear if a limited deployment of military advisers would have a significant impact on the conflict.
"If [Marines] come only to give advice, it will not help. If they take part in fighting, there may be some progress. Without that, there will be no change," Abdul Ahad Masoomy, a village elder from Helmand, told NBC News.
"We know how strong the Afghan forces are — you can see the result of their strength in front of you," he added.
Others underscored a deficit of trust between ordinary Afghans and the foreign troops who have been operating in the country for 15 years.
"People in Helmand don't trust foreigners now," Bashir Ahmad Shaker, a member of Helmand Provincial Council, told NBC News.
"They believe the war in Helmand has not ended because of these foreign troops, and that they don't have any goodwill toward the people of Helmand and the local government," he added.
The Taliban are battling Afghan forces on a number of fronts, and the fighting has been particularly intense in Helmand, where the insurgents have repeatedly assaulted the provincial capital, Lashkar Gah, in recent months.
Helmand is the main source of poppies for Afghanistan's thriving opium trade, which is worth an estimated $4 billion a year, much of which funds the insurgency. Provincial officials estimate the Taliban controls 85 percent of the province, up from just 20 percent a year ago.