A group of knife-wielding men attacked a train station in southwestern China on Saturday, killing at least 29 people and injuring more than 130 others in what Chinese officials called a terrorist strike, the official Xinhua News Agency said.
Four of the attackers were also shot dead and only one was captured alive after the mayhem, which broke out about 9 p.m. (8 a.m. ET) at the Kunming Railway Station in the capital of southwest China's Yunnan Province.
The Kunming government said the "serious violent terrorist attack was planned and organized by Xinjiang separatist forces," Xinhua reported.
Ethnic Turkish Uighur separatists have been sporadically fighting for an independent state in Xinjiang, in northwestern China, home to about 10 million Uighur, who are predominantly Muslim. More than 100 people have been killed in protests in Xinjiang in the past year.
Yang Haifei, a resident of Yunnan, told Xinhua that he was attacked and sustained injuries on his chest and back.
Yang said he was buying a ticket when he saw a group rush into the station, most of them dressed in black, and started stabbing people.
"I saw a person come straight at me with a long knife, and I ran away with everyone," he said, adding that people who were slower were severely injured.
"They just fell on the ground," he added.
Yunnan province Vice Gov. Gao Feng held an emergency meeting at No. 1 People's Hospital, where the injured are being rushed, and said hospitals have received 162 people.
State-run Yunnan News said that the men were wearing uniforms when they stormed the railway station and that gunshots were heard after police arrived.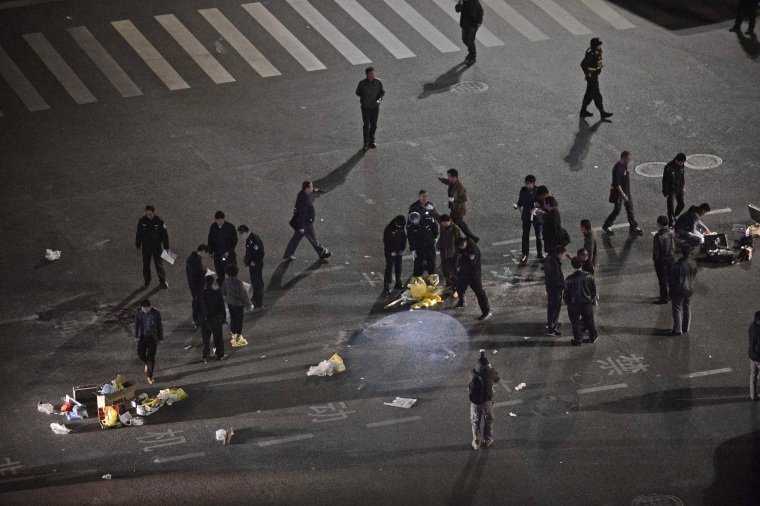 Photos circulating online showed scattered luggage and bodies lying on the floor in blood.
— Eric Baculinao with The Associated Press