LONDON — British police have launched a murder investigation after the bodies of 39 people were found in a truck container outside London.
Officials across Europe were trying to piece together how and why the people were found dead in the tractor-trailer, which was discovered early Wednesday at an industrial park in Essex, about 15 miles east of London.
The driver, a 25-year-old man from Northern Ireland, has been arrested on suspicion of murder.
Download the NBC News app for breaking news and politics
Deputy Chief Constable Pippa Mills called it "a very sad day for Essex police and in the local community" at a news conference, while also appealing for anyone with information on the truck or the victims to contact the authorities.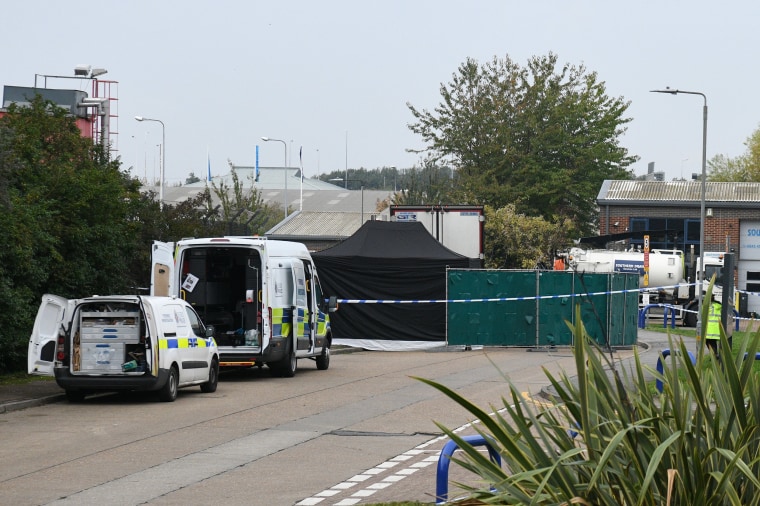 Although police released little information, the incident echoes several cases of attempted human trafficking that have ended in tragedy across Europe.
In 2000, the bodies of 58 people from China were found in a tomato truck at the English port of Dover. And in Austria in 2015, 71 people who had fled Afghanistan, Syria and Iraq were found dead in a truck in Austria.
In a statement, British police said they believe the truck traveled from Zeebrugge, a Belgian port, into the Essex village of Purfleet, then docked in the area after 12:30 a.m. local time.
Authorities believe the truck originated in Northern Ireland.
British police initially said they believed the truck discovered Wednesday "came from" Bulgaria and entered the U.K. through the Welsh port of Holyhead. Bulgaria's prime minister said on television that the truck had not been in the country since 2017.
Bulgarian Prime Minister Boyko Borissov said it was true that in 2017 an Irish woman registered the truck in his country, but he said that it left soon afterward and never returned, Reuters reported.
Foreign trucking companies are often registered in Bulgaria thanks to liberal regulations and low costs compared to the rest of the European Union.
On Wednesday, the vehicle was found at the Waterglade Industrial Park in the town of Grays in the county of Essex.
The National Crime Agency — which investigates organized crime, including human trafficking — said it had deployed officers to the scene.
Prime Minister Boris Johnson tweeted that he was "appalled" by the incident, while Interior Minister Priti Patel tweeted that she was "shocked and saddened."
Amnesty International, however, pointed a finger at government immigration policies.
"People who are forced to take dangerous and sometimes fatal passages to reach the U.K. often do so because current immigration policies and practices deny them safe and legal options," Steve Valdez-Symonds, the group's U.K. refugee and migrant rights director, said in a statement.