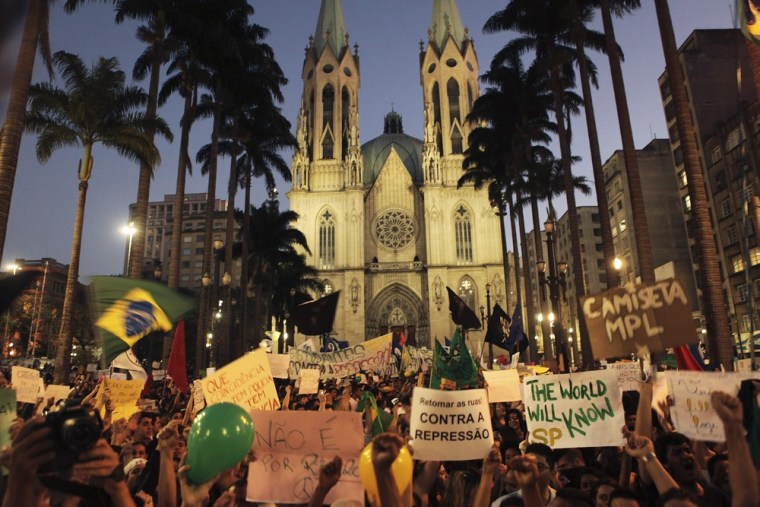 SAO PAULO, Brazil - Tens of thousands of Brazilians flooded the streets of the country's biggest city Tuesday in a widening protest against a slew of problems from bus fares to government corruption.
More than 50,000 people massed in front of the city's main cathedral. While mostly peaceful, the demonstration followed the rhythm of protests that drew 240,000 people across Brazil the previous night, with small bands of radicals splitting off to fight with police and break into stores.
Mass protests have been mushrooming across Brazil since demonstrations called last week by a group angry over the high cost of a woeful public transport system and a recent 10-cent hike in bus and subway fares in Sao Paulo, Rio and elsewhere.
The local governments in at least four cities have now agreed to reverse those hikes, and city and federal politicians have shown signs that the Sao Paulo fare could also be rolled back. It's not clear that will calm the country, though, because the protests have released a seething litany of discontent from Brazilians over life's struggles.
Yet, beyond complaints about the cost for bus and subway rides, protesters haven't produced a laundry list of concrete demands. Demonstrators mainly are expressing deep anger and discontentment — not just with the ruling government, but with the entire governing system. A common chant at the rallies has been "No parties!"
"What I hope comes from these protests is that the governing class comes to understand that we're the ones in charge, not them, and the politicians must learn to respect us," said Yasmine Gomes, a 22-year-old squeezed into the plaza in central Sao Paulo where Tuesday night's protest began.
President Dilma Rousseff, a former leftist guerrilla who was imprisoned and tortured during Brazil's 1964-85 dictatorship, hailed the protests for raising questions and strengthening Brazil's democracy. "Brazil today woke up stronger," she said in a statement.
Yet Rousseff offered no actions that her government might take to address complaints, even though her administration is a prime target of demonstrators' frustrations.
The protests have brought troubling questions about security in the country, which is playing host this week to soccer's Confederations Cup and will welcome Pope Francis in July for a visit to Rio de Janeiro and rural Sao Paulo.
Brazilian demonstrations in recent years generally had tended to attract small numbers of politicized participants, but the latest mobilizations have united huge crowds around a central complaint: The government provides woeful public services even as the economy is modernizing and growing.
Many protesters hail from the country's growing middle class, which government figures show has ballooned by some 40 million over the past decade amid a commodities-driven economic boom.
They say they've lost patience with endemic problems such as government corruption and inefficiency. They're also slamming Brazil's government for spending billions of dollars to host next year's World Cup soccer tournament and the 2016 Olympics while leaving other needs unmet.
Tuesday night's march in Sao Paulo started out peacefully but turned nasty outside City Hall when a small group lashed out at police and tried to invade the building.
The air was thick with police pepper spray and smoke after demonstrators set a TV satellite truck and a police lookout booth on fire. 
Related: