WARSAW, Poland — Tens of thousands of fascists and white supremacists marched in a demonstration in Warsaw Saturday, as Poles celebrated their country's Independence Day.
Protesters marched under far-right banners, with one reading "White Europe of brotherly nations." Many carried the national white-and-red flag as others set off flares and firecrackers, filling the air with red smoke.
Police estimated that 60,000 people took part. Many were young men, some with their faces covered or with beer bottles in hand, but families and older Poles also participated. Some carried banners depicting a falanga, a far-right symbol dating to the 1930s.
The organizers of the public display of xenophobic and far-right views include the National-Radical Camp, the National Movement and the All Polish Youth, radical organizations that trace their roots to anti-Semitic groups active before World War II.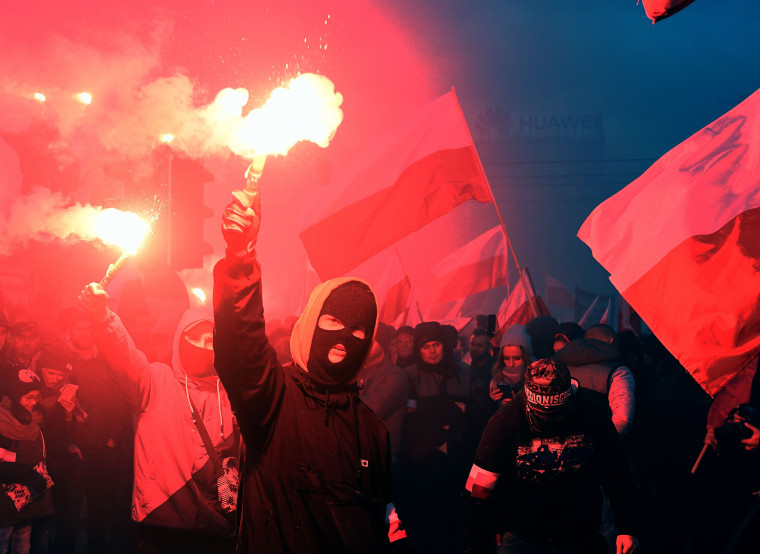 The march was one of many events marking Poland's rebirth as a nation in 1918 after being wiped off the map for 123 years. Earlier in the day, President Andrzej Duda presided over state ceremonies also attended by European Union president Donald Tusk, a former Polish prime minister.
But the demonstration has become the largest Independence Day event in recent years, overshadowing official state observances and other patriotic events.
The slogan for this year's event is "We Want God," words from an old religious Polish song that President Donald Trump quoted in July while visiting Warsaw. Trump praised Poland for what he described as the country's defense of Western civilization.
Speakers talked of standing against liberals and defending Christian values.
Rafal Pankowski, head of the anti-extremist association Never Again, says that despite the reference to God, the march shouldn't be viewed as inspired by religious beliefs. Far-right "neo-pagans" plan to take part along with Roman Catholic groups.
Related: Watch Donald Trump's Keynote Speech in Warsaw, Poland
"We know that Donald Trump is not the most religious man, and I think that most of the organizers are not very religious, either," Pankowski, a sociologist, said. "But they use Christianity as a kind of identity marker, which is mostly about being anti-Islam now."
The march has become one of the largest such demonstrations in Europe, and on Saturday it drew far-right leaders from elsewhere in Europe, including Tommy Robinson from Britain and Roberto Fiore from Italy.
American white supremacist Richard Spencer was scheduled to speak at a conference in Warsaw on Friday — until the Polish government said he wasn't welcome in the country.
State broadcaster TVP, which reflects the conservative government's line, called the demonstration a "great march of patriots," and in its broadcasts described the event as one that drew mostly regular Poles expressing their love of Poland, not extremists.
"It was a beautiful sight," Interior Minister Mariusz Blaszczak said. "We are proud that so many Poles have decided to take part in a celebration connected to the Independence Day holiday."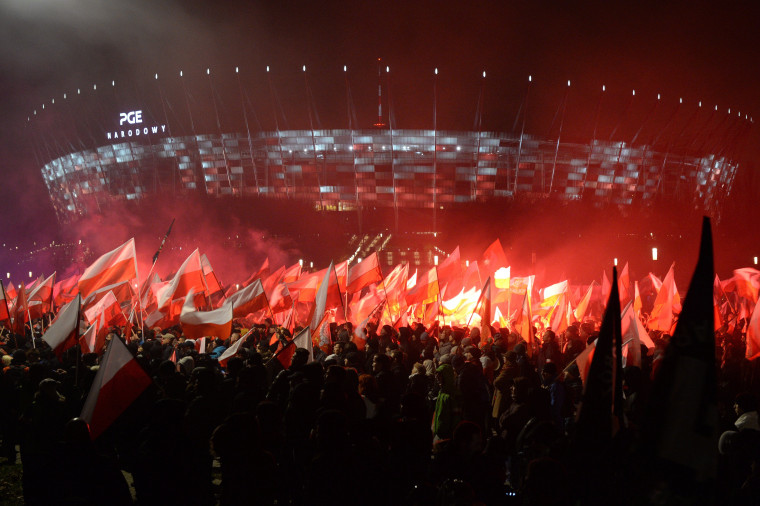 A smaller counter-protest by an anti-fascist movement also took place. Organizers kept the two groups apart to prevent violence. However, there was one incident in which the nationalists pushed and kicked several women who chanted anti-fascism slogans and had a banner saying "Stop Fascism."
Independence Day marks Poland regaining its sovereignty at the end of World War I after being partitioned and ruled since the late 18th century by Russia, Prussia and the Austro-Hungarian Empire.
The recent emergence of Central Europe as a crucible for neo-fascism carries a number of paradoxes. The region, once stuck behind the Iron Curtain, has seen impressive economic growth since Poland, Hungary and other countries threw off communism, embraced capitalism and joined the European Union and NATO.
Few of the Muslim refugees and migrants who have arrived in Europe since 2015 have sought to settle in that part of the continent, preferring Germany and other richer countries in the West. Nonetheless, anti-migrant views run high.
But political scientist Miroslav Mares, an expert on extremism at Masaryk University in the Czech Republic, said Central Europeans hear about attacks by Islamic extremists in France, Germany and England and fear that "beyond the borders is a state of chaos and war" that could envelop them.
Moreover, like others in the era of globalization, many people feel frustrated that the improving economy hasn't benefited them. There are complaints that wages remain much lower than in the West while inequality has grown since the end of communism.