A powerful 7.2-magnitude earthquake rocked the western part of Haiti on Saturday, leaving at least 304 people dead, hundreds more injured or missing and enormous damage in a country still reeling from the assassination of its president, officials said.
The death toll jumped from 29 to 304, according to Haiti's Office of Civil Protection. Jerry Chandler, the agency's director, said teams will be sent to the area for search and rescue missions.
The largest number of dead, 160, were in the south of the county, the office said. It estimated at least 1,800 people were injured.
"The most important thing is to recover as many survivors as possible under the rubble," said Prime Minister Ariel Henry, who declared a one-month state of emergency for the country. "We have learned that the local hospitals, in particular that of Les Cayes, are overwhelmed with wounded, fractured people."
Recovery efforts were accompanied by 15 aftershocks Saturday, including a preliminary 5.8-magnitude earthquake at 11:20 p.m., according to the U.S. Geological Survey. Striking a little more than 7 miles north-northeast of the village of Chardonnières, it was the largest aftershock so far.
Cardinal Chibly Langlois was among those injured in the quake. He was one of 19 men chosen by Pope Francis to be inducted into the College of Cardinals.
The quake's epicenter was roughly 78 miles west of the capital of Port-au-Prince, according to the U.S. Geological Survey's website.
Civil protection officials tweeted that initial reports indicate homes collapsed during the quake.
"We will continue to inform you," the tweet read.
Photos posted on social media showed buildings destroyed and rubble littered across the ground.
President Joe Biden and Vice President Kamala Harris were briefed on the earthquake Saturday morning, a White House official told NBC News. Biden authorized an immediate U.S. response, and named Samantha Power as the senior U.S. official to coordinate this effort. Power is the administrator for the U.S. Agency for International Development, which has disaster crews on the ground.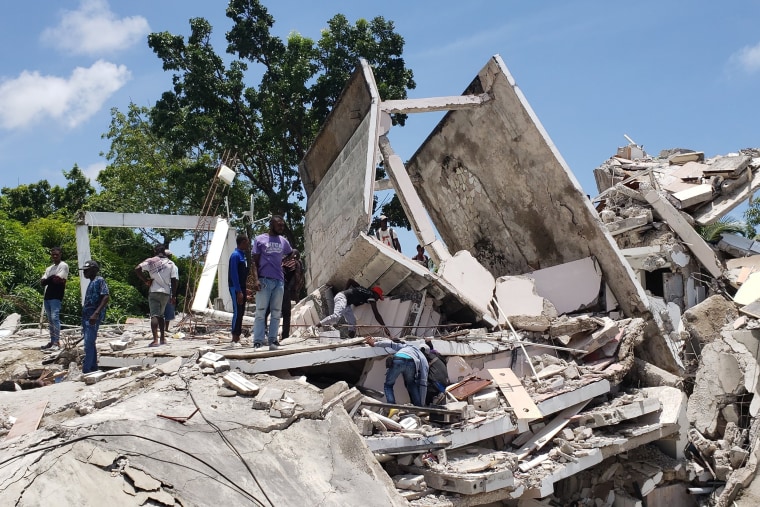 "In what is already a challenging time for the people of Haiti, I am saddened by the devastating earthquake that occurred in Saint-Louis du Sud, Haiti this morning," Biden said in a statement. "We send our deepest condolences to all those who lost a loved one or saw their homes and businesses destroyed."
The earthquake, which was felt in Port-au-Prince, had triggered a tsunami threat in the Caribbean country but it was later canceled.
Naomi Verneus, 34, who lives in Port-au-Prince, said she was jolted awake by the earthquake and that her bed was shaking.
"I woke up and didn't have time to put my shoes on," she said. "We lived the 2010 earthquake and all I could do was run. I later remembered my two kids and my mother were still inside. My neighbor went in and told them to get out. We ran to the street."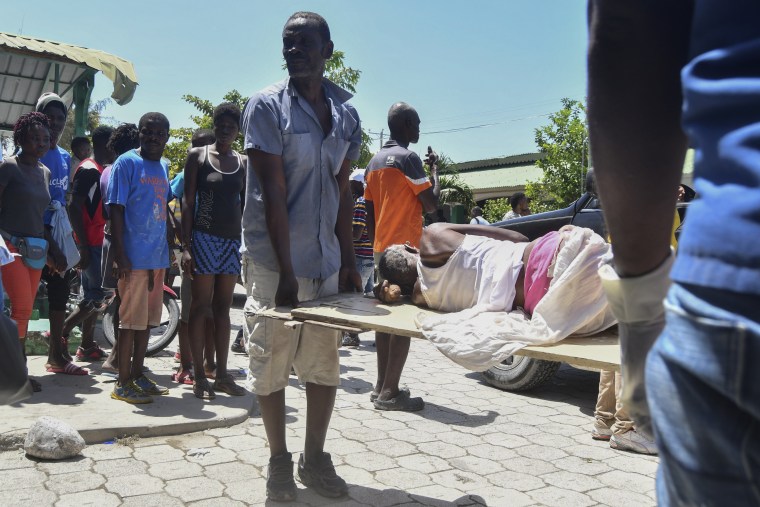 A "significant" 5.2-magnitude aftershock hit west of the main quake, the U.S. Geological Survey tweeted, adding that "more aftershocks are expected in the coming days and weeks." The agency has already recorded a total of nine aftershocks since the main quake, officials said.
Henry said the "violent earthquake" caused "enormous damage" in parts of the country and he has mobilized government resources to respond.
"I appeal to the spirit of solidarity and commitment of all Haitians, in order to unite to face this dramatic situation that we are currently experiencing. Unity is strength," he said in a tweet.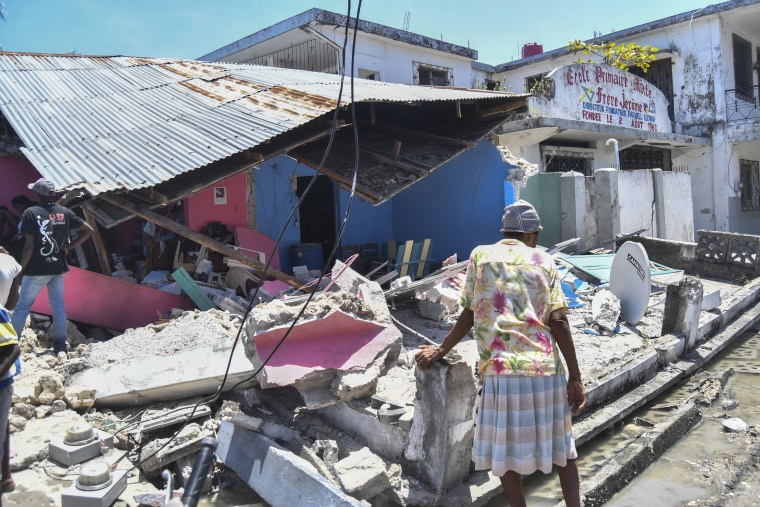 In another post, he added: "We will make the necessary arrangements to assist people affected by the earthquake in the Southern Peninsula. We must show a lot of solidarity with regard to the emergency," he added. "... We will act quickly."
Henry became the country's prime minister in the wake of President Jovenel Moïse's assassination in July. Moïse's wife was injured in what officials called a "highly coordinated" attack.
The impoverished country, where many live in tenuous circumstances, is vulnerable to earthquakes and hurricanes. A 5.9 earthquake struck Haiti in 2018, killing at least 15 people and injured more than 300 others.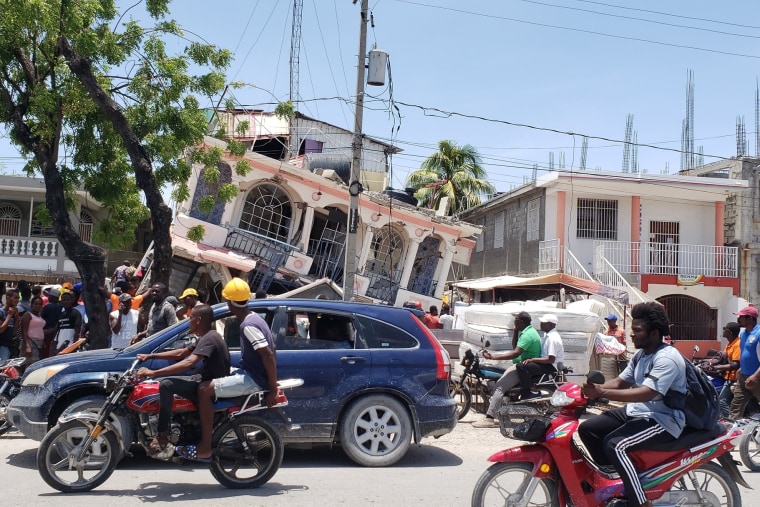 In 2010, a 7.0-magnitude earthquake hit the capital and killed an estimated 300,000 people. John Bellini, a geophysicist with the U.S. Geological Survey's National Earthquake Information Center in Golden, Colorado, said Saturday's quake is "significantly stronger" and "a lot larger in the amount of energy released" than the one in 2010.
He added that the potential for a lot of damage in the peninsula region remains.
"Pictures we've been seeing are a lot of walls falling … buildings collapsed," Bellini said.
There may be more bad news for Haiti. The country also is in the cone for Tropical Storm Grace, which could approach by late Monday.
Earlier Saturday, the U.S. Geological Survey reported a 6.9-magnitude earthquake in Alaska.