TOKYO — A massive 7.4-magnitude earthquake struck off Fukushima on Wednesday, leaving four dead and more than 90 injured, and triggering a 1-meter tsunami advisory 11 years after the region was devastated by a deadly quake.
The earthquake was reported near Namie just before 11 a.m. ET, which is around midnight there. The Japan Meteorological Agency said the quake struck about 36 miles below the sea.
The agency upgraded the magnitude of the quake to 7.4 from the initial 7.3.
Prime Minister Fumio Kishida told a parliamentary session Thursday morning that four people died during the quake and the cause of their deaths are being investigated, while 97 others were injured. A man in his 60s in Soma city died after falling from the second floor of his house while trying to evacuate, and a man in his 70s panicked and suffered a heart attack, Kyodo News reported earlier.
Namie is a small town in Fukushima prefecture.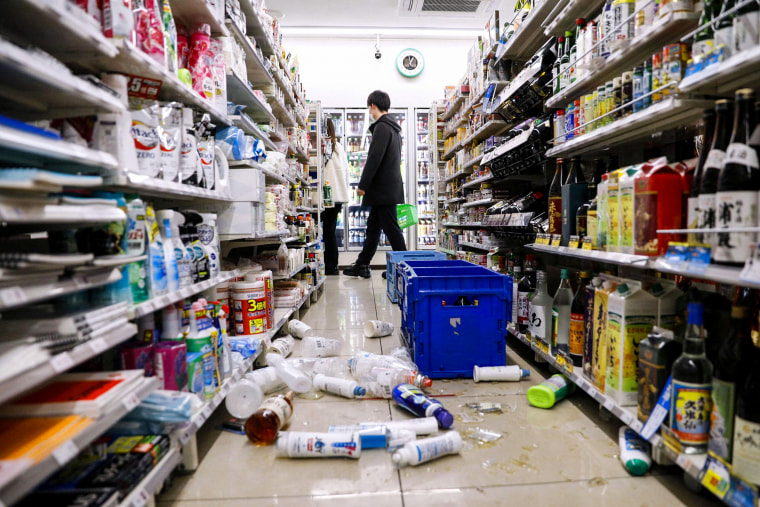 A tsunami advisory was issued, but the Pacific Tsunami Warning Center said later that there was no longer a threat. The Japan Meteorological Agency, however, kept a low-risk advisory in place.
The meteorological agency advised residents to stay away from the coast and to watch out for possible landslides.
More than 2.2 million homes were temporarily without electricity in 14 prefectures, including the Tokyo region, but power was restored at most places by the morning, except for about 37,000 homes in the hardest hit Fukushima and Miyagi prefectures, according to the Tohoku Electric Power Co. which services the region.
NHK footage showed broken walls of a department store building and shards of windows scattered on the street near the main train station in Fukushima city, about 36 miles west from the coastline. Roads were cracked and water poured out from pipes underground.
Footage also showed furniture and appliances smashed to the floor at apartments in Fukushima. In stores, merchandise fell from the shelves and scattered on the floor.
The northern Japan region was devastated by a deadly 9.0 quake and tsunami 11 years ago that caused nuclear plant meltdowns.
More than 20,000 people were estimated to have died when the quake on March 11, 2011, set off a tsunami that swept inland, destroying towns and causing meltdowns at the Fukushima Daiichi nuclear power plant. The disaster displaced nearly half a million people. 
The government, which has spent about $300 billion to rebuild the region, said safely decommissioning the plant could take decades and billions of dollars.
Chief Cabinet Secretary Hirokazu Matsuno said Wednesday that no issues were detected at the nuclear plant in Onagawa or at the Fukushima Daiichi plant, although a fire alarm went off inside the turbine building of Unit 5. The power company and the fire department investigated the alarm and determined there was no fire, NHK Fukushima reported.
Arata Yamamoto reported from Tokyo and Minyvonne Burke from New York.