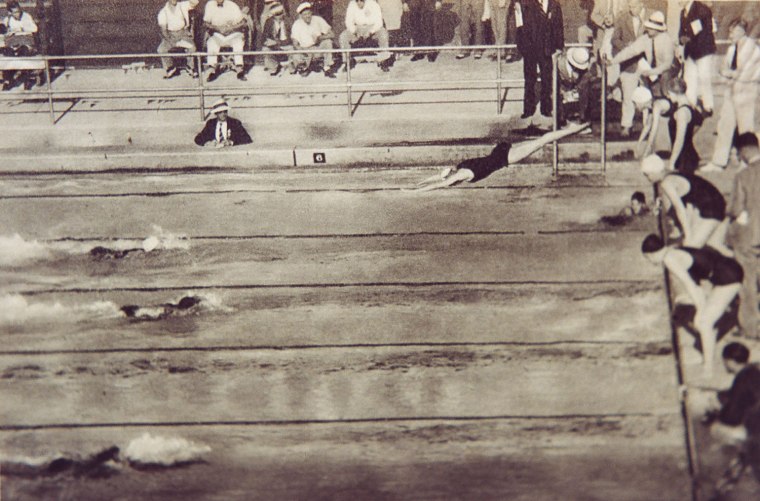 Helen Johns Carroll's Olympic gold medal and her memories may each be 80 years old, but both have been carefully preserved in the generations since her once-in-a-lifetime experience in Los Angeles in 1932.
Carroll, 97, is believed to be the second-oldest living female American gold medalist, and a simple glimpse of today's Olympics is all it takes for her to be transported back to that memorable time. Just like current phenom Missy Franklin, Helen Johns, as she was known then, was only 17 years old when she represented the United States in swimming. She swam the second leg on the medal-winning 400 freestyle relay team in 1932, earning a gold medal that is currently under lock and key for safekeeping at a local bank near her home in Sumter, S.C. Track athlete and 1932 4x100 gold medalist Evelyn Furtsch Ojeda, 98, is believed to be the oldest living American female gold medalist.
"Whenever we go take the gold medal out of the bank, anyone carrying it is a nervous wreck until we get it back,'' Carroll laughed in an interview with TODAY.com. "Just remembering the whole picture of being there, it was just so wonderful. I look at (today's Olympics) and try to compare it to ours, and it's so much more elaborate. Ours was really restricted because of lack of funds (during the Great Depression).''
Story: For first time, women from every nation ready to rock Olympics
In what is being called "The Year of the Woman" in the London Olympics, Carroll savors her role as one of the pioneers and is proud of how far women have come in the Olympic movement. For the first time in history, every participating nation has at least one female athlete on the team, and for the first time, there are more females than males on Team USA. And now, Teri McKeever has made waves as the first female head coach of the U.S. women's swim team.
"I love anything that means women are advancing in interest or popularity and setting a good example for people,'' Carroll said.
Johns was taught swimming by her father while growing up in Medford, Mass., a suburb of Boston. She trained primarily in the ocean because there were few pools in the area, and had only been formally coached for one year before she qualified for the Olympics in the 400-meter relay at the trials in Jones Beach, N.Y., in July of 1932. Carroll wasn't even allowed to return home before she was whisked away on a train from New York's Pennsylvania Station, which would take her and her fellow qualifiers all the way to Los Angeles, picking up other Olympians along the way across the country.
"It was wonderful picking up people on the train and getting to see the country that way,'' Carroll said. "People would come greet us and cheer us on at every stop.''
One of the train's passengers was the boisterous Babe Didrikson Zaharias, who is widely considered one of the greatest all-around athletes of the 20th century. She would go on to win two gold medals and a silver in track and field that year in Los Angeles.
"People said she was very conceited about the things she could do, but I didn't find it was at all objectionable and out of place for her because she would tell you about what she could do and then she would go right out and show you,'' Carroll said.
The country was mired in the Great Depression at the time, and Carroll can recall giving some of her extra dresses away to less-fortunate teammates. Her father was not able to see her compete because there was no way he could leave his business on the docks in Boston. The signs of poverty were also apparent outside the team's hotel in downtown Los Angeles.
"The city was in dreadful shape,'' Carroll said. "We took a bus to our practice sessions in the morning, and we would see crowds of unemployed people and people on the corner selling apples for five cents. It was sad.''
While it's hard to imagine in today's world of teams training closely together and competing internationally for years leading up to the Olympics, Carroll didn't know anything about her competition or even about her three relay teammates – Helene Madison, Josephine McKim and Eleanor Saville. There were some familiar faces, however, as her small hometown of Medford surprisingly produced two other Olympians in Carroll's high school classmate, track sprinter Mary Carew, along with distance runner Jimmy Henigan.
Her swimming teammate, McKim, brought an element of glamour to the team. She was from Los Angeles and was dating Joel McCrea, one of the big movie stars of the 1930s.
"We liked to be down in the lobby when Josephine's movie friends would come by to go on their dates,'' Carroll said. "It was fun to see how other people reacted to them.''
Carroll and her teammates breezed to a gold medal in the relay, beating the team from the Netherlands by nearly nine seconds. Carroll can still remember wearing her parade dress, hat and shoes as the gold medal was draped around her neck. Despite being held in the United States, the medal ceremony was conducted in French because they were the ones who organized the first modern Olympic Games in 1896.
"As they addressed us, they would say 'Champion of the Olympics' in French, and then they went on and on and I couldn't understand what they were saying, but I'm sure it was very complimentary,'' Carroll said.
When Carroll returned to Medford with her gold medal, she was greeted by the mayor and a host of neighbors in celebration.  Los Angeles was her only Olympics as she was focused on her studies at Brown University by the time the 1936 Games in Berlin rolled around. Carroll retired from her career as a special education teacher in the Sumter school district in 1980, but she maintained her Olympic connection, carrying the torch for a stretch on its way to the 1996 Olympics in Atlanta.
More from TODAY in London