Europe's abortion battle was waged in the sky Tuesday as activists used a drone to deliver pills to women in Northern Ireland.
Two women took the pills after the aircraft made the short flight from the Republic of Ireland across the border to land at Northern Ireland's Narrow Waters Castle. Police were on hand but did not intervene.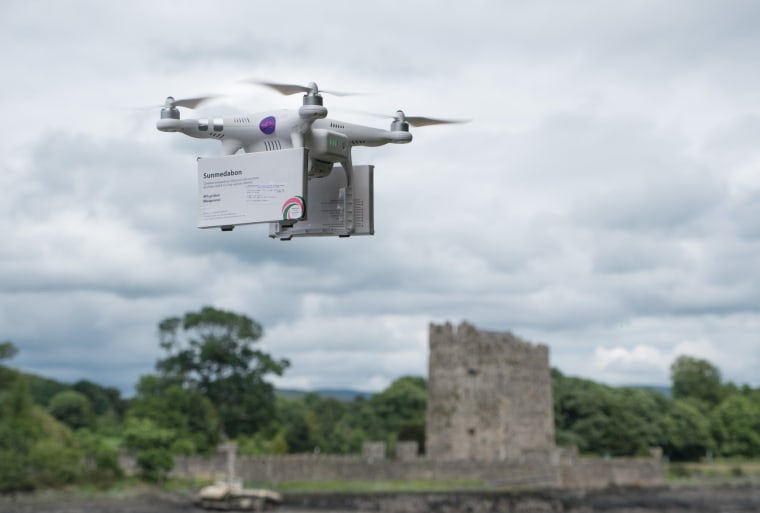 The flight organized by pro-abortion groups and described as an act of protect against restrictive laws in Northern Ireland and the neighboring Republic of Ireland that only permit terminations under strict criteria.
Courtney Robinson, one of the women who took the pills delivered on Tuesday, said that criminalizing abortions has turned a "private matter" into a "political issue."
"I have the human right to access and use these medicines," she said in a statement.
Northern Ireland has a near-total ban on abortion and courts there can inflict the harshest criminal penalties for abortion of anywhere in Europe — up to life imprisonment. Courts in the Republic of Ireland, meanwhile, can hand down 14-year sentences.
A Northern Ireland Court's conviction of a woman for taking abortion pills bought online reignited debate about the laws there and in the republic.
Dr. Rebecca Gomperts, whose organization Women on Web helped organize the drone flight, said the event reflected the realities women face and was more than a stunt.
Related NBC News series: Europe's Abortion Fight
"The point of today's flight is to show that no matter whether abortion is illegal in Northern Ireland or the Republic of Ireland, women will access abortion pills," Women on Web founder Dr. Rebecca Gomperts told NBC News. "The law has to be updated to reflect the reality ... The government has to stop violating women's rights."
Tuesday's flight marked the second time the Netherlands-based organization Women on Web has used a drone to deliver abortion pills — mifepristone and misoprostol — across borders.
Women on Web said that it had employed a speedboat to send over more pills for women in addition to the drone flight.