LUENEBURG, Germany — A former bookkeeper at Auschwitz who is accused of assisting in the mass murder of at least 300,000 people told a German court on Wednesday he could only ask God to forgive him as he was not entitled to ask this of victims of the Holocaust.
Oskar Groening, 94, did not kill anyone himself while working as a clerk at the notorious Nazi death camp but prosecutors say his role made him a part of the machinery that allowed the systematic killing to take place.
RELATED: Is 'Accountant of Auschwitz' Guilty by Association?
"I can only ask my Lord God for forgiveness," Groening said in a statement read out by one of his lawyers at what is likely to be one of the last big Holocaust trials in Germany.
In April, on his first day in court, Groening said he felt morally guilty for his work at Auschwitz but that it was up to the court to decide whether he was legally guilty.
Groening's lawyer, Hans Holtermann, told reporters that accounts given by the victims and their families had left a strong impression on the former SS officer.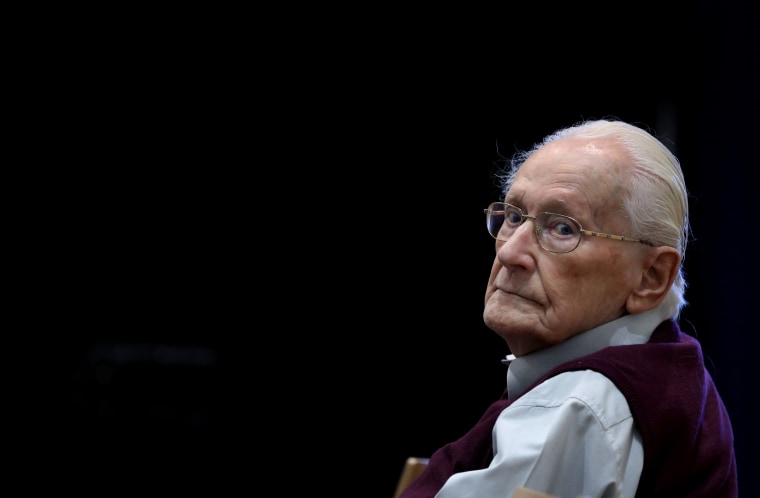 "In his statement he said he couldn't ask for forgiveness because for him, the crimes committed at Auschwitz were on such a scale that he can't expect either the victims or their relatives to even think about the question of forgiveness," Holtermann said.
During his time at Auschwitz, Groening was required to collect the belongings of deportees after they arrived at the camp by train and had been put through a selection process that resulted in many being sent directly to the gas chambers.
Irene Weiss was one of the Jews who went through that selection process in 1944 before being chosen for forced labor. She said she was disappointed with what she had heard from Groening.
"I would have liked to have heard a truer confession and explanation," she told reporters outside the court building.
"I would have liked to have asked him questions - how could you not have been aware when you actually saw what results your contribution had?" she said.
Thomas Walther, a lawyer for the plaintiffs, said Groening had merely said sorry for using words that survivors found offensive.
"He only apologized about something he did in 2015, namely using words from the SS jargon so he said: 'Sorry that I used the wrong words, I didn't think it would hurt you so much' ... and if I may say so, that's missing the point."
It was not immediately clear which words had caused offence.