LONDON — In living memory Britain's capital has been systematically targeted in Nazi air raids, hit by terrorist groups and suffered social unrest and rioting on its streets.
But while its residents are familiar with turmoil and hardship, this summer turned up the dial on the sense of danger and uncertainty. This is the first summer since the shock "Brexit" referendum to leave the European Union and tourist-filled streets have been bloodied by two major ISIS-inspired terror attacks.
And it is the staggering rise in acid attacks on its citizens that has taken so many by surprise.
The government is taking the incidents seriously, and earlier this month the Ministry of Justice ordered people entering courts to take sips from their bottles of water to ensure they are not actually carrying corrosive liquid.
During just one night last month, five takeout delivery drivers were injured in the space of 90 minutes by acid-wielding assailants. Police are also investigating whether an attack on a man outside the iconic Harrods luxury department store this week in upscale Knightsbridge involved a corrosive substance.
Jabed Hussain, 32, was one of those attacked.
"I'm just shocked — using acid to steal a bike? What's a bike worth, maybe 1,000 pounds? My life is worth more than that," he told reporters at a protest outside Britain's Parliament in July.
Figures released by police show that the number of reported acid attacks in London alone rose 80 percent in one year, from 261 in 2015 to 458 in 2016. And over 200 cases have already been reported this year. Police forces in other parts of the country report figures in the hundreds as well.
So to outsiders, it would appear to be a city in crisis, scared and on edge. But among London's millions of residents, there appears to be a sense, across the generations, that while these are indeed unusual times, the metropolis would withstand them like it has so many times before.
On a cloudy and mild August evening, pubs remain full, main streets bustle and the overall mood typically giddy when NBC News visited.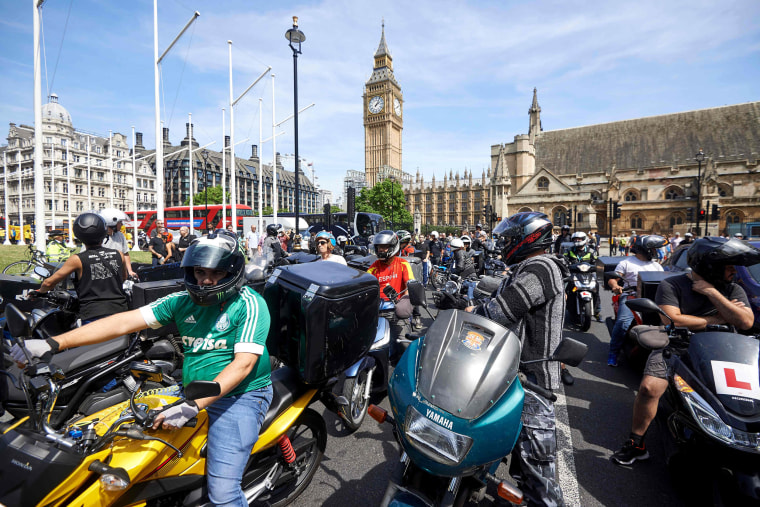 "People have short memories," said 72-year-old Gladys Holmes.
"I was much more frightened of the [Irish Republican Army] than I am of anything now," said the lifelong Londoner, referring to a string of attacks carried out by the Irish Republicans during a bloody 30-year campaign to end British rule in Northern Ireland, a conflict in which some 3,600 people were killed.
Holmes was resting after a day of shopping in Walthamstow, a multicultural area in London's east. Her "chaperone" for the afternoon, Doug Walker, casts his mind further back.
"I was just too young for the Blitz but I saw the effect it had on London growing up," the 71-year-old said, referring to relentless Nazi bombing that reduced swathes of the city to rubble during World War II. "My mother spoke about it for the rest of her life. Most days, really."
More recent history weighs also on the minds of the city's residents. The 12th anniversary of the London Tube bombings that killed 52 people was July 7.
"Sometimes on the tube at 8 a.m. I have these weird moments where I get a bit paranoid," said Rebecca Harris, who works in public relations. "But I have to get to work so I take the Tube, don't I?"
"You can't change your whole life," the 34-year-old adds, her words trailing off.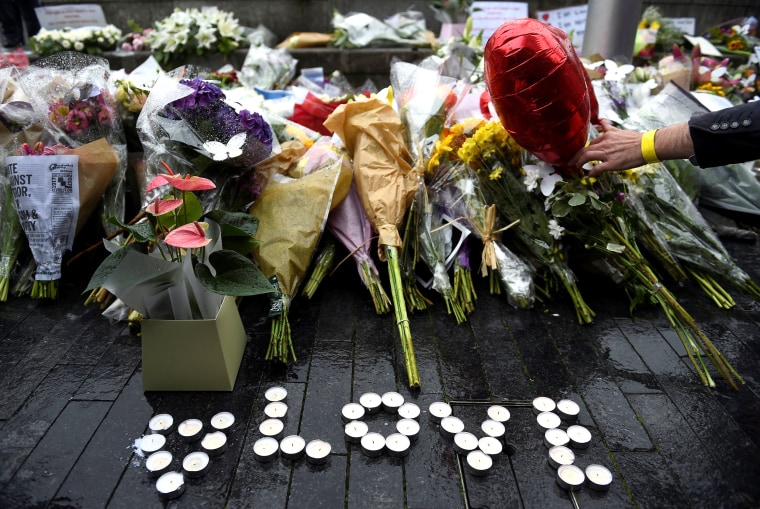 Stacy, Rebecca's colleague and drinking partner in bustling and trendy Hoxton, continues the train of thought.
"I know it's a cliché but life goes on, you have to live your life. London's massive, something's always happening somewhere," she said.
Self-conscious London is a city that doesn't like to be spoken for.
When the New York Times published a headline in June saying the country was "reeling" after after two terror attacks struck London in as many weeks, social media condemnation was swift and powerful. A tweet by the editor of the New Statesman magazine, Jason Cowley, captured the mood when said it was "absurd and scandalous," and declared London "the city of the Blitz."
It's not like everybody believes in the proverbial "stiff upper lip," however.
An article by controversial but popular opinion columnist Katie Hopkins on the MailOnline website was also aggressively challenged after the Westminster terror attacks when it spoke of "glib idiots who say this will not defeat us, that we will never be broken, that cowardice and terror will not get the better of Britain... I fear we are broken."
Hopkins was later fired from her role as a radio commentator for London station LBC for suggesting a "final solution" was needed after the terror attacks the city of Manchester.
And for all the archetypal determination of Londoners, the city is grappling with profoundly difficult and serious problems.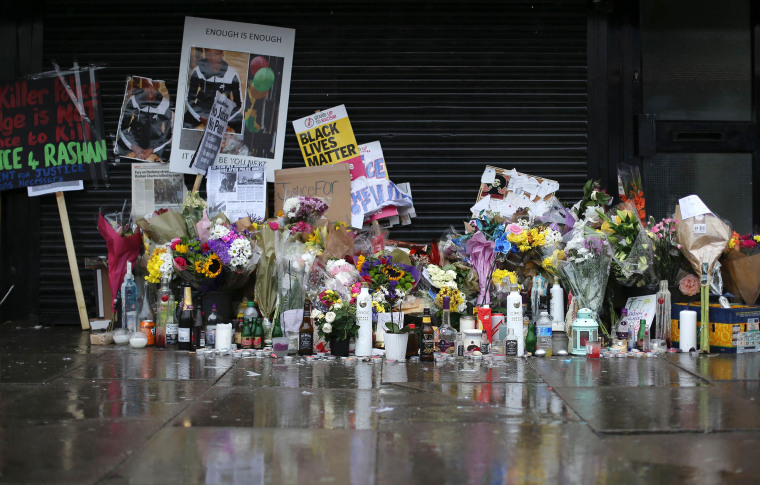 Just a couple of miles away from where Stacy and Rebecca were enjoying their pints, a week earlier a young black man, Rashan Charles, was chased by police through the streets of neighboring Dalston. While being apprehended he appeared to swallow something, as yet still unidentified, and became sick before being pronounced dead in hospital a short time later.
Protests over his death turned violent, with roads blocked and garbage set alight. The ominous drone of police helicopters hovering over the neighborhood over the weekend following his death jangled nerves for a whole area of the city.
Days later the London Metropolitan Police released its own statistics that showed it used force against a disproportionately large number of black people. They make up 13 percent of the city's population, but were on the receiving end of 36 percent of uses of force.
Police numbers, meanwhile, are at their lowest levels in 30 years, according to the Met's own figures. There have also been big decreases in both the number of fire personnel and by association fire safety checks conducted in London in recent years. The statistics became particularly topical in the wake of the Grenfell Tower fire that killed 80 people — an event that sent ripples of shock throughout the country and prompted calls for a wholesale reassessment of British society's priorities.
The Metropolitan Police declined to comment for this article when asked about what community policing initiatives it was undertaking to soothe any public fears in the wake of recent events.
Chief among those events currently concerning London's residents is the extraordinary surge in the number of acid attacks taking place in the city.
"I mean it's scary, it is, I was already a bit jumpy around mopeds because I thought someone was going to nick my phone, but now when I hear one, I think, acid, its crazy right," said Rashida Monroe, taking her two-year-old for dinner on Kingsland Road, just a few hundred yards from where Rashan Charles died. "But I don't want my little girl to grow up scared, you've got to try and live."
A petition demanding a crackdown on the sale of such substances is approaching 500,000 signatures. It was issued in the wake of an unprovoked attack on two young cousins in East London on the way to a 21st birthday party. They had acid thrown over their bodies while getting ready in their car. Their local member of parliament, Stephen Timms, said "carrying acid without good reason should be a criminal offence, as carrying a knife is already. Secondly, a license should be required for the purchase of sulfuric acid."
"There are economic and political forces prowling around the metropolis at the moment that leave people feeling unsettled."
So in the wake of what seems unprecedented chaos, why do Londoners appear, although concerned, somewhat unruffled?
Professor Mark Clapson, an expert in social and urban history at the University of Westminster, believes the seeming perfect storm of factors could have in fact bound the city's residents closer together.
"London is still a fantastic city, it's still vibrant, it feels great to be there, I don't think that will ever change. But there are economic and political forces prowling around the metropolis at the moment that leave people feeling unsettled," he said.
The mere fact people live in London makes them feel special, urbane and interesting, he added. This sense of self cannot be broken by terror and acid attacks — in fact, these challenges strengthen the sense of belonging, he said.
"I think there's a kind of long been an image of the unbreakable Cockney spirit of East London that has translated to the whole city," said Clapson, referring to the city's iconic and often fictionalized working class community.