Editor's Note: Today's stories are the first in a series of online and broadcast reports on adoption by Reuters and NBC News.
A Tennessee woman says that when her adoptive parents gave her away to new parents at age 14, she and 17 other adoptive kids in her "nightmarish" new home were sometimes forced to dig their own "graves" in the backyard and scrub the floor with toothbrushes.
"'Get out and go dig your own grave," Nora Gateley, now 26, says her new mother told her. "'I don't care if you die. Nobody will find you. You were not even here in the first place."
Americans have adopted nearly a quarter million children from overseas since the late 1990s, but sometimes the children have undisclosed physical or behavioral problems, and sometimes their adoptive parents simply can't cope with their new responsibilities.
An investigation by Reuters in partnership with NBC News has uncovered an underground world of "re-homing," where parents give their children to new caretakers, sometimes people they have met only over the internet, with little or no government oversight.
Read the first installment of the Reuters investigation
Photos: Adopted children traded online
Nora Gateley was "re-homed" after she thought she'd hit the jackpot. Abandoned at birth in Guangdong, China, and with a right leg crippled by polio, she was about to turn 13 and become too old for adoption in 1999 when an American couple showed up at her orphanage with a Snoopy backpack and jewelry. Within weeks they'd whisked her away to a new life in the Florida Keys.
"I was the luckiest girl in the world," recalled Nora. "I never felt so special."
Her new parents brought her to live with their four other children, two of them adopted. Nora remembers the early days as "awesome, living a dream." But after a year, her relationship with her parents changed. She was accused of hitting one of her siblings, and briefly ran away from home.
One day her mother told her she was going on a road trip with her father.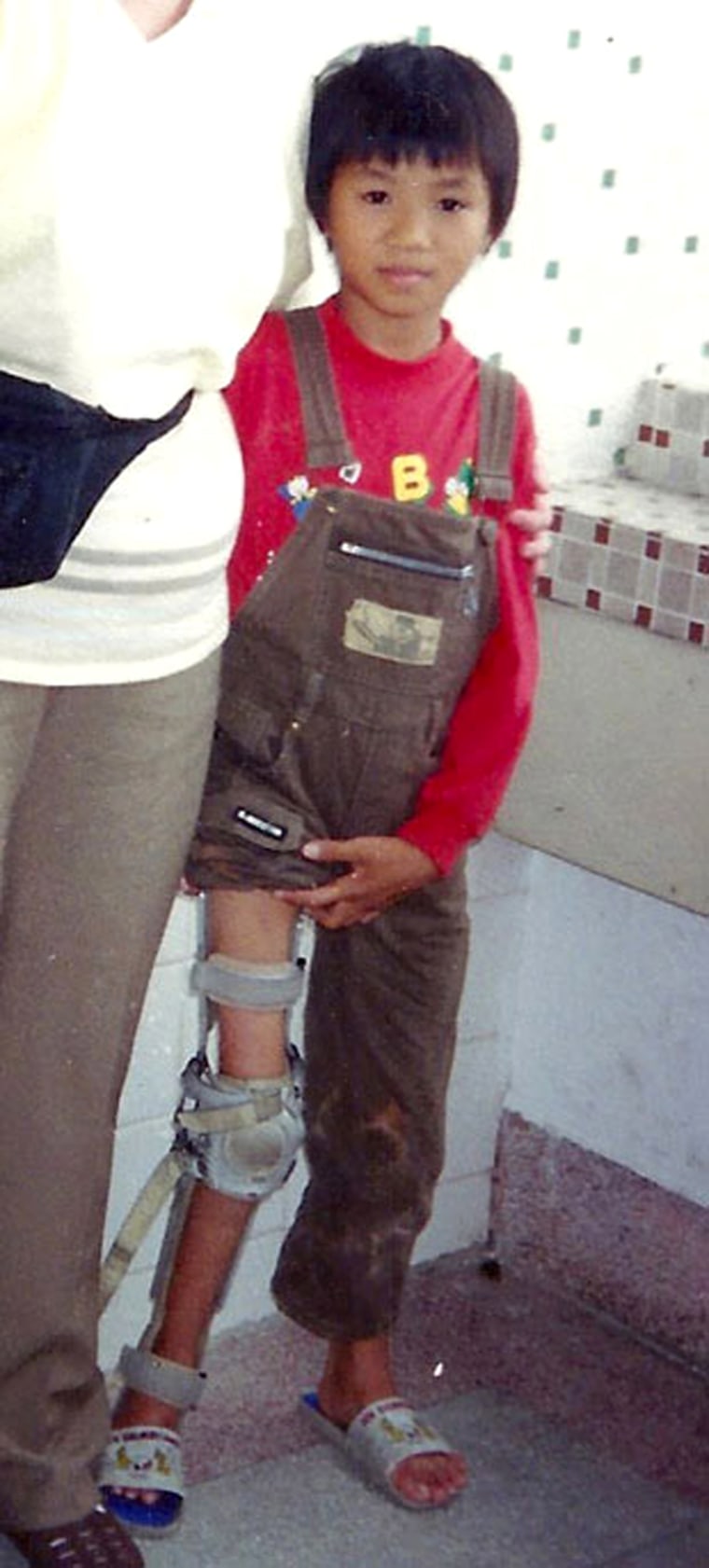 "I just thought we were going out," said Nora. "Just doing a daddy and daughter thing, because we'd done that before." The road trip lasted two days, and ended at an isolated farmhouse in Trenton, Tennessee.
There she met Tom and Debra Schmitz, who already had at least nine adopted and re-homed children, and would eventually amass 17.
Nora still has to wipe away tears when she remembers how her first American dad said goodbye. "He said, 'We'll come back in a couple years and pick you up.' And I believed him."
On her first night in Tennessee, said Nora, the Schmitz home seemed pleasant. Debra offered her ice cream and soda and was friendly and happy.
"Day 2 was not normal," said Nora. "I knew she'd lost her mind by day 2."
The Schmitzes were featured in newspaper articles that described how they'd provided a loving home to a multicultural, international brood of adopted children.
According to Nora, their public image was an illusion. The other kids in the house told her very quickly she needed to do what Debra said "or you're going to be in trouble."
She says she soon found she had to take care of the younger kids, many with special needs, and that Debra had harsh methods of discipline. She claims there was beating in the house, and she was sometimes forced to stay up all night or scrub floors with a toothbrush.
Nora had to wear a brace on her leg for her polio, and says that Debra would sometimes take it away. "She took my brace numerous times … as punishment. So I [couldn't] walk."
"She said, 'You can run away for all I care and I'll let the coyotes out there eat you,' " recalled Nora. "'Nobody knows you were here anyway.'"
Sometimes, claimed Nora, Debra would punish the children by forcing them to dig their own "graves," leaving holes "everywhere" in the backyard. Sometimes she made Nora supervise the other children as they dug, and at least once Nora was made to do it herself.
"She said, 'Get out and go dig your own grave," said Nora. "Nobody will find you."
"So I dug. And she watched. And watched, and watched."
According to Nora, the hole took three hours to dig and was big enough to fit her body.
The Schmitz house was in the country, far from prying eyes. When state officials came to visit, she alleges, they didn't necessarily see all the kids, because Debra made it difficult.
Away from scrutiny, says Nora, Debra would drink and surf the internet, looking for more children. She had an alarm on the gate and cameras around the house to monitor both the kids and any unexpected visitors.
One day a nurse who'd been coming to the house and suspected something was amiss persuaded Debra to let her take Nora and another child for a visit at her own home.
"I was scared for them," explained Sherry Dvorak. As soon as the girls were in her car they began crying and telling her everything.
Dvorak gave Nora and her adoptive sister a tape recorder, and in secret, away from the cameras, they recorded their version of events. When Dvorak heard the tape, she says she "just about physically got sick." She gave the tape to the police, who went to the Schmitz home with a search warrant.
The Tennessee Department of Children's Services determined that seven of the 18 children they took from the home did not legally belong to the Schmitzes. Eleven did, including a biological child of the Schmitzes, and Nora, who by then had been legally adopted.
In 2006, Debra pleaded no contest to 14 counts of child abuse and one count of trafficking. She was sentenced to six months in jail and put on probation. The case against Tom Schmitz, now her ex-husband, was expunged. He couldn't be reached for comment.
Debra told Reuters that she took the children after their parents begged her for help. She also says she never abused any children, and that she only made the children dig holes as punishment for telling lies. She denies taking away Nora's leg brace, and says she only pled no contest to the charges against her in hopes of getting the children back.
The parents who initially adopted Nora from China would not tell Reuters how they found the Schmitzes. Other parents who re-homed children with the Schmitzes said they contacted them through the internet. Dvorak says that Debra told her more than once she could get a child via the web. A second nurse who visited the home told police that Debra had shown her an internet group listing unwanted adopted children, and claimed she could get a child in three weeks without any government involvement.
Megan Twohey, who spearheaded the investigation of re-homing for Reuters, said that there are numerous internet chat rooms where desperate adoptive parents post notes advertising available kids.
Watch an interview with Megan Twohey.
According to Twohey, some of the messages mention that children were previously sexually abused. "Sex offender experts will tell you that these kind of advertisements are a predator's dream come true," said Twohey.
To see a database of the messages advertising unwanted adopted children, click here.
For more on how re-homing works, click here.
Nora went to live with Dvorak for several months after she left the Schmitz house, and then with a family named Gateley. She eventually took the family's last name.
Today she's working in a doctor's office, living on her own and playing wheelchair basketball for fun.
"I'm happy," she said. "I have people that love and care about me … I'm very humble and very happy and just blessed that I'm out of that situation."
Dvorak said that animal shelters are more humane than re-homing. "At least the dog shelter, if it's not a good fit, you can take that animal back to the shelter and they'll find a better home for it."
Nora said she thinks "re-homing" is a misnomer. "I call it a hit and run."
Monica Alba is an investigative producer at NBC News. Kate is a national correspondent at NBC News. Mark Schone is an investigative editor at NBC News.
More from NBC News Investigations: