A group of Afghan girls who were twice denied visas to take part in an academic robotics competition in Washington, D.C., revealed their delight at finally being given permission to begin their journey to the U.S. Friday.
Speaking to reporters as they prepared to fly out from Kabul International Airport, team member Rodaba Noori told reporters that she was "so happy" to be able to attend the competition.
Mentor for the Afghan Robotic Team, Alireza Mehraban, added that the decision was a signal of the "peace and relationship between America and Afghanistan."
White House spokesperson Sarah Huckabee Sanders said Wednesday that President Donald Trump intervened to ensure the girls would be allowed to enter the country.
Meanwhile Ivanka Trump posted on Facebook that she looked forward to "welcoming this brilliant team of Afghan girls" to Washington.
Afghanistan is not on the list of nations covered by the so called Trump "travel ban" which encompasses six Muslim-majority nations.
While officials did not comment on the reasons for initially denying the girls visas, the United States often denies visa requests from Afghans over fears that they will refuse to return home, the Associated Press reported.
Much of Afghanistan remains a war ravaged country, 16 years after U.S. and allied forces invaded pushed the Taliban out of power.
Speaking on Thursday, team member Noori said she saw the competition as a chance to show what woman and girls, who often face restrictions in Afghanistan, can do.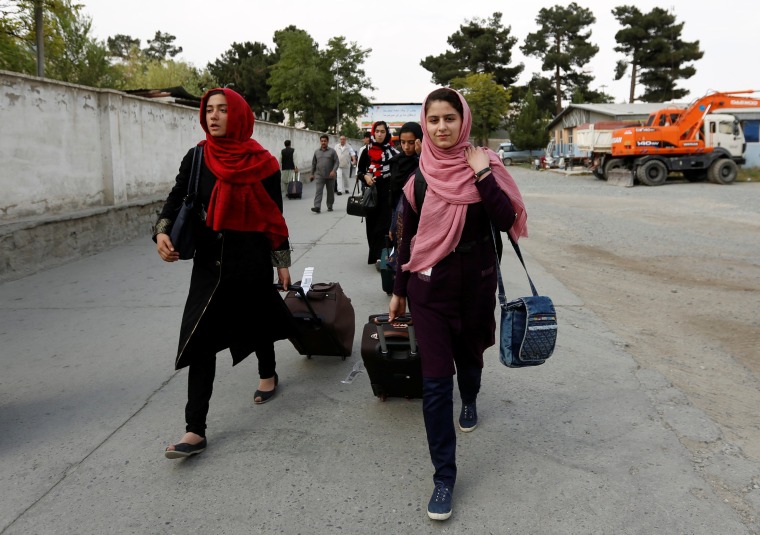 "I want to show [Afghani women] that nothing is impossible, everything is possible and I want to work to improve Afghanistan and make Afghanistan better place to live, work and getting education," Noori said.
However, she added that at first "we were so hopeless and cried a lot because we lose a big chance to show the ability and talents of Afghans [and] that Afghan women can make robots too."
The girls, who hail from the city of Herat in northeastern Afghanistan will display the robot they have constructed which can recognize orange and blue colors as well as move objects.
They had twice traveled to the U.S. embassy in Kabul, a journey of some 500 miles, after their initial application was declined.
Teams from Iran and Yemen, which are covered by the travel ban, have also been given permission to take part, event organizers First Global have said.