A $99 million Afghan road-building project funded by U.S. taxpayers has been scrapped, according to a report that details how American military personnel were bribed with Rolex watches in exchange for contracts.
The deal was ditched in October after evidence emerged of corruption during the award of the contract by the country's government.
In the last three months of 2016 alone, criminal investigations resulted in one conviction and six sentencings, nearly $2 million in criminal fines and the recovery of $320,000 according to a new quarterly report to Congress by the Special Inspector General for Afghan Reconstruction (SIGAR).
The report features a new "gallery of greed" that details some of the corruption cases uncovered since the American mission began some 15 years ago. Since then, the U.S. has spent some $117 billion on reconstruction in Afghanistan.
It identified individuals including former Army Sgt. 1st Class Ramiro Pena Jr. from Fort Campbell, Kentucky, who worked at the Humanitarian Assistance Yard at Bagram Airfield. He was sentenced to 24 months in prison in 2015 after admitting receiving $100,000 in bribes from local vendors in order to award contracts worth $30 million.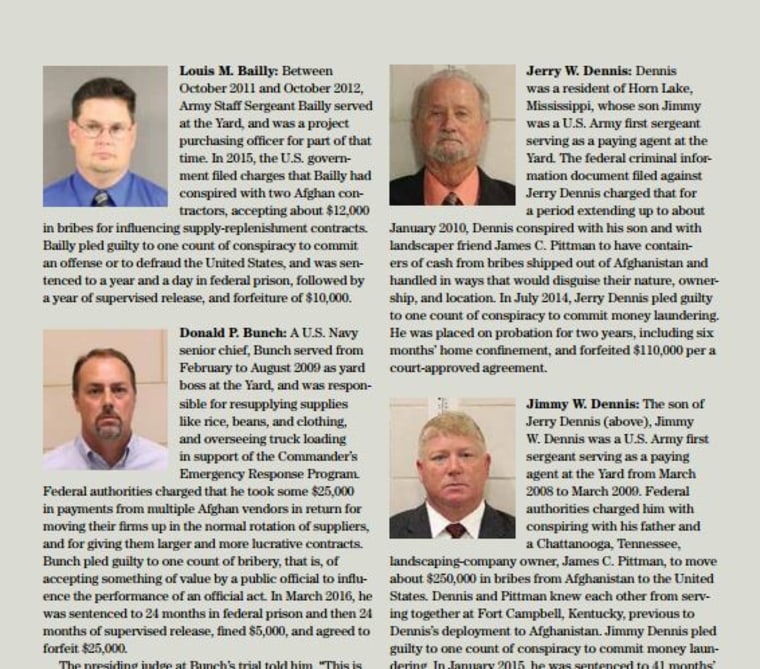 Pena admitted that he and his supervisor, Master Sgt. Jimmy W. Dennis, also received Rolex watches from vendors. The pair had to forfeit the watches, and Pena also had to hand over a Harley Davidson motorcycle he purchased with the cash.
Related: 12 Ways Your Tax Dollars Were Squandered in Afghanistan
Others named in the rogues' gallery include Donald P. Bunch, a former Navy non-commissioned officer from Pace, Florida who admitted taking $25,000 in cash bribes while conducting humanitarian assistance. He had been responsible for stocking emergency supplies such as rice, beans, and clothing and took payments from multiple Afghan vendors in return for lucrative contracts.
Far larger sums have been lost through waste, incompetence or suspected fraud that cannot be proven. Nearly $43 million of U.S. taxpayers' money was spent on building a gas station in what SIGAR's top official, John Sopko, called "one of the worst examples of poor planning and just sheer stupidity." Other blunders include $335 million spent building a power plant that used just one percent of its capacity.
SIGAR says it has saved U.S. taxpayers about $2 billion through audits and criminal investigations since the mission began more than 15 years ago.
That's a fraction of the $117.25 billion of tax dollars spent on humanitarian aid, engineering assistance and civilian security — more than the cost of rebuilding Europe after World War II. The cost includes $8.5 billion spent on counternarcotics, even though opium poppy production in Afghanistan is at an all-time high.
In the latest SIGAR report, Sopko described the reconstruction work as "tenuous and incomplete" and warned that corruption was a major problem along with the "questionable capabilities" of the U.S.-trained Afghan National Defense and Security Forces (ANDSF).
"If these two risk areas are not addressed, I fear that our reconstruction efforts could ultimately fail, to the detriment of our national-security goals in Afghanistan," he warned.
Related: U.S. Spent $43 Million on Afghanistan Gas Station: Watchdog Report
His report also painted a bleak picture on security, saying that the Afghan government now controlled only 57 percent of the country after local forces retreated from many strongholds amid an insurgency from the Taliban and militants affiliated to ISIS.
Local Afghan forces also sustained heavy casualties, with at least 6,785 soldiers and police killed in the first 10 months of last year, with 11,777 wounded, the report said.