KABUL, Afghanistan -- Women across Afghanistan risk being unable to vote in next year's presidential elections because of a severe shortage of female members of the security forces, the country's election monitor said on Wednesday.
Afghanistan's Independent Election Commission (IEC) said that there were just 2,000 of the required 12,000 women needed to carry out body searches required for voters entering polling stations set aside specially for women.
Voting is segregated as the two sexes are not permitted to mingle in public in conservative Afghanistan.
The shortfall of women staff is one of the greatest challenges facing the government ahead of the vote, planned for April 5.
"This is a really important issue for the IEC. We must have the same opportunities for male and females," IEC spokesman Noor Mohammad Noor said.
Recruiting women into the police force was considered an important victory for Western efforts to promote equality after the toppling of the hard-line Islamist Taliban in 2001.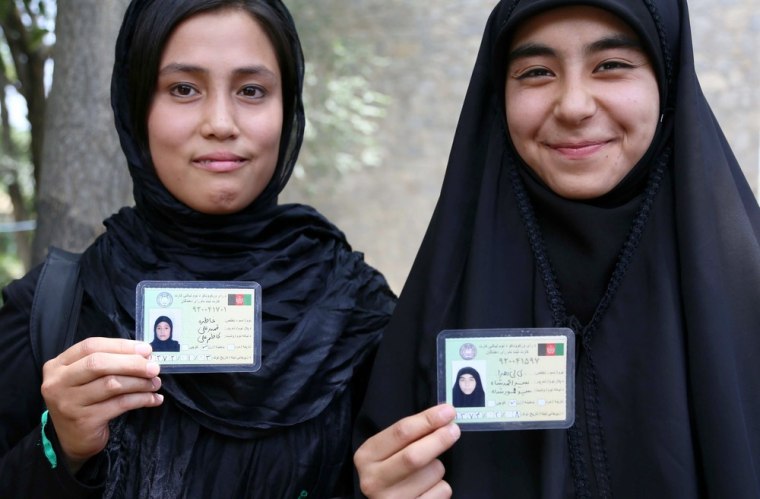 However, a Reuters report late last year found the aspirations of Afghanistan's female police force have been poisoned by a steady stream of taunts, molestations and even rapes by their male colleagues.
Recruitment has proved slow and numbers remain far below President Hamid Karzai's target of 5,000 women by the end of 2014.
To make up for the election day shortfall, the Ministry of Interior is considering training female teachers to carry out searches at polling stations, the IEC said.
The Ministry of Education was prepared to "help in any way possible", a spokesman said, though it was unclear whether the plan was workable.
Election officials encountered similar problems at the 2009 presidential poll, with female staff present at only 30 percent of polling stations set aside for women.
No figures for turnout of female voters are available, but officials say the numbers were very low, except in central Bamiyan province and areas in the country's north. In some areas in the less secure south and southeast, officials and international observers reported that almost no women voted.
Even if the ministry finds and trains the 10,000 women needed to secure polling stations, in Afghanistan's most conservative provinces hardly any women have registered to vote.
"We have been visiting homes and trying to get women together to explain why voting is important, that they have a voice and despite government corruption their vote does matter," said Neda Khaihani, a member of the provincial council in Baghlan in the north.
"We've been working for months and only have eight women registered at the moment."
Related: