KABUL, Afghanistan — Afghan forces backed by a U.S. airstrike launched a "large-scale operation" to rout the Taliban from a key city after militants seized a provincial capital in a stunning setback for the Western-backed government.
Afghan security officials said several high-level Taliban commanders were killed in air strikes.
President Ashraf Ghani said Tuesday — his one-year anniversary in power — that reinforcements were arriving in Kunduz and were working hard to protect the lives of civilians.
"Our main problem is that the enemy is using civilians as shields," he said in a televised address. "We have predicted that this year will be the most challenging year for our forces, unfortunately our prediction was true."
The Taliban took the strategic northern city of Kunduz on Monday in a surprise multi-pronged attack that kicked off before dawn. It was the first major urban area to fall to the Taliban since the U.S.-led invasion of Afghanistan in 2001 and marks an escalation of the insurgency.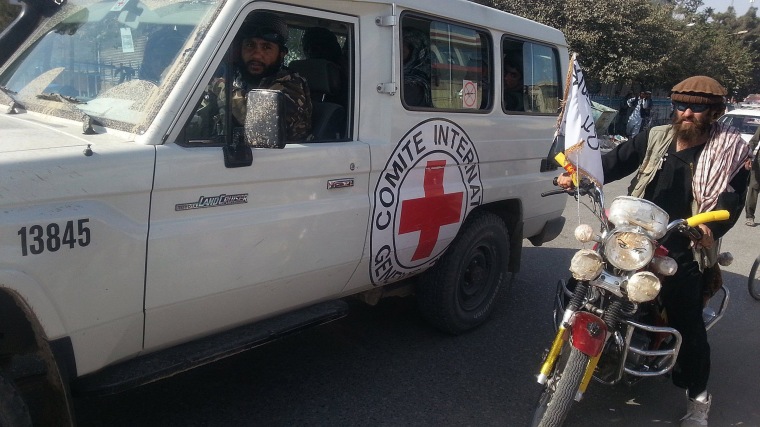 The militants called the seizure of Kunduz an "immense conquest" in a statement urging its fighters to respect the locals and which attempted to reassure residents the Taliban had "no intention" of looting, violating their property or carrying out extrajudicial killings.
"Carry out your ordinary livelihoods in absolute security," it said in the statement. "All traders, workers, staff of hospitals, municipality and governing bodies should continue their daily routines without any fear or intimidation."
The city has a population of about 300,000.
Kunduz resident Shah Wali said fighters were riding through the streets on motorcycles and trucks.
"We have not gotten out of home and spent the night without electricity and running water," Wali said. "Last night it was largely quiet in the city center, with sporadic gunshots ... but firing has intensified since 8 a.m. this morning and is getting closer to the city center."
Images coming out of Kunduz showed Taliban fighters adorning bikes with their flag, driving Red Cross vehicles, snapping selfies in front of United Nations cars and tearing down posters of politicians in the city square.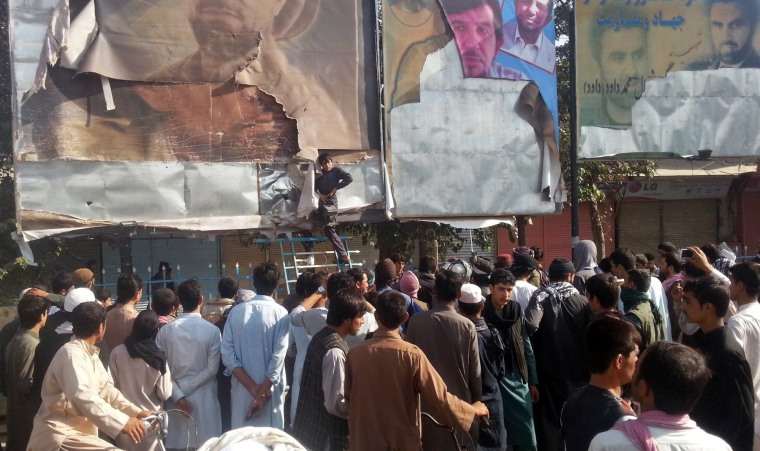 Ministry of the Interior spokesman Sediq Sediqqi confirmed that a "large-scale" operation was underway on Tuesday to reclaim Kunduz, with some areas inside the city already "cleared" of Taliban.
"The operation to retake the city has started," Sediqqi said.
U.S. forces launched an airstrike in Kunduz province to "eliminate a threat to coalition and Afghan forces operating in the vicinity," according to coalition spokesman, Col. Brian Tribus. He would not elaborate on the nature of the threat, how many coalition forces were in the area or if they were engaged in ground fighting.
Afghan police special-forces units from neighboring provinces — such as nearby Baghlan — also were deployed to help retake the city but were coming under fire.
One special-forces commander told NBC News that his unit was ambushed while trying to reach Kunduz and fought "for several hours" to open the road. He spoke on condition of anonymity because he was not authorized to speak to the press.
"They have planted lots of roadside bombs so we have to move very carefully," the commander said by phone as intense gunfire could be heard in the background. "We have only been able to move about 20 kilometers [12 miles] and faced another massive ambush... a heavy fire fight is ongoing between our forces and the enemy as I speak."
Afghan security officials later said Tuesday that the Taliban's "shadow governor" or Kunduz, Mullah Salam, his deputy and 15 of their fighters including a top-level commander were killed in an air strike.
"Mullah Salam was the overall commander of Taliban in Kunduz and his elimination will badly affect the enemy's moral and planning," the Afghanistan's National Directorate of Security said in a statement.
It was unclear how many casualties — fighters or civilians — resulted from the battles. Doctors Without Borders said its hospital in Kunduz was "overwhelmed" and had treated at least 171 people — including 46 children.
"The hospital is inundated with patients," said Doctors Without Borders' Guilhem Molinie. "With the hospital reaching its limit and fighting continuing, we are worried about being able to cope with any new influx of wounded."
The battle comes just days after new Afghan Taliban leader Mullah Mansour raised the possibility of resurrecting peace talks with the government in Kabul. The first round of negotiations was held in Pakistan in early July but the talks collapsed after it became known that Mansour's predecessor Mullah Omar had been dead for two years.
NATO officially ended its combat role in Afghanistan last year. A scaled-down coalition presence remains in the country, mostly for training and advising Afghan forces.