KABUL — Afghanistan will release 37 inmates from one of its prisons despite protests from the United States that they are "dangerous insurgents" with "blood on their hands," according to a statement by American forces Monday.
The 37 prisoners are part of a larger group of 88 who Afghan officials want to free from a jail at Bagram Airfield, north of the capital Kabul.
The U.S. transferred control of the jail, the Parwan Detention Facility, to Afghan authorities in March last year after it became a growing source of tension with the government. A Pakistani human rights law firm warned in September that the prison was in danger of becoming another Guantanamo Bay where some inmates were being held without basic legal rights.
The United States Forces-Afghanistan statement said there is strong evidence 30 percent of this larger group of 88 have wounded or killed 60 U.S. and coalition forces personnel. Some 40 percent of these people have wounded or killed 57 Afghan citizens, the statement said.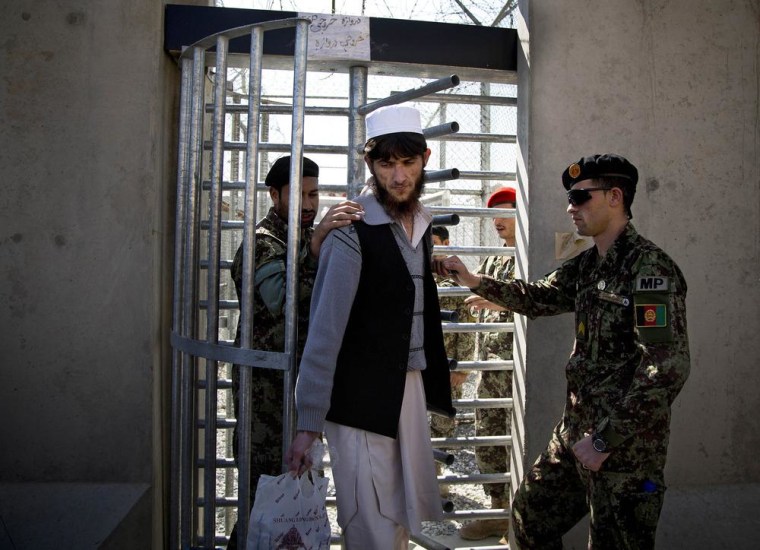 Afghan officials set up a review board to look at the cases of the 88 inmates. But the director of the board, Abdul Shakoor Dadras, told NBC News they did not have "any proof" the 88 were guilty.
Afghan President Hamid Karzai said at a news conference Saturday that if an inmate released from Bagram went on to carry out attacks it would only because he had been wrongly detained by American forces.
He called Bagram a "Talib-making factory" where "innocent people are tortured and insulted and made [into] dangerous criminals."
Tensions between the U.S. and Afghanistan have been at an all-time high in recent months because Karzai has repeatedly refused to sign a long-term strategic pact known as the Bilateral Security Agreement.-