KABUL, Afghanistan - Afghan presidential candidate Abdullah Abdullah has alleged widespread election fraud in favor of rival Ashraf Ghani during last weekend's vote.
"Turnout was much lower than the first round, maybe around 5.5 million," former foreign minister Abdullah Abdullah told NBC News, citing his own campaign's election observers. "The [Independent Election Commission of Afghanistan] has given a high turnout estimate of over 7 million so they can have the ability to manipulate the numbers."
Sign up for breaking news alerts from NBC News
Abdullah also claimed on Monday that his observers had reported that in some cases – particularly in volatile eastern provinces – turnout exceeded the number of registered voters.
Abdullah won 45 percent of the vote during the first round, more than any other candidate.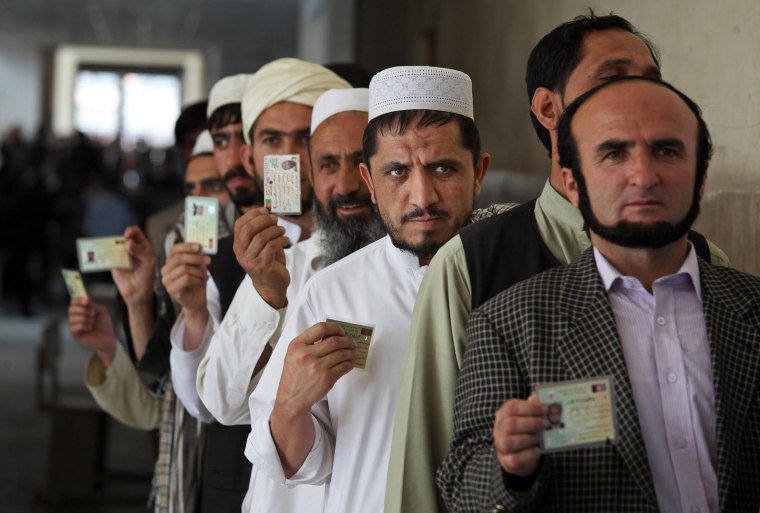 Ghani's camp, meanwhile, said they trusted the process and called on Abdullah to do the same.
"We have all faith in the democratic process and elections institutions," said Fazullah Zaki, a spokesperson for Ghani. "We do not want to make any prejudgment and trust the system and accept whatever the elections commission decides."
He added that the turnout was high in the east because of their effective campaign which had mobilized voters.
The country's Independent Election Commission declined to comment on Abdullah's claims.
The Free and Fair Election Forum of Afghanistan (FEFA), an independent watchdog with over 9,000 monitors across the country, said it had recorded more than 3,000 irregularities during the runoff, including 118 cases of ballot stuffing.
The 2009 election that saw President Hamid Karzai remain in power for a second term was riddled with irregularities, according to independent election monitors.
It could be several weeks before a winner is announced.
All eyes are now on Karzai who could play a central role in brokering a deal if there is a deadlock.
- Fazul Rahim