KABUL, Afghanistan — U.S. officials condemned Afghanistan's release of 65 alleged militants on Thursday, saying some of the men were explosives experts who were directly linked to attacks that have killed American troops and civilians.
"The release of these dangerous individuals poses a threat to U.S., Coalition and Afghan National Security Forces, as well as the Afghan population," the U.S. embassy in Kabul said in a statement. "They have killed Afghan men, women and children."
Senior U.S. military officials said the release "violates an agreement" with the Afghan government and is a "major step backward" in local "rule of law."
The group includes detainees directly linked to attacks that have killed or wounded 32 U.S. or coalition personnel and 23 Afghan security personnel or civilians, U.S. officials say.
The prisoners were freed at 9 a.m. (10:30 p.m. ET on Wednesday) from the Parwan Detention Facility in Bagram Air Field, said Abdul Shukoor Dadrass, who led the Afghan government's review of the prisoners released. He rejected American protests as baseless.
"The evidence against them was never seriously considered"
The detainees were driven to a government building in Kabul and "are now free to go," he said.
The group released Thursday were among 88 detained at Parwan that were part of a dispute between the U.S. and Afghanistan.
American officials contend the detainees should face trial in Afghan courts, saying DNA and explosive residue on their clothing link them to roadside bombs. The U.S. embassy statement added: "The evidence linking these individuals to serious crimes warrants careful consideration by a prosecutor and, potentially, indictments and prosecutions in Afghan courts under Afghan law. We requested a thorough review of each case. Instead, the evidence against them was never seriously considered."
Officials with President Hamid Karzai's government have said there was insufficient proof to hold them.
According to American officials, among those who were freed were:
Mohammad Wali, who was caught in Helmand province and is a suspected explosives expert thought to have placed bombs to target Afghan and U.S.-led coalition forces;
Nek Mohammad, who was caught in Kandahar province with artillery shells, mortar rounds and the materials to make bombs, including at least 25 pounds of homemade explosives;
Ehsanullah, a suspected commander of the Haqqani militant network, which has carried out attacks on civilians, Afghan and foreign forces.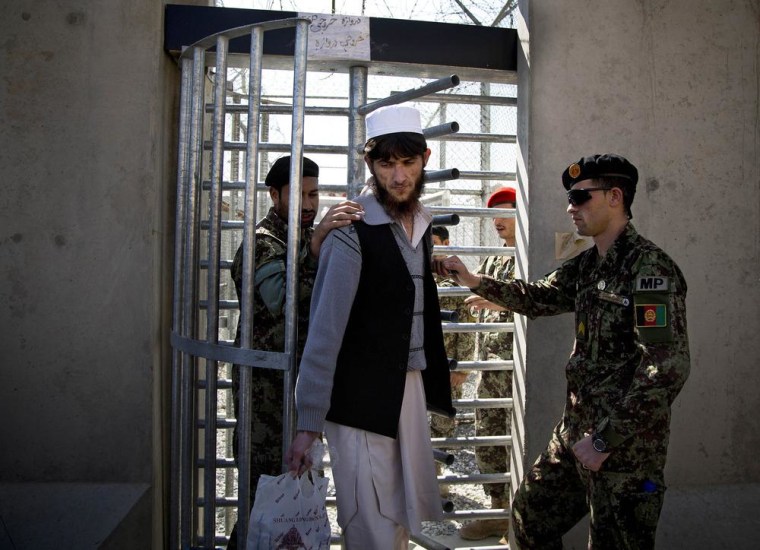 American officials aren't not the only ones who were nervous at the decision to free the detainees from the Parwar Detention Facility, also known as Bagram prison. A senior Afghan security official told NBC News that he and others in the intelligence field were also also upset. The fact that they had not gone through the Afghan legal system was "nerve-wracking," said the official, who spoke on the condition of anonymity because he was not authorized to speak to the media.
Karzai has referred to the Parwan prison as a "Taliban-producing factory" where innocent Afghans are tortured into hating their country.
Karzai ordered the releases several weeks ago after his government took over the center from the United States, straining already tense relations between the U.S. and Afghanistan ahead of the year-end withdrawal of most international combat troops.
The board Dadrass leads has already ordered the release of some 550 out of over 700 detainees whose cases it reviewed. Many of the prisoners held at the prison had been there for years without judicial review. Some 112 went to trial.
The release comes at a particularly contentious phase of the U.S.-Afghanistan relationship. President Hamid Karzai has refused to sign a Bilateral Security Agreement with the U.S. that the White House and Pentagon consider absolutely essential to keeping any American forces on the ground in Afghanistan beyond 2014. A U.S. force of about 10-thousand would remain to advise and train Afghan security forces once the war officially ends this year.
NBC News' Jamieson Lesko, Akbar Shinwari and Jim Miklasewski and The Associated Press contributed to this report. F. Brinley Bruton reported from London.