KABUL, Afghanistan — A leopard may not be able to change its spots, but can a warlord change his habits? It seems that Afghanistan's legendary fighter-turned-vice president Abudul Rashid Dostum is trying to do just that — and mounting a campaign for others to follow suit. Long renowned for his weakness for Russian vodka, Gen. Dostum has reportedly given up drinking and large banquets for a steady diet of small healthy meals, morning jogs and sensible bedtimes. Alcohol is prohibited under Islam and illegal in Afghanistan, but available is some parts of the country.
Dostum, who battled his way to power over three decades of war, also has turned to social media to spread his message of fitness and peace. "Guarantee your health with sports. If we want to build Afghanistan, we have to build ourselves first," reads one post on Facebook promoting Dostum's "Fitness for All" campaign.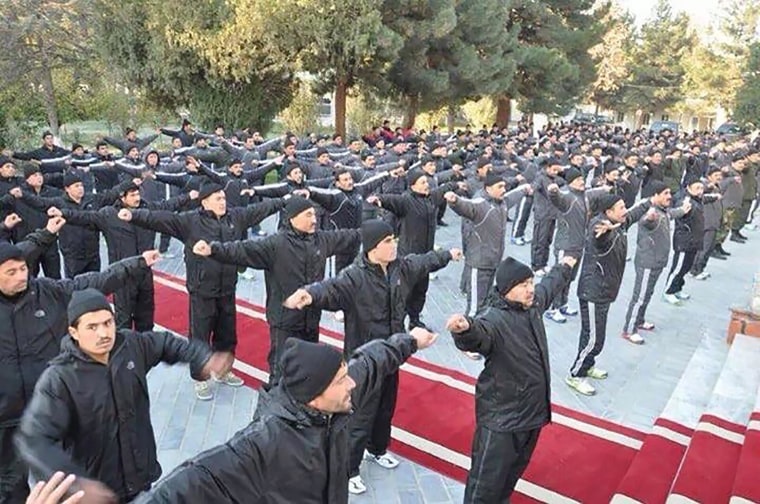 The beefy and mustachioed general and his small army of fellow fighters can now be seen doing jumping jacks and running around the vice-presidential compound in matching outfits. The transformation has surprised and transfixed many of his fellow countrymen. "Our leaders should learn from him — he is a great hero. When he needed to fight he did that, but now we need peace and he is doing this," Abdul Rahman, a 42-year-old security guard in Kabul said. "It will encourage the young to start doing sports when they see the vice president exercising every morning."
The general, who fought with as well as against Soviet troops and is said to have been instrumental in helping U.S. Special Forces topple the Taliban regime following the 9/11 attacks, is revered by fellow ethnic Uzbeks but still feared by many in Afghanistan.
"This guy only knows how to kill, but now he is calling for peace and fitness," said a skeptical Kabul baker named Folad. Like many Afghans, he goes by one name. "He is doing this to gain support and improve his image. There is an Afghan proverb that goes: 'The Mullah advises others, but does exactly the opposite himself.'"