KABUL, Afghanistan — Benafsha should be a poster child for post-Taliban Afghanistan.
Born just a year before the fundamentalist group was toppled in 2001, she soon joined the millions of girls who flooded back into classrooms around the country. Propelled by her own hard work plus the promises of a U.S.-backed government and Western countries that were pouring billions of dollars in aid into the war-torn country, she let her ambitions run free.
"I want to become a doctor because I want to help people, and I love biology," Benafsha said, smiling broadly.
That all ended in March, when her mother and brother stopped her from attending school. They deemed the trip too dangerous and possibly shameful for a girl old enough to marry.
The slender 15-year-old isn't alone. Women's achievements and status still hang in the balance throughout Afghanistan, where conservative forces are joining unabated poverty and growing violence to undermine huge gains made since the U.S.-led invasion in 2001.
"I may never be able to fulfill my dreams," Benafsha told NBC News during an interview at her home in Kabul.
It wasn't supposed to be this way.
In 2001, American forces helped topple the Taliban, which had sheltered Osama bin Laden and other al Qaeda leaders as they plotted the 9/11 attacks on the U.S. But Western soldiers weren't only looking for bad guys. Helping to improve the lot of female Afghans dominated the reconstruction agenda, and billions were spent on aid programs aimed at women and girls.
Related: U.S., NATO Formally End War in Afghanistan
In the early days of the Western invasion, then-first lady Laura Bush put the struggle for women's rights front and center.
"Muslims around the world have condemned the brutal degradation of women and children by the Taliban regime," she said in a national radio address in November 2001. "The fight against terrorism is also a fight for the rights and dignity of women."
"All the gains women made could be lost"
Today, an estimated 2.5 million Afghan girls are in school. Women serve in parliament, work in government and a handful have become prominent businesswomen. There is even a female fighter pilot.
But Afghanistan still remains one of the most dangerous places in the world to be female.
"Things are very gloomy for women, and it's getting worse," activists and campaigner Wazhma Frogh told NBC News. "There is much less space for women [in public life]."
'A worrisome development'
Criminality and violence are at the heart of the problem, said the head of Afghanistan's Women Peace and Security Research Institute.
"Women are being killed, raped and harassed on a daily basis much more than before — and overtly," she said. She blamed much of this on generalized lawlessness — exacerbated by the dramatic drawdown in foreign troops — which leaves women and girls vulnerable to attack and abuse.
The brutal lynching of religious scholar Farkhunda in downtown Kabul earlier this year was the latest in a series of stark reminders of the many threats facing Afghan women.
Women's mortality rates are much higher than men's, even when factoring in male combatants who are fighting and dying on the battlefield, according to the United Nations.
Related: 'We Don't Eat, We Don't Sleep, We Cry': Farkhunda's Dad
In fact, the U.N. calls the rates of violence against women in Afghanistan "exceptionally high" with up to 87.2 per cent of women having experienced some form of violence.
The situation is getting worse, according to activists. There has been a 31 percent rise in the cases of violence against women so far this year compared to 2014, according to Soraya Sobhrang, deputy chair of Afghanistan's Independent Human Rights Commission.
"This is a worrisome development that should be addressed — all the gains women made could be lost," she said.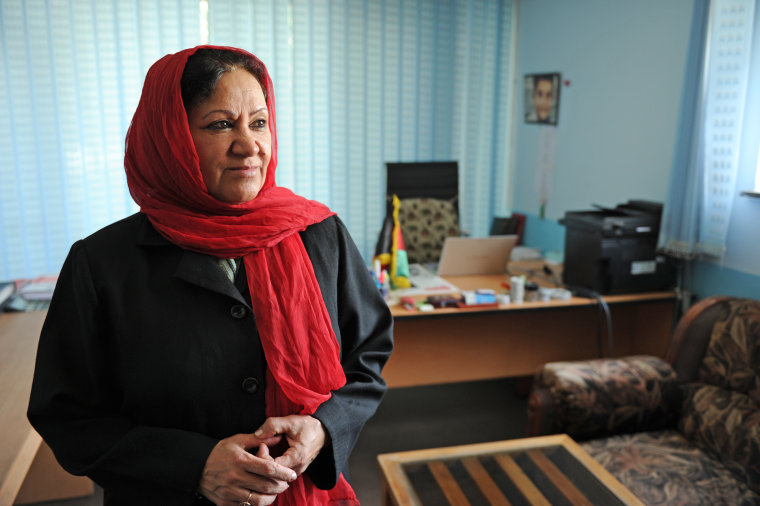 While President Ashraf Ghani is broadly believed to be a supporter of women's rights, critics say he is hamstrung by the presence of powerful figures who are hostile to them. A stark example of this is how conservative forces have blocked the Elimination of Violence Against Women (EVAW) law, which criminalized and set prison sentences for rape, domestic violence, and underage and forced marriage, among other things.
Former President Hamid Karzai passed the law in 2009 but it never got through the lower house of parliament, the Wolesi Jirga, where some parliamentarians said it ran counter to Islam and could tear apart Afghan society.
Related: Will Afghan Leader Ashraf Ghani Bow to Pressure to Hide His Wife?
Qazi Nazeer Ahmad Hanafi is one of the most prominent voices against the EVAW and has been especially rankled by the provision in the law to create women's shelters for victims of domestic violence. According to Hanafi, a parliamentarian from western Herat province, these shelters were actually "brothels" and could prompt a "revolution" that could kill millions.
The conservative forces resisting the full inclusion of women into society extend beyond Hanafi.
Afghanistan's Ulama Council — the highest religious authority in the country — recently fought to block the appointment of a woman to the Supreme Court.
"Life in general is very challenging and involves a lot of risk ... I have been the target of assassination attempts."
While a female judge, Anisa Rassoli, has been nominated by Ghani to the chamber on Tuesday, the council's spokesman Ataullah Ludin said the move ran against Sharia law. This will likely strengthen the position of many conservatives in parliament who are looking to prevent her from taking her post.
The council has also been quiet on the need to defend women, according to Fawzia Koofi, a prominent lawmaker and the head of the parliamentary committee on women's affairs and rights.
"They have been ineffective and silent about violence against women," she said. "They didn't even condemn the brutal murder of Farkhunda."
Familiar path to pain
Many women and rights activists say their fear isn't only that the Taliban will return to power in some form. They're also afraid the country is going down the same road that led to the 1992-1996 civil war which swept the fundamentalist fighters into power.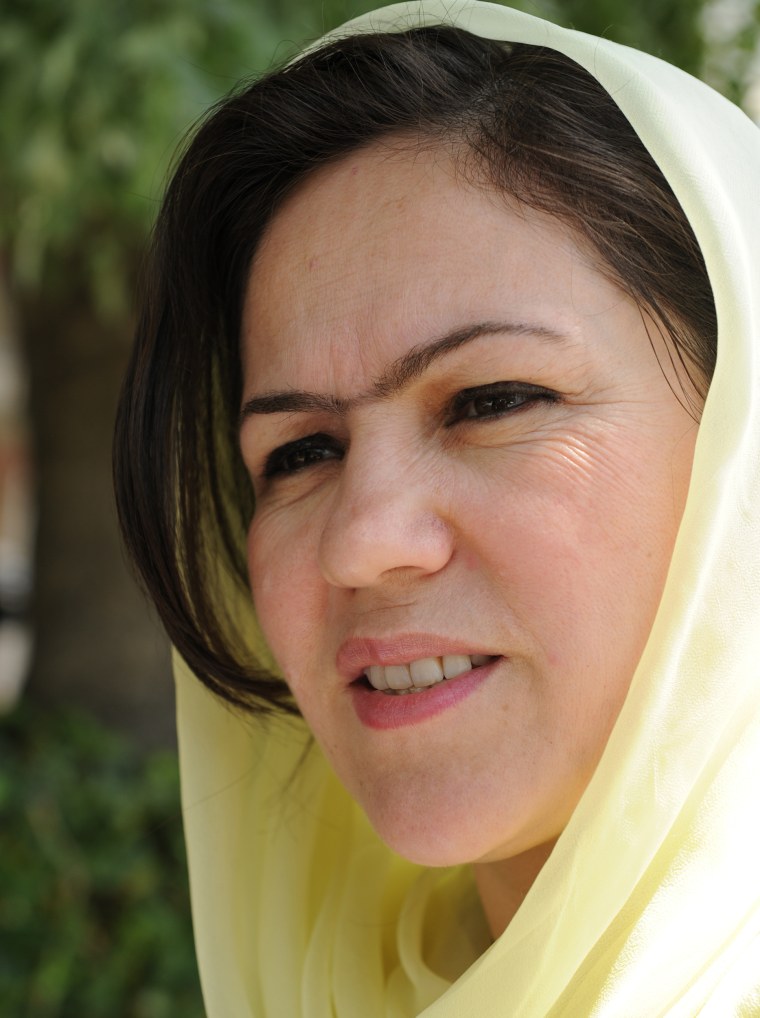 Now women who dare speak out, or even step outside their homes without the burqa, say they increasingly risk abuse — or worse.
Like other women in public life that NBC News interviewed, such as politicians, teachers and activists, Koofi said she felt her life was in danger.
WATCH: For Afghan Women, Home Isn't Where the Heart Is
"Life in general is very challenging and involves a lot of risk, but it's much harder to be a woman in the public sphere," Koofi said. "I have been the target of assassination attempts. [Recently] a well-placed security source told me that a suicide bomber came very close to target my vehicle in central Kabul, but lost me in the traffic."
And it isn't just legislators and activists who feel vulnerable.
Rangina Hamidi, who owns Kandahar Treasure — a successful business selling traditional Afghan pottery and textiles made by women — says she constantly worries about the future.
Hamidi is proud of her company, which employs around 400 women who mostly work from home including many secretly, in the heart of Kandahar, the Taliban's birthplace. The business has recently been hurt by the withdrawal of thousands of foreign troops, whom the company used to sell to.
"For a place like Kandahar, which is only known for war and destruction, it is a success for a group of women to generate over $300,000," Hamidi said. "The gains are certainly under threat of a civil war, should there not be peace."
Just 15 years ago, the Taliban imposed its strict interpretation of Islam combined with profoundly conservative tribal codes onto the Afghan people. Men and women were strictly segregated, the vast majority of the country's girls' schools were shuttered, women were barred from leaving their homes without an all-enveloping burka and a male chaperon. Those who broke the rules were beaten or executed.
The Taliban's rule, and the chaos that preceded it, are constantly on Hamidi's mind. As are the economic realities of Afghanistan, with foreign troops leaving and insecurity making it even harder for women as well as businesses like hers.
"We obviously fear that everything we have gained, not only as an entity here but as a country as a whole [will be reversed]. As women that fear is definitely in our minds," she said.
"My biggest fear is to tell all these women that we will not be able to support them any longer," Hamidi added.