African countries previously hit by deadly Ebola outbreaks are using the lessons they learned to fight the coronavirus pandemic, experts say, because they know how to rapidly track down, screen and quarantine potential patients.
"When a certain outbreak is over, you have a capacity left behind that you can build on or adapt. It could be for COVID-19 or something else tomorrow," said Dr. Mary Stephen, a technical officer for the World Health Organization at its regional office in Brazzaville, Republic of Congo.
While the coronavirus has infected more than 1.6 million people worldwide, only 14,744 cases had been detected on the African continent as of Monday, according to the Africa Centres for Disease Control and Prevention. To avoid disaster, health officials there are racing to compensate for weaknesses in national health systems by playing to their strengths.
After keeping the nearly two-year Ebola outbreak in the Democratic Republic of the Congo from crossing the border, neighboring Uganda has now redirected its resources to fight COVID-19, the disease associated with the coronavirus.
Screening measures at borders and airports have been adapted to detect the coronavirus, said Emmanuel Ainebyoona, a spokesman for the Ugandan Health Ministry. The only miscalculation was not recognizing the United Arab Emirates as a high-risk country early on, he said, allowing several infected people to enter Uganda.
Those cases have been identified, and the tracing of contacts is underway, he said. None of the 54 confirmed cases has yet required intensive care.
Full coverage of the coronavirus outbreak
"We have really taken lessons from China. We have looked at the scenarios of how Italian cases spread," Ainebyoona said. "We have learned from the experiences of other countries so we might forgo and prevent some mistakes that they have committed or approaches they had that didn't work."
African countries are also sharing best practices with one another, Stephen said.
A mobile app that was effective in preventing the spread of Ebola in Nigeria is being updated for COVID-19 and is being used by several countries, she said. It connects suspected infected people with health workers, monitors their symptoms and triggers ambulance services to move them into quarantine.
While only two labs across the 47 countries within the WHO's Africa region were capable of testing for COVID-19 at the onset of the outbreak, dozens are now adequately equipped in 43 countries, she said. And countries still lacking facilities can send their tests to those with the capabilities.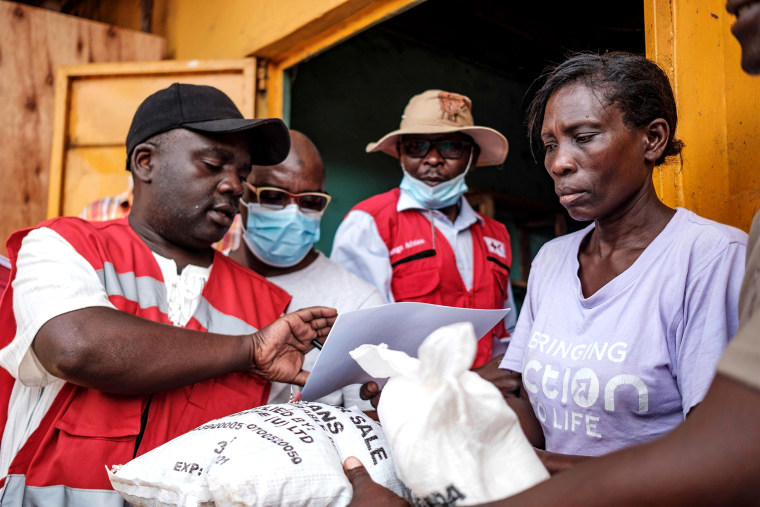 The seven countries on the continent that fall under the WHO's Eastern Mediterranean office are getting similar support.
Venues that can house mass numbers of patients, such as a sports stadium in Nigeria, are being identified, Stephen said. Lockdowns, either at regional or national levels, are being implemented as cases are reported across the continent.
"What we are trying to avoid is to use the capacity in existing systems that are already overstretched," she said, acknowledging how poorly resourced many health systems are.
Public education efforts based on campaigns during the Ebola outbreak are underway. They are designed to make residents aware of how to prevent the spread of the coronavirus and where to seek help if they show symptoms, said Martin Antonio, a professor of molecular microbiology at the London School of Hygiene and Tropical Medicine, who is based in Gambia. And the information is being translated into local dialects.
Lockdowns are also buying governments more time to prepare by slowing the spread of the disease. Still, Antonio acknowledged that lockdowns pose unique challenges in much of Africa.
"Most of the population are very poor, and the women go to the markets daily for cooking" supplies, he said. "If you lock down for 45 days, as they have in Gambia, one has to wonder how people are going to put food on the table."
Even with lockdowns, overcrowded slums and limited access to clean water and sanitation set the stage for the virus to spread rapidly.
In rural areas, borders between many countries are porous, with checkpoints only on major roads, meaning the virus could spread from country to country undetected, Antonio said. And some people turn to traditional healers rather than Western medicine when they are sick, meaning more cases can go unnoticed.
While Antonio believes current efforts will prevent a significant death toll, others are less certain.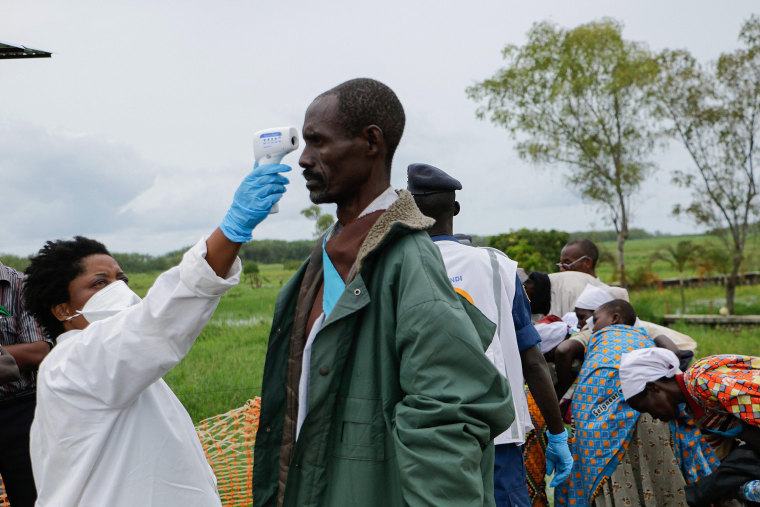 "I have to be honest. We are far from preparedness," Deemi Dearzrua, a nurse in Monrovia, the Liberian capital, told NBC News.
Dearzrua, who is also the assistant secretary-general of the National Health Workers Union of Liberia, knows all too well what the consequences could be. He recalled his colleagues' dying in hordes in the early days of the 2014-16 Ebola outbreak, which ultimately claimed 11,310 lives across West Africa.
"It was scary. It was scary at the time," he said.
Providing health workers with personal protective equipment, or PPE, was a game changer, he said, along with education on identifying, isolating and treating prospective patients.
Despite lessons learned from that experience, Liberia's overall health system is still short of supplies to mitigate another outbreak.
Download the NBC News app for latest updates on the coronavirus outbreak.
Not long after the coronavirus was detected in China, three patients in a hospital in the Bong region of Liberia died from various illnesses because there was no oxygen to administer to them, Dearzrua said.
"You go to the facilities in and around Monrovia, we don't even have paracetamol [known under the brand name Tylenol in the U.S.], which you can use for pain or headache," he said. "We don't even have electricity. We don't even have running water."
Stephen said countries are working to procure the ventilators and other medical equipment they need to treat people with the coronavirus. But shortages globally are cause for concern.
"This is why from the beginning we have been advising for the rational use of PPE," she said. "We are calling for global solidarity to help countries in Africa to get the basic minimum."
Dearzrua said that as the U.S. and countries throughout Europe fight the pandemic inside their borders, he fears that regular medical aid — from equipment to experts — will be cut off.
"We sympathize with what is happening in their countries," he said. "But we still appeal for their help, because, like I said, our system is not prepared, so we are still asking them to help us with supplies, with logistics, with whatever they can do."
Given the shortfalls, some humanitarian agencies are ramping up their efforts in the most vulnerable regions.
The International Rescue Committee has launched a $30 million appeal to combat the spread of the disease using lessons learned in the Congo region.
"Ending Ebola in an active conflict zone felt like an impossible task, but it's been achieved," Kate Moger, an IRC regional vice president, said in a statement Friday before a new case of the illness was detected, postponing what officials had hoped would be the end of the outbreak.
The fight against the Ebola virus contributed to significant developments, such as improved health policies, infrastructure and public health awareness among the population, Moger said. "Now, the international community, aid agencies and donors must capitalize on this knowledge and put our full force behind beating this new pandemic."