As the FBI prepares to investigate a pair of fatal police shootings in Anaheim, Calif. the mother of one of the men who was killed is pleading for calm.
"Please, please, please stop the violence," Genevieve Huizar said at a news conference Wednesday.
Huizar showed pictures of her slain son, Manuel Angel Diaz, 25, at family gatherings, playing basketball in high school, and holding a sign expressing pride in a step-brother who was serving in the military.
"I wept as my son took his last breath," Huizar said. "I watched as his heart stopped beating."
Diaz who was unarmed, was shot and killed on Saturday after fleeing from police on foot. On Tuesday, his family filed a $50 million wrongful death lawsuit against the city of Anaheim.
The family has alleged that police, who called Diaz a known gang member, shot him first in the leg and then in the head.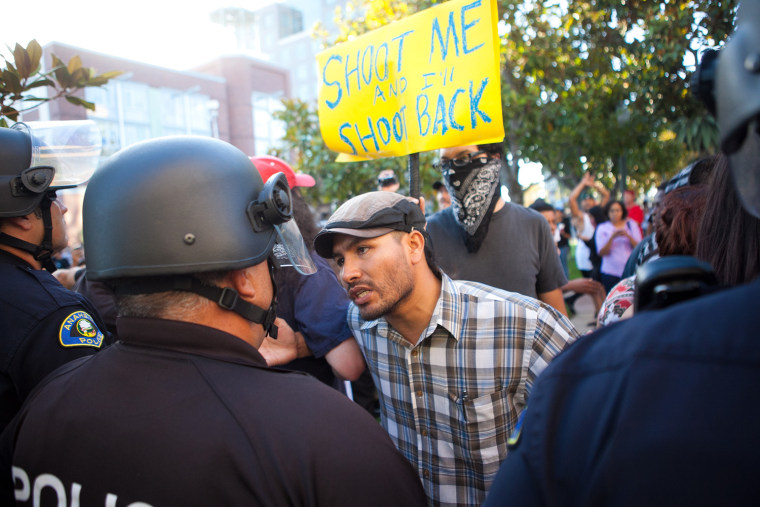 Read the original story at NBCLosAngeles.com
A day after Diaz died, a second man was shot and killed by Anaheim police, and anger over the two incidents boiled over on Tuesday night, as a crowd that was at times as large as 500 people clashed with police, culminating in the arrests of 24 people.
In a news conference on Wednesday morning Mayor Tom Tait took a strong tone against the protesters, saying that city welcomed public comment at its council meetings, but that vandalism and violence would not be tolerated.
He said city officials believe that some in the crowd were from outside the city.
"We are happy to hear from any and all residents," Tait said. "But we will not accept any violent protests, vandalism or arson perpetrated under the guise of public protest."
Anaheim police Sgt. Bob Dunn told NBC Los Angeles that demonstrations and occasional violence continued until about 2 a.m., seven hours after residents gathered outside a meeting of the city council.
At that meeting, the council voted to ask the U.S. Attorney's office to investigate the shootings, which took place Saturday and Sunday. So far this year, police in Anaheim have been involved in eight shootings, officials said, two of them fatal.
Diaz was shot and killed after he fled police by running down an alley. The next day, on Sunday, 21-year-old Joel Mathew Acevedo was shot and killed – also after fleeing on foot.
In Acevedo's case, police have said that one of the three people who were fleeing on foot that night pulled out a gun and began shooting at officers. A handgun was found near Acevedo's body.
Police have called both men gang members.
By 4 p.m. Tuesday, protesters began gathering outside Anaheim City Hall, many clamoring to get inside after the chambers were full.
After police arrested a man whom they mistakenly believed had brought a gun, some in the crowd began throwing rocks. Police ordered the crowd to disperse at about 9 p.m. and fired pepper balls at their feet, police said.
The majority of the crowd had dispersed by 11 p.m., but a small contingent remained in the street. Anaheim Boulevard was reopened with a heavy police presence. At the demonstration's peak, more than 200 police officers were at the scene, Dunn said.
Several fires broke out near the scene of the protest -- one in a trash bin, another near a bus bench, according to aerial footage. It was not immediately clear how the fires started.
At least one person was transported to the hospital after being shot in the head with a PepperBall, said Sgt. Bob Dunn with Anaheim police. No officers were injured.
Aerial footage indicates that police continued to take demonstrators into custody by 11:30 p.m. Four of those arrested were juveniles, police said.
Tensions escalated for hours throughout the city where several bank and coffee shop windows were smashed with rocks.
Police were on high alert as the protest turned violent, with demonstrators throwing rocks, bricks and traffic cones at officers and squad cars, Dunn said. A print reporter appeared to be injured in the melee, possibly struck with a rock, he said.
A separate group appeared to gather near the scene of one of the deadly shootings, setting up a candlelight vigil, according to aerial footage.
Diaz's death sparked protests during the weekend, including one on Saturday during which a trash bin was set on fire and a small group of people threw rocks and bottles at police. Three people were detained, officials said.
Anaheim Mayor Tom Tait called for a state and federal probe of the fatal shootings during a news conference Sunday, at which some 70 protesters stormed the lobby.
"Transparency is essential," Tait said Sunday. "The investigation will seek the truth. And whatever the truth is, we will own it."
At least four agencies are involved in or are expected to join the investigation, including the U.S. Attorney's office, the State Attorney General, the Anaheim Police Department's Officer of Internal Affairs and – as is usual for officer-involved shootings – the Orange County District Attorney's Office.
Anaheim officials say they will meet with the FBI and others on Friday.
More content from NBCNews.com: