MAINZ, Germany -- After nearly 60 years of performing spectacular stunts, police officers from Berlin's record-holding motorbike display team are being forced to hang up their tight green leather uniforms.
The biker cops were forced to discontinue their dazzling performances -- which often included headstands and multiple riders on the same motorcycle -- because of a lack of funding.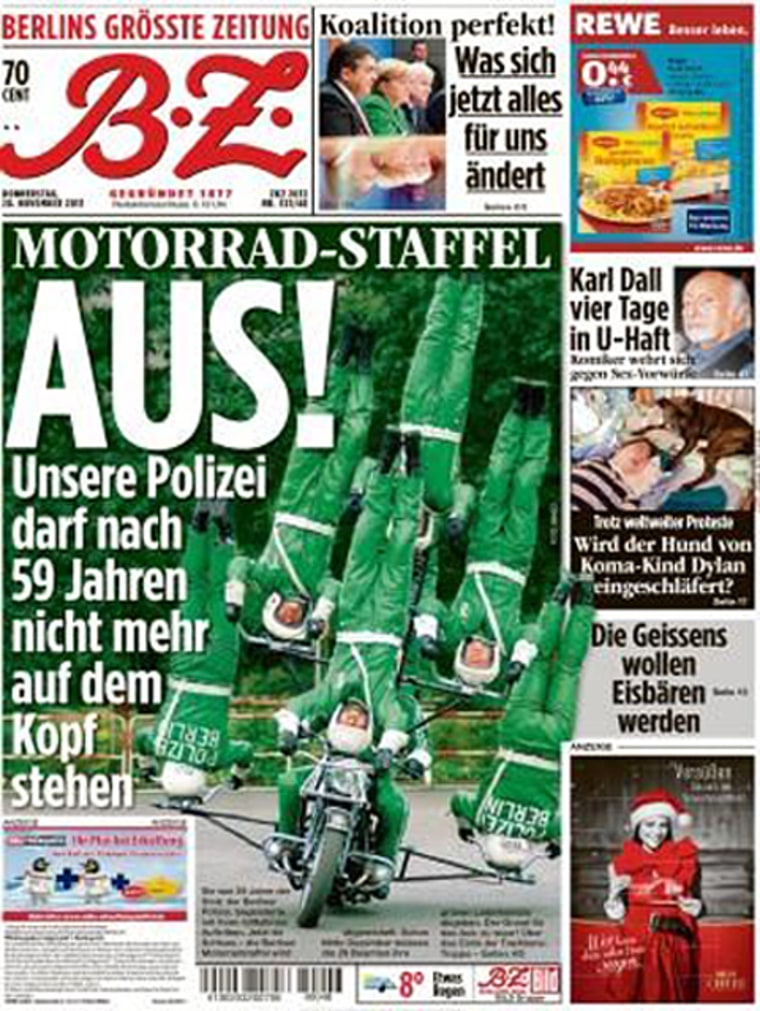 "The bikes, the additional equipment and the uniforms have come to age and an investment of nearly 150,000 euro (around $200,000) would be needed immediately," Berlin police spokesman Stefan Redlich said. "We need to invest any available money in the security of our city and the daily police duties. It would be difficult to justify the high spending for a display team."
The news made the front page of Berlin's BZ tabloid, which ran the headline: "It's over. After 59 years, police no longer allowed to stand on heads."
The 32-member group, which includes several female officers, "survived the Cold War and the fall of the wall," the Berlin newspaper noted. 
"Back in the 1950s and 1960s motorbike and car stunts fascinated crowds and helped us to get young people interested in police work," Redlic added. "Today, it does not have the same public-relations effect."
Among the artistic repertoire were daring stunts such as "the eight-man-headstand-pyramid," "the rotor," "the mill," and "the big ladder," which often included dozens of police officers performing acrobatic stunts on their police motorcycles.
One of the group's main attractions and a highlight in night-time performances was a so-called "illuminated parade drive."
"Our colleagues used to perform at so-called police sports meetings that filled Berlin's Olympic Stadium and had several gigs a year in Germany and abroad," Redlich recalled. "But this year, they only had one public appearance."
Over the years, the globetrotting German amateur acrobats showed their special police skills in countries including the United States, Japan, South Africa and Sweden.
Back in 1994, the display team set up its first world record while appearing on a popular German TV show called "Wanna Bet." At the time, 83 men held onto each other on nine motorcycles. Four years later, the display team set another record, when it performed with 46 men and four women on just one motorcycle.
"It is making us all very sad," Georg Franke, an 80-year-old former officer who headed the group since 1957, told NBC News. "We have already been disbanded, returned our uniforms and as far as I know the motorbikes will later be auctioned off."