A teenage girl who became a global symbol of Palestinian resistance after being filmed slapping an Israeli soldier in the occupied West Bank has accepted a plea deal under which she will be sentenced to eight months in prison, Israeli media reported on Wednesday.
Under the agreement, Ahed Tamimi, 17, would plead guilty to a reduced charge sheet that includes assault, according to Haaretz newspaper. She has been imprisoned since her arrest.
Her lawyer was not immediately available for comment.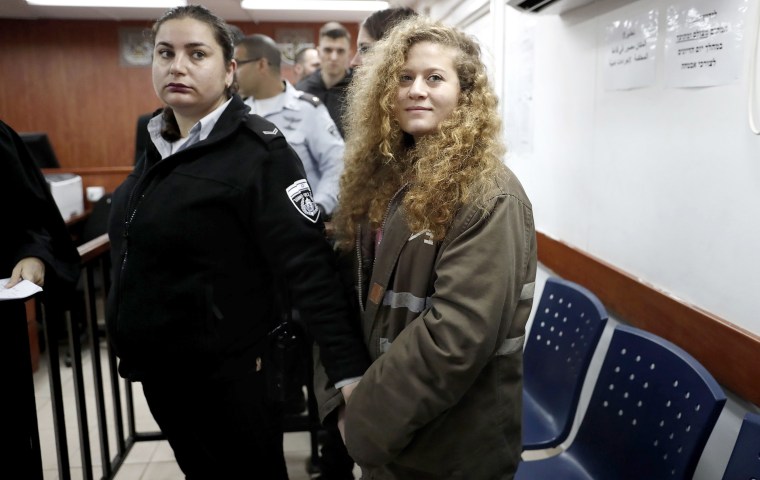 Tamimi, who was arrested along with her cousin and mother a few days after the Dec. 15 incident in the family's front yard, galvanized a Palestinian population disheartened by years of settlement-building on land envisioned as a future state. She also prompted renewed international attention on Israel's occupation of the West Bank, and on the Palestinian cause in general.
Among many right-wing Israelis, however, the case prompted criticism that the military looked weak by allowing the teenager to strike a soldier and an officer.
Human Rights Watch welcomed the news that Tamimi would be home soon, but called out the Israeli justice system over the case.
Related: Slap heard 'round the world: Ahed Tamimi becomes symbol of Palestinian resistance
"Ahed will be home in a few months, but Israel is putting this child behind bars for eight months for calling for protests and slapping a soldier, after threatening her with years in jail," Sarah Leah Whitson, executive director of the Middle East division of Human Rights Watch, said in a statement. "Plea bargains are the norm in Israel's military justice system, which is characterized by prolonged pretrial detention, abuse of kids and sham trials. Hundreds of Palestinian children remain locked up with little attention on their cases."