/ Source: Associated Press
DUBAI, United Arab Emirates — Former Iranian President Mahmoud Ahmadinejad has defied the advice of the Islamic Republic's supreme leader and registered to run again for the nation's presidency.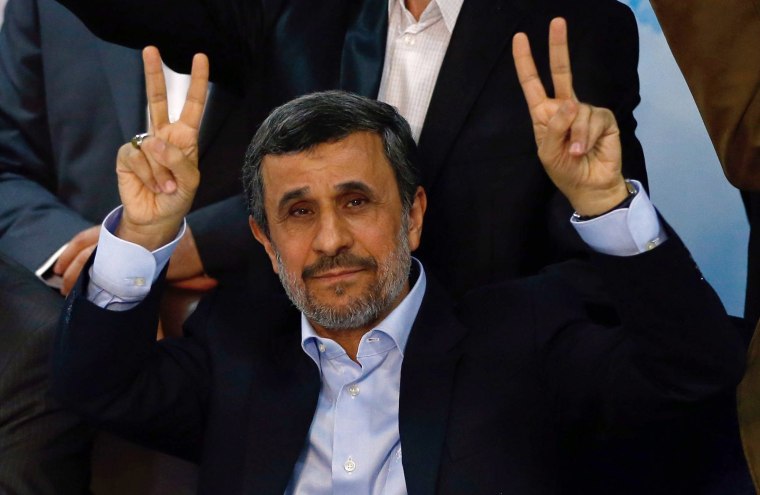 While the hard-line showman's candidacy still would need to be approved by authorities, his entering the race could upend politics in the country of 80 million people and affect global affairs.
Here's why it matters:
Internal Politics
Ahmadinejad's decision runs directly counter to advice offered in September by Iran's Supreme Leader Ayatollah Ali Khamenei, who has final say over all state matters. While Ahmadinejad described that directive as "only advice," his decision challenges Khamenei's authority. Ahmadinejad's 2009 re-election sparked massive internal unrest. Coming back to the political stage now could reopen those wounds.
Worried Neighbors
Sunni Arab states in the Gulf remain highly suspicious of Iran, especially after it secured its landmark nuclear deal with world powers. They see Iranian influence in the campaign of Shiite rebels in Yemen who hold that nation's capital despite a Saudi-led military campaign against them. They also stand opposed to Iran's backing of embattled Syrian President Bashar Assad. Israel is staunchly opposed to Ahmadinejad, who questioned the scale of the Holocaust and called for Israel's destruction as he presided over a massive expansion of Iran's nuclear activities.
The Nuclear Deal
Ahmadinejad's return to Iran's presidency could see the West, particularly the U.S., reevaluate the nuclear deal struck under the administration of moderate President Hassan Rouhani, who is expected to seek re-election. Iran agreed to limit its enrichment of uranium in exchange for the lifting of some economic sanctions. Since the deal, Iranian oil has started flowing more freely in the world market. Airplane manufacturers Airbus and Boeing Co. have struck billion-dollar deals. U.S. President Donald Trump, a staunch critic of the nuclear deal, could move to dismantle it, particularly if a hard-liner like Ahmadinejad is elected.
His Chances of Winning
Ahmadinejad's candidacy must be approved by the Guardian Council, a clerical body, before he can stand in the May 19 election. Half the 12-member council's members are selected by Iran's supreme leader and half by the country's judicial chief with parliament's approval. Even if his candidacy is given the green light, it's unclear whether he has enough popular support to win. Ahmadinejad remains a deeply polarizing figure, even among hard-liners, and his decision to register for the election could be a political stunt to try to remain relevant.
The Bottom Line
Iran remains a major force in the Middle East and supports Shiite militias fighting the Islamic State group in Iraq. It routinely has tense encounters with the U.S. Navy in the Strait of Hormuz and the Persian Gulf. An Ahmadinejad presidency could inflame those tensions while increasing the likelihood of an Israeli military strike on the country's nuclear facilities. His name appearing on the ballot could cause unrest and spark other challenges to Iran's clerically overseen government.