A commercial jetliner carrying 116 people went missing and presumably crashed in Western Africa on Thursday after adjusting its route due to a storm in western Africa — the third major aviation disaster in a week.
A Burkina Faso airport official told NBC News that wreckage from Air Algerie Flight AH5017 had been found in neighboring Mali, but French President Francois Hollande disputed that.
"No trace of plane has been found yet. All efforts will be used to find this plane. I have mobilized all our military in this area," Hollande told reporters.
The plane — carrying 50 French nationals and passengers from a dozen other countries — vanished about 50 minutes after it left Ouagadougou, the capital of Burkina Faso on its way to Algiers, Algeria.
It took off at 1:17 a.m. local time (9:17 p.m. ET on Wednesday). Burkina Faso's Transport Minister Jean Bertin Ouedraogo told reporters its pilots had asked to change route about 21 minutes after takeoff after reporting heavy rains.
Spain-based Swiftair confirmed it operated the McDonnell Douglas MD-83. Swiftair said 110 passengers and six crew were aboard the jet. It had been due to land in the Algerian capital at 5:10 a.m. local time (12:10 a.m. ET), but the flight was missing for hours before the news was made public.
Citing the transport minister, The Associated Press reported the flight was carrying 51 French nationals, 27 Burkina Faso nationals, eight Lebanese, six Algerians, five Canadians, two Luxemburg nationals, one Swiss, one Belgian, one Egyptian, one Ukrainian, one Nigerian, one Cameroonian and one Malian.
According to the airport's Facebook page, former Cuban leader Fidel Castro's niece, Mariela, was among the passengers, but NBC News has confirmed she was not on the flight and is in her native Havana.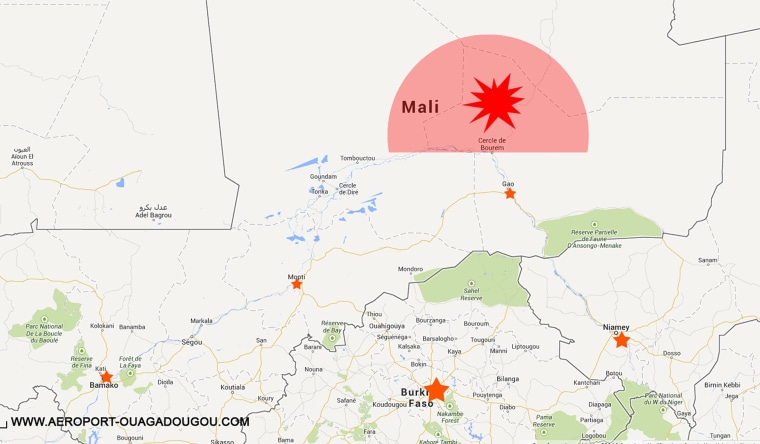 Earlier, an Algerian official told Reuters that the last contact with the jet was over Gao, Mali. An influx of arms and fighters from the 2011 Libyan civil and an attempted coup the following year has left Mali in turmoil. Gao has witnessed recent attacks involving both Tuareg separatist rebels and al Qaeda-linked militants.
The incident comes in the wake of Malaysia Airlines Flight MH17 being shot down by a surface-to-air missle over eastern Ukraine last Thursday and the crash Wednesday of a TransAsia turboprop on a small Taiwanese island. Nearly 350 were killed in the two disasters.
On Wednesday, U.K. pilots also warned passengers of the "illusion of safety" after some airlines and the Federal Aviation Administration halted flights to an Israeli airport because of the risk of rockets fired by militants.
The FAA classifies Mali as a potentially hostile region.
"Civil aircraft operating into, out of, within or over Mali are at risk of encountering insurgent small arms fire, rocket-propelled grenades, rocket and mortar fire, and anti-aircraft fire, to include shoulder-fired man-portable air defense systems (MANPADS)," the FAA said in a notice. Any U.S. aircraft flying below 24,000 feet "must obtain current threat information" and comply with all FAA regulations.
However, one senior French official told The Associated Press that it seemed unlikely that fighters in Mali had the kind of weaponry needed to shoot down a plane.
David Gleave, an aviation expert at Britain's Loughborough University, described the MD-83 as a "pretty solid airplane in general." He added: "It flies fairly simply, pilots understand how it flies so it is a solid, reliable workhorse … it is unlikely to be the flight crew didn't understand the aircraft."
Gleave said that a variety of problems might be behind the plane's disappearance — potentially ranging from maintenance issues to human error. ""It could be something as mundane as multiple vulture strikes," he added.
Founded in 1986, Spain's Swiftair flies in Europe, Africa and the Middle East. According to its website, it has 30 planes and employs around 400 people. On Jan. 24, 2012, one of its planes – a MD-83 – was damaged landing at Afghanistan's Kandahar Airport, according to air safety website Aviation Safety Network. There were no fatalities. And on July 28, 1998, one of its cargo planes crashed on approach to Barcelona, Spain, killing two onboard, the site added.
Crashes involving Malaysia Airlines alone have sent this year's death toll in aviation disasters beyond the annual global average, according to figures from the International Air Transport Association. The downing of MH17 and March 8 disappearance of MH370 account for 537 deaths – higher than the five-year worldwide average total of 517.
A TransAsia flight also crash-landed on a Taiwanese island Wednesday, killing 48 people.
NBC News' Emmanuelle Saliba, Ian Wood, Alastair Jamieson and Jason Cumming, The Associated Press and Reuters contributed to this report.