NEW DELHI — Hazy skies, plummeting air quality and a cloud of health hazards: The pollution that residents of the northeastern U.S. can suddenly see and smell is all too familiar for many across Asia.
New Delhi often ranks as one of the world's most polluted major cities, but has been overtaken by New York City this week as smoke from Canadian wildfires prompts health advisories and pushes its air quality to the worst in the world.
The orange haze hanging over some of America's biggest cities is a reminder of the "apocalypse" that the Indian capital experiences every fall, said Bhavreen Kandhari, who has been a clean air campaigner for more than 20 years.
"This is very much the image ... that we've seen each year, over the last couple of decades now," she told NBC News.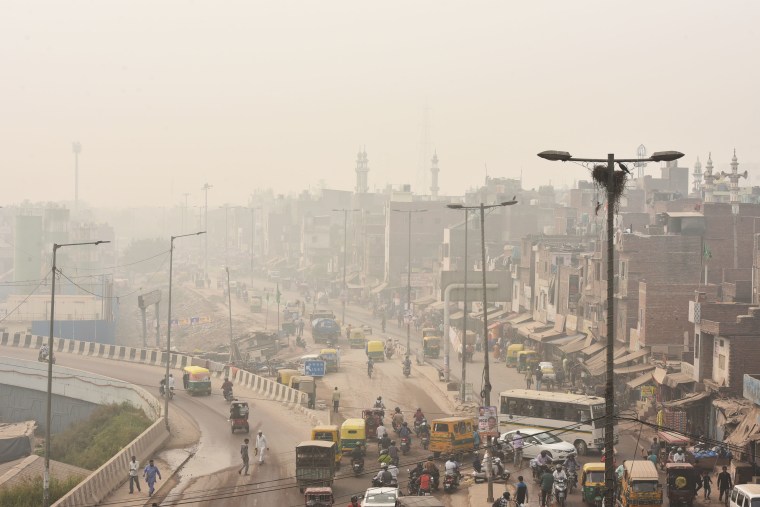 Every year, farmers in states neighboring Delhi burn crop residue, sending smoke into the air and across the country.
South Asia was home to 44 of the world's top 50 most polluted cities last year, most of them in India, according to the Swiss air quality technology company IQAir.
Kandhari said that though she sympathized with residents in New York and elsewhere, "we really hope that the policymakers in the USA, who are in denial, feel the pain of the developing nations who choke each day in this toxic hell."
The world's most polluted city last year was Lahore, Pakistan, IQAir says. In Bangladesh, whose capital, Dhaka, was the world's second-most polluted city Thursday, air pollution is responsible for 20% of all premature deaths, according to a World Bank report this year.
Southeast Asia has also seen worryingly high levels of pollution this spring from forest and agricultural fires, endangering public health and threatening the crucial tourism industry in countries such as Thailand, Vietnam and Laos.
As many as 70% of the world's 6.5 million annual air pollution-related deaths are in the Asia-Pacific region, according to the United Nations Environment Program.
New Delhi residents like Deepali Yadav, who says she's been "dealing with this problem for years," say they have found ways to cope that could also help those suffering from pollution in the U.S.
The air quality index (AQI) in New York and elsewhere exceeded 400 Wednesday, well above the 100 that the Environmental Protection Agency considers a healthy limit.
"They can try staying indoors and using purifiers, using masks and water sprinklers to settle the smoke a bit," said Yadav, an electronics engineer. "Strenuous outdoor activities can wait for some time, if that's possible."
Shreya Bhattacharya, a textile designer, said people in New Delhi and elsewhere in northern India were wearing masks long before the Covid pandemic, especially heading into winter when AQI can exceed 700. She said they use humidifiers and air purifiers, especially while sleeping, and keep potted plants in the house during those months.
"Breathing exercises and yoga have helped us greatly in maintaining lung capacity," she said.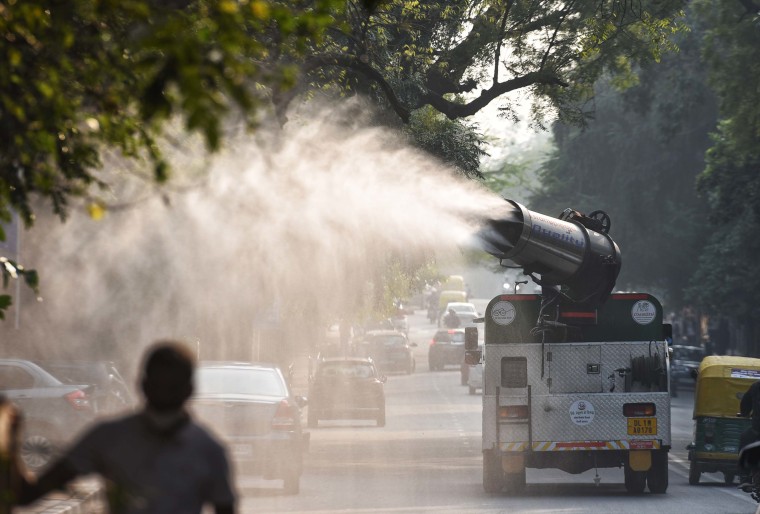 Taking a shower or washing one's face, especially the eyes, with cold water "helps remove the burning sensation from exposure to polluted air," she said.
"We try to avoid stepping outside as much as possible and make sure to mask up whenever we do."
Both Bhattacharya and Yadav stressed the importance of making earth-conscious choices.
"I try to walk or use public transport whenever possible, surround myself with air-purifying plants, burn less, reuse and repair more, use masks outdoors, eat healthy and live using sustainable and nature-friendly ways," Yadav said.
In Beijing, where AQI approached 1,000 during the "airpocalypse" of 2013, air pollution has improved dramatically but still flares up during annual sandstorms in March and April that partly originate in neighboring Mongolia. Experts say climate change is likely to make the naturally occurring sandstorms more severe.
Please don't go outside, especially elderly people and children.
Jungle Jiang, university student in Beijing
"When I was in middle school, I can remember many days when the weather was foggy and visibility was no more than 200 meters (220 yards)," said Sam Li, 23, a Beijing native. "My nose was full of dust, and I felt quite disgusting."
Almost every family she knew had an air purifier, she added. "My high school also had air purifiers to protect students from air pollution."
Li said the most efficient way to prevent pollution from entering homes was to shut all the doors and windows.
"If you have to go outside, you need to wear the professional PM2.5 mask," she said, referring to particulate matter that measures less than 2.5 micrometers in diameter, like that produced by wildfires.
This year, the Chinese capital experienced its worst air pollution March 22, according to the Beijing Municipal Ecological and Environmental Monitoring Center. The AQI that day was 500, state media reported.
"The sky was yellow and the pollution was bad, but not to the extent that it is in New York today," Jungle Jiang, a university student living in Beijing for six years, said via text message.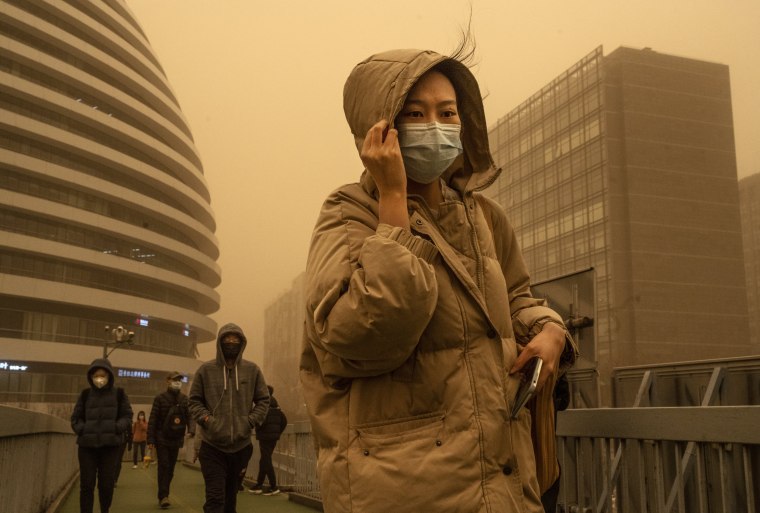 Her advice for those affected by pollution in the U.S.: "Please don't go outside, especially elderly people and children. Also, it would be great to park your cars inside because, if not, you would find your car was covered with dust later."
She added that people driving in low visibility should be especially careful to avoid accidents.
As is the case in South Asia, the U.S. pollution caused by the wildfires in Canada shows that air quality issues defy borders and require international policy solutions, Kandhari said.
"A question that always comes to my mind is why the global summits should be called only in some fancy places and why not in the most polluted cities and countries so they can feel the choking that the children bear, and they don't have to showcase air pollution in self-made air pods," she said.
"It's, like, feel it yourself," Kandhari added.
Ravi Mishra reported from New Delhi, Larissa Gao and Jennifer Jett reported from Hong Kong.