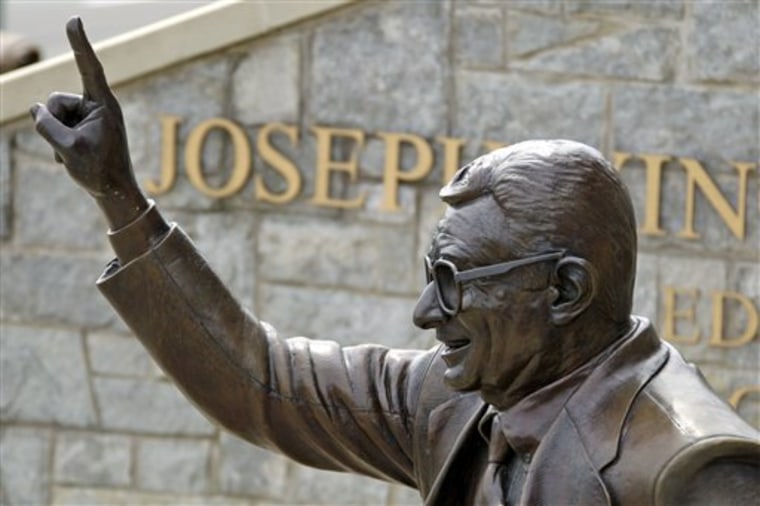 A small plane flew around the Penn State campus in State College, Pa., on Tuesday with a banner urging that the school dismantle the statue of football coach Joe Paterno.
"Take the statue down or we will," the banner said.
The incident follows the release Thursday of former FBI Director Louis Freeh's report that accused Paterno of helping to cover up child abuse by assistant coach Jerry Sandusky.
And it comes on a day when Brown University, Paterno's alma mater, said it was taking his name off an annual athletic award, and a Penn State student group that manages a rallying spot for the Nittany Lions' football games changed the spot's name from "Paternoville" to "Nittanyville."
National Sky Ads, the Long Island-based company that flew the banner, told NBC News that the person who hired them is "a concerned citizen" who "takes offense to certain things." The owner, who only wanted to be identified as "Ted," confirmed that this was the same person who hired an airplane banner poking fun at Tiger Woods in 2010.
The plane is registered to Ohio-based Air America Aerial Ads, according to the Centre Daily Times. The operator of that plane, James Miller, would not identify his client, but told the Centre Daily Times that he believes in the freedom of speech.
Related: Middle school to remove Paterno mural following Freeh report
A Penn State spokesman, David La Torre, confirmed the banner's appearance but had no further information.
In an interview Tuesday with WJAC-TV, Penn State President Rodney Erickson said top university officials are looking into what, if anything to do with the 7-foot statue of Paterno, which stands outside Beaver Stadium.
"We're obviously also hearing from members of the Penn State community and far beyond. Obviously, Joe Paterno was a legend. He had a very important influence on the university for many years, so we need to look at in a comprehensive kind of fashion the things that coach Paterno did that were supportive of our educational efforts and other things," Erickson said.
"Obviously, as the Freeh report indicates, there were clearly very bad judgments that were made along the way with respect to the Sandusky matter and that will forever be a mark against Joe's contributions."
Watch US News videos on NBCNews.com
He added: "So we need some time to separate out the positive kinds of things with respect to education, as well as the things that would serve as a very negative reminder of the consequences of possibilities of what transpired here at the university."
Last month, Sandusky was convicted of abusing 10 boys over 15 years, and he could face up to 373 years in prison. The Freeh report found four top university officials including Paterno, who died in January of lung cancer, could have prevented the sex abuse from continuing.
In the WJAC-TV interview, Erickson also said he's still counting on the university's insurance policies to cover the cost of settling lawsuits arising from the Sandusky scandal.
"At this point, we're counting on insurance funding and the other sources of funding that we identified earlier in the year, which is funds that were derived from loans - interests on loans to self-supporting units within the university - including the Department of Intercollegiate Athletics."
He said no taxpayer, donor or tuition money would be used to pay any settlements.
Erickson also said in the interview that the university would soon submit a response to questions from the NCAA, which is considering sanctions against the school's sports programs.
NCAA President Mark Emmert said the Penn State sex abuse scandal was so egregious that he would not rule out applying the so-called "death penalty" to the university – the cancellation of an entire football season.
Asked in an interview on PBS's Tavis Smiley show Monday night about such a severe sanction, Emmert said: "I don't want to take anything off the table. The fact is this is completely different than ... anything else we have dealt with."
"I don't know that past precedent makes particularly good sense in this case," Emmert said.
Once Penn State responds to the NCAA's letter, the organization will decide whether to press charges against the college.
Reuters contributed to this report.
More content from NBCNews.com: