A veteran Palestinian American journalist was fatally shot Wednesday morning while covering raids in the occupied West Bank for Al Jazeera, with the broadcaster and another reporter who was wounded in the incident blaming Israeli forces.
The death of Shireen Abu Akleh, a well-known reporter for the broadcast network's Arabic language channel, sparked immediate outrage in the region and beyond.
Israel initially suggested she may have been killed by Palestinian gunmen in clashes during the raid, though it later appeared to step back from that claim. Al Jazeera, Palestinian officials and the reporter who was wounded in the incident all said she was shot by Israeli security forces.
Al Jazeera said that Abu Akleh, 51, was wearing a vest identifying her as a member of the press when she was killed. The broadcaster accused Israeli forces of the shooting, saying the journalist was "assassinated in cold blood."
"We pledge to prosecute the perpetrators legally, no matter how hard they try to cover up their crime, and bring them to justice," the Qatar-based network said in a statement.
Abu Akleh was born in Jerusalem and studied journalism at Yarmouk University in Jordan, though she initially studied architecture, according to an obituary published by Al Jazeera. She is survived by a brother, Tony.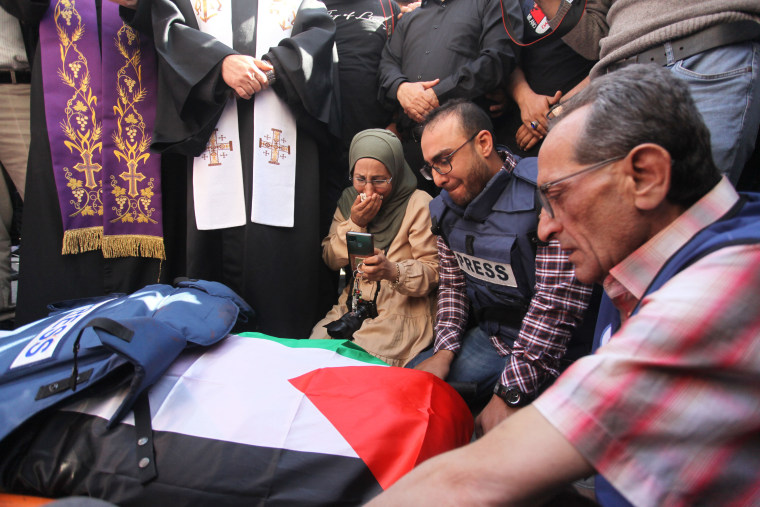 Wisam Hamadan, who worked with Abu Akleh at Al Jazeera, told NBC News that she was a symbol for journalists around the world. He called her one of the best, saying "we lost everything with Shireen."
"I can tell you she is like the logo of Al Jazeera," Hamadan said. "She is the voice of Palestine. She is the voice of what is happening for the Palestinians from the occupation. And she's telling the truth ... she is telling what is happening."
Hanan Ashrawi, a veteran Palestinian politician, worked with Abu Akleh after she returned from university in Jordan. Ashrawi said their friendship "lasted for decades."
"Shireen was a remarkable person," Ashrawi said. "She was an excellent professional journalist but she was also a warm and giving human being."
Ashrawi said Abu Akleh covered Palestinians with empathy and compassion. Ashrawi expressed "no confidence" at any investigation done by Israel's military to be objective.
"This is ludicrous, this is preposterous," Ashrawi said. "The Israelis shoot to kill. All their investigations exonerated all the military, and all the settlers, and all the murderers. They constantly blame the victim."
Palestinian Prime Minister Mohammad Shtayyeh also blamed Israeli forces for the journalist's death.
"Shireen Abu Akleh contributed to forming the memory of an entire generation & telling the Palestinian story to the world," he said in a tweet. "Shireen was killed by the Israeli occupation while documenting their horrific crimes against our people. My sincere condolences to her family and colleagues."
The Israeli military said early Wednesday that its forces came under attack and returned fire while conducting "counterterrorism activity to apprehend terrorist suspects in the Jenin Refugee Camp." It said it was investigating "and looking into the possibility that journalists were hit by the Palestinian gunmen."
Israel has carried out near-daily raids in the occupied West Bank in recent weeks amid a series of deadly attacks inside Israel, many of them carried out by Palestinians from in and around Jenin.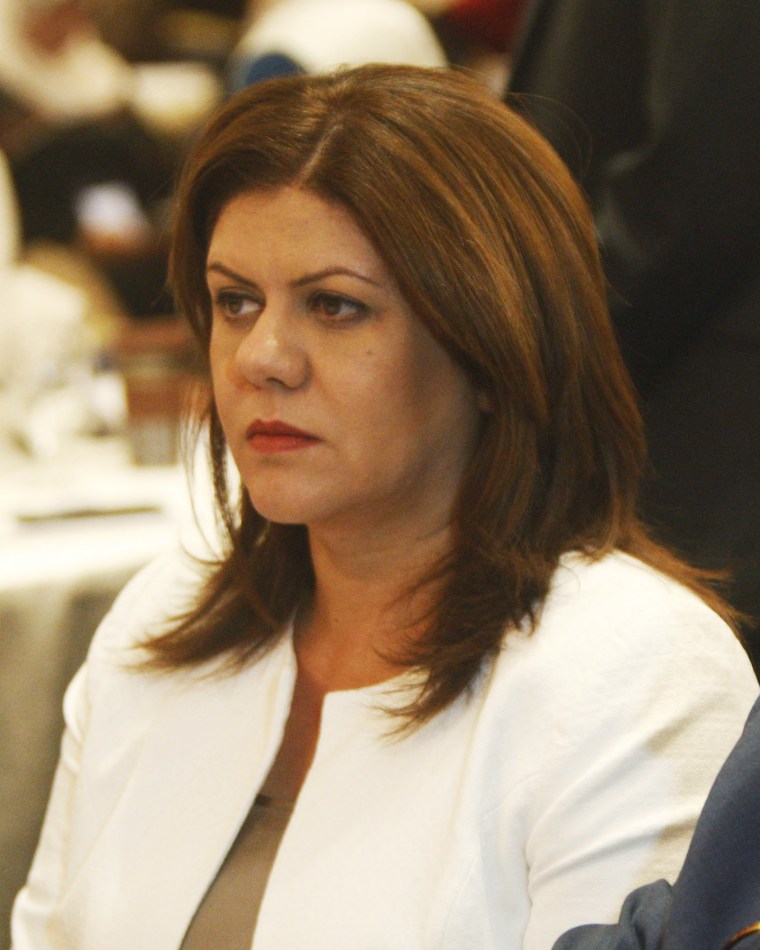 In a statement published on Twitter, Israeli Prime Minister Naftali Bennett said that "it appears likely that armed Palestinians — who were firing indiscriminately at the time — were responsible for the unfortunate death of the journalist."
His office said Israel offered Palestinians a "joint pathological analysis and investigation, which would be based on all of the existing documentation and findings, in order to get to the truth." It said that so far, that offer had been refused.
NBC News has contacted the Palestinian Authority for comment.
However, Israeli army chief Lt. Gen. Aviv Kochavi later stepped back from the claim that Palestinian gunfire appeared to have killed Abu Akleh, saying that "at this stage, we cannot determine by whose fire she was harmed and we regret her death."
Palestinian journalist Ali Samoudi, who was taken to the hospital after being shot in the back, was stable.
Samoudi told Al Jazeera that he was working as Abu Akleh's producer among a group of reporters who went to cover the raid Wednesday morning.
Samoudi said the group wore protective gear that clearly identified them as reporters, and that there were no militants or other people in the area at the time of the shooting.
"We were going to film the Israeli army operation and suddenly they shot us without asking us to leave or stop filming," he said.
Shaza Hanaysheh, another Palestinian journalist among the group of reporters, also told Al Jazeera there were no clashes or shooting in the immediate area.
State Department spokesman Ned Price said in a statement: "We are heartbroken by and strongly condemn the killing of American journalist Shireen Abu Akleh in the West Bank. The investigation must be immediate and thorough and those responsible must be held accountable. Her death is an affront to media freedom everywhere."
Rep. Rashida Tlaib, D-Mich., condemned the Israeli government over Abu Akleh's death, writing in a tweet Wednesday: "When will the world and those who stand by Apartheid Israel that continues to murder, torture and commit war crimes finally say: 'Enough'?"
"Shireen Abu Akleh was murdered by a government that receives unconditional funding by our country with zero accountability," she said.
The Israeli Embassy in Washington, D.C., released a statement Wednesday expressing "immense sorrow" over Abu Akleh's death.
"Israel, like all democracies, places great value on freedom of the press and sees the protection of journalists as a fundamental responsibility," the statement said.
The statement added it was "irresponsible to blame Israel" before having all the facts, though the embassy's official Twitter account deleted a tweet with video accusing "Palestinian terrorists" of firing "indiscriminately."
B'Tselem, an Israeli human rights group, pushed back at the now-deleted tweet and said that a field researcher walked the location shown in the video of a gunman and where Abu Akleh was shot.
The group said the locations were approximately 330 yards apart and separated by walls.
"Documentation of Palestinian gunfire distributed by Israeli military cannot be the gunfire that killed Journalist Shireen Abu Akleh," the group tweeted.
Abu Akleh's body is expected to be taken to Ramallah, the seat of the Palestinian government, before heading to Jerusalem for burial.
Her death comes amid weeks of escalating violence in Israel and the Palestinian territories, including the recent killing of three Israeli civilians in an ax attack last week and an order by Israel's high court to expel Palestinians living in an area of the occupied West Bank.
It also comes as President Joe Biden prepares to visit Israel next month, his first since taking office.