Militants in Yemen have released a video threatening to execute a British-born American hostage in three days if its demands to the U.S. government are not met, according to a company that monitors terrorist groups.
The video from al Qaeda in the Arabian Peninsula (AQAP), which was purportedly released Thursday, does not specify what those demands are, SITE Intelligence Group said. But in a translation provided by the company, AQAP accuses the U.S. of bombing its fighters.
In the video, a man the group claims is U.S. citizen Luke Somers — who was working as an English teacher and freelance photographer in Yemen — is threatened with execution.
In the propaganda video, a man purported to be Somers says he is 33 years old, was born in England but has American citizenship. Somers was kidnapped by gunmen in 2013 in Yemen's capital of Sanaa.
"I'm certain that my life is in danger," Somers says under duress.
Ossie Ikeogu, the newsdesk editor for Demotix, a freelance photography platform, said he last spoke with Somers 10 days before his kidnapping after the U.S. issued a warning to Americans living and working in Yemen.
"He felt that he wasn't under threat and he felt that the work he was doing there was worthy," Ikeogu told NBC News.
He said that while Somers was in Yemen primarily to teach, he had a "passion for photography," and he used Demotix to get his photos published by Le Monde, Al-Jazeera, Unicef and other outlets. His pictures ranged from rich cultural scenes to pro-democracy protests.
When Ikeogu saw the new video, he was filled with "horror because Luke is one of the nicest people you could ever talk to," he said. "We would make a point of trying to touch base with him once a month. He was always positive, always happy-go-lucky in a sense."
He did not know what had drawn Somers — who graduated from Beloit College in Wisconsin with a creative writing degree in 2008 — to Yemen.
Reuters reported last week that seven Yemeni hostages and one foreigner were freed by Yemeni security forces in an operation in which seven al-Qaeda members were killed, according to the U.S.-allied government. It is unclear whether that operation is related to the video, but a narrator does refer to a recent operation in which its fighters were killed, according to SITE.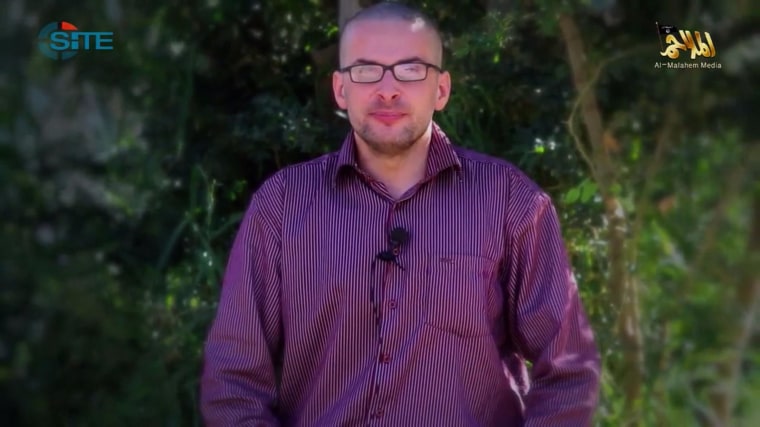 IN-DEPTH
— Sarah Burke and Phil Helsel