The battle for the Syrian city of Aleppo appeared to be turning Tuesday after government forces reportedly wrested a central neighborhood away from one of the rebel groups that has been fighting the brutal regime.
Syrian state television reported that regime forces had taken over the Farafra neighborhood, a once thriving area near the city's famed citadel that has been reduced to ruins.
But the fight was far from over, and trapped rebels told NBC News they would fight to the end.
"We will stay here until we die or we win," activist Ali Abo Al-Jod said. "I lost my whole family, I have nothing else to lose. I will not leave. I will stay here until I die ... this is my city."
The battle for divided Aleppo intensified after the recent collapse of a U.S.-Russia brokered cease-fire, with Syria's military launching a massive new offensive to take back control of rebel areas.
Syrian aircraft have been pounding the city and government troops have been fighting pitched battles with the rebels in the streets, gaining ground only to lose it hours later.
Related: 'Toy Smuggler' Risks Life to Bring Smiles to Aleppo's Kids
Meanwhile, starving residents were struggling to survive in a city where a kilogram of zucchini costs about around 700 Syrian pounds, a kilo of eggplants sells for 850 pounds, and where tomatoes, cucumbers, milk and sugar cannot be bought for any price.
"Prices are very high because of the siege," Al-Jod said.
The new government offensive — and Russia's alleged role in it — have sparked outrage in the West. Diplomats have called the actions in Aleppo "obscene" and suggested Russia might be guilty of war crimes.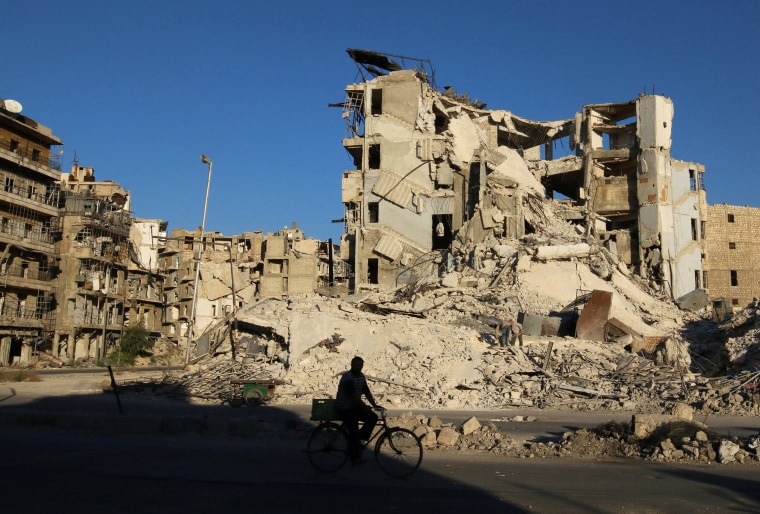 But the Syrian regime has been deaf to pleas to halt its bruising campaign. And the images coming out of eastern Aleppo were horrifying scenes of destruction and bloodshed: children buried in rubble, families torn apart, buildings turned into hollowed-out shells.
The recent Syrian offensive in Aleppo has been described as the worst bombardment since the civil war erupted — and human rights groups warned that the remaining doctors in the city cannot keep up with the carnage.
The World Health Organization called Tuesday for "the immediate establishment of humanitarian routes" to evacuate hundreds of wounded and sick from eastern Aleppo. They said the hospitals are overflowing with the dead and dying and are in urgent need of supplies.
"Aleppo is in a state of emergency as area hospitals have run out of beds and ... equipment is running low," said the Union of Medical Care and Relief Organizations, pleading for support in a statement Monday.
Only 29 doctors remain in eastern Aleppo City to care for around 300,000 people, according to the Syrian American Medical Society (SAMS).
"Hospitals are overwhelmed," SAMS quoted a nurse as saying. "Doctors are conducting major surgeries on the floor without sterilization."
Meanwhile, the State Department announced it would provide another $364 million of aid "for those affected by the war in Syria." Of that money, $205 million is earmarked for the non-governmental agencies working "to meet the needs of displaced persons in the region and inside Syria."
So far, the U.S. has provided more than $5.9 billion in humanitarian aid to the Syrians since the civil war erupted in March 2011.