MOSCOW — Thousands of Russians protested against corruption on Monday, part of opposition leader Alexei Navalny's long-shot drive to unseat President Vladimir Putin at the ballot box next year.
Navalny is aiming to repeat the nationwide protests that rattled the Kremlin three months ago. However, he was arrested while on his way to a rally in Moscow, according to his wife.
The opposition leader was later sentenced to 30 days in jail, his spokeswoman Kira Yarmysh said on Twitter.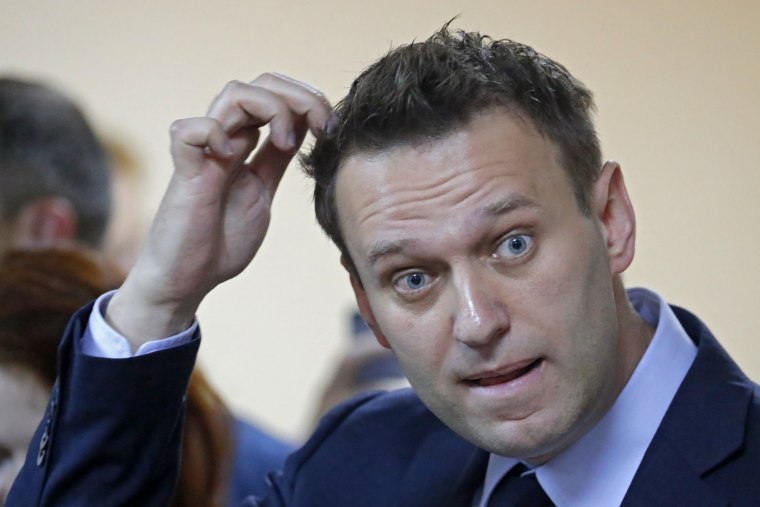 Navalny later said in a tweet, "They stole everything in the country, and moreover, I will mess a Depeche Mode show in Moscow because of them."
The English electronic rock band from the 1980s is on a world tour and playing Moscow on July 15.
The scale and geographical reach of the protests could show if Navalny can build on the success of demonstrations in March calling for Prime Minister Dmitry Medvedev, a close Putin ally, to quit.
Those protests were the largest since a wave of anti-Kremlin rallies in 2012 and resulted in more than 1,000 arrests, putting rare domestic pressure on Putin.
Monday is Russia Day, a public holiday, a factor that may boost turnout. There were men dressed in medieval armor with fur hats and swords. There were replicas of ancient wooden catapults and children were posing for pictures with the actors dressed in period costumes.
Gallery: Police Arrest Over 1,000 in Russia Corruption Protests
As the number of demonstrators grew, and some began chanting — "Putin is a Thief," "Russia Without Putin," and "We Love Russia," —hundreds, if not thousands, of police arrived. They interlocked their arms and batons and marched into the line of demonstrators.
Some of the protesters pushed back against the advance. Within half an hour, both the number of protesters and police swelled further. Then, police started to make detentions, grabbing protesters, picking them off their feet. The police then moved to cut the crowds into sections, a common tactic, moving behind the lines of demonstrators to pen them in.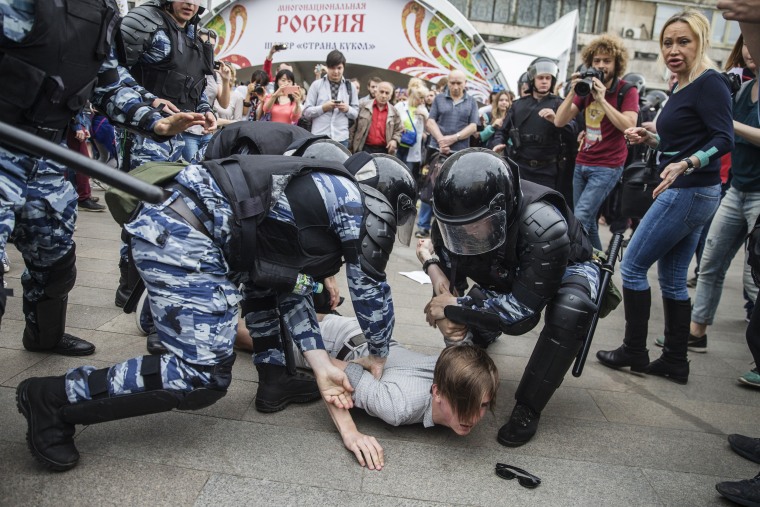 Navalny's website reported Monday that protests were held in more than a half-dozen cities in the Far East, including the major Pacific ports of Vladivostok and Khabarovsk and in Siberia's Barnaul. Photos on the website suggested turnouts of hundreds at the rallies.
Eleven demonstrators were arrested in Vladivostok, according to OVD-Info, a website that monitors political repressions.
Navalny's wife later posted on Twitter that the opposition leader had been arrested outside his Moscow home on his way to the main demonstration in the capital.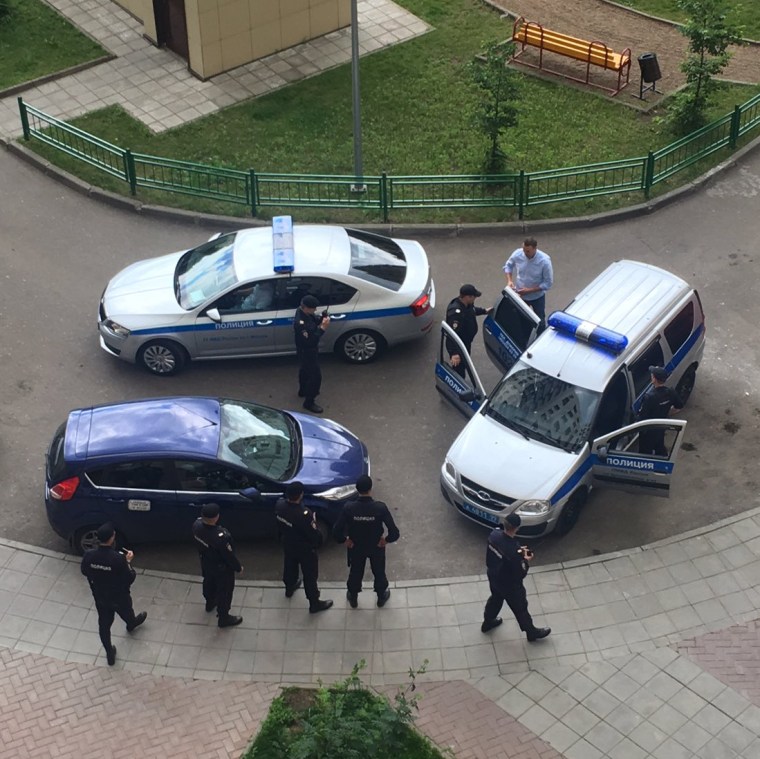 Police later confirmed the arrest, originally saying he could get only up to 15 days in jail on charges of failing to follow police orders and violating public order.
Moscow authorities had agreed to a location for a protest rally in the capital, but Navalny at the last minute called for changing it to one of the city's main thoroughfares, citing interference in building a stage at the agreed-upon rally site.
Switching the venue meant the protest was be illegal in the authorities' eyes and that riot police could potentially be ordered to move in to break it up.
Related: Why Russian Protesters Are Taunting PM With Bath Toys
For now, polls suggest Navalny, who was jailed for 15 days for disobeying a police officer at the last protest, has scant chance of unseating Putin, who enjoys high ratings. It remains unclear too whether the Kremlin will let Navalny run for the presidency.
But the 41-year-old lawyer turned political street campaigner hopes anger over corruption may boost his support.
A video he made accusing Medvedev of owning a giant estate and of living far beyond his means has garnered over 22 million online views to date.
Related: Average Russian Bribe Jumps 75 Percent in a Year, Official Says
Medvedev dismissed Navalny's allegations as politically motivated "nonsense."
In April, Navalny suffered damage to one eye after an attacker doused his face with a green antiseptic liquid.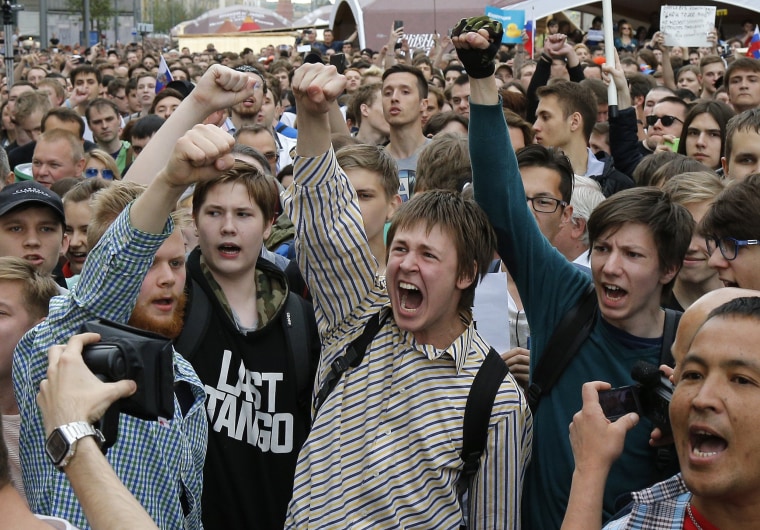 "I want changes," Navalny wrote. "I want to live in a modern democratic state and I want our taxes to be converted into roads, schools and hospitals, not into yachts, palaces and vineyards."
The Kremlin has long sought to cast the opposition as a phenomenon of a privileged, Westernized urban elite out of touch with people in Russia's far-flung regions.
Monday's protests could demonstrate that the opposition has significant support throughout the vast country.