MOSCOW — Russia's main opposition leader Alexei Navalny was given a criminal conviction Wednesday in what he said was a bid to deny him the chance to take on Vladimir Putin in upcoming elections.
Navalny and his co-defendant Pyotr Ofitserov were found guilty of embezzling 16 million rubles ($270,000) in 2009.
Navalny was given a five year suspended sentence and fined 500,000 rubles ($8,500), Ofitserov four years. The sentencing was broadcast live from the courtroom.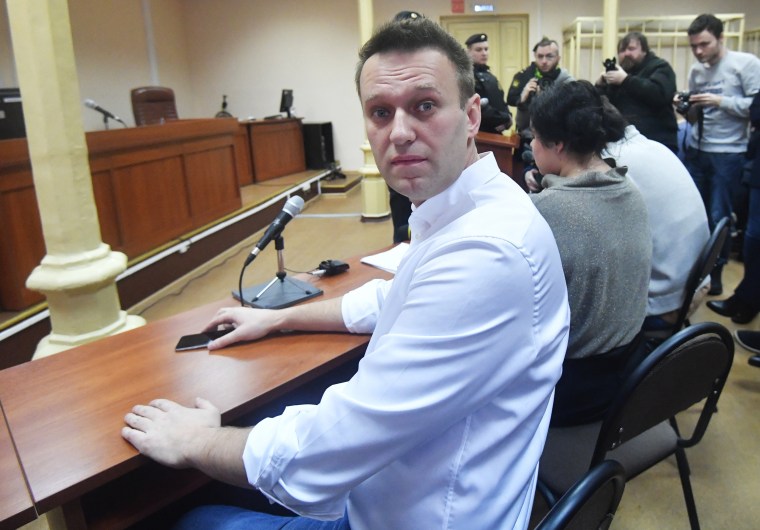 His conviction came in a retrial after the European Court of Human Rights ruled the first trial to be unfair.
People with criminal convictions are ineligible to run for office in Russia. Navalny has repeatedly said the real goal of the trial was to deny him a presidential run.
"We don't recognize this verdict, and it will be overturned," Navalny said after the verdict.
Navalny has faced several criminal cases in Russia, as well as arrests for street protests and defamation lawsuits over his anti-corruption whistleblowing. His brother Oleg was jailed for three-and-a-half years in a separate case, which Navalny also called politically motivated.
"We will go on campaigning regardless of this verdict"
The 40-year-old liberal politician emerged as a rallying point for the Russian opposition during the sweeping street protests against Putin between 2011 and 2013.
Last December, he became the first Russian politician to announce his bid for the presidential elections set for March 2018.
Putin has not said if he's running, although he is widely expected to campaign for what would be his fourth term in office.
Navalny already faced trial on the same embezzlement charges in 2013. Prosecutors said he and Ofitserov forced a state logging company into an unfair deal.
However, the new verdict, voiced by the same court in the northern Kirov region, is identical to the old one, Navalny said on Twitter.
"We will go on campaigning regardless of this verdict," he said in the courtroom.
Kremlin spokesman Dmitry Peskov on Wednesday morning refused to comment on the trial, only calling it a "legal judicial procedure," according to TASS news agency.
Last Thursday, another opposition figure, Vladimir Kara-Murza Jr., was hospitalized in critical condition. He remains in coma.
His wife Evgenia said he was poisoned, according to BBC Russia. Kara-Murza survived a hospitalization with identical symptoms in 2015, and said it was a murder attempt connected to his political activity, which included lobbying for anti-Russian sanctions in the U.S.
Senator John McCain said Tuesday that Kara-Murza's new poisoning "signaled another shadowy strike against a brilliant voice who has defied the tyranny of Putin's Russia."