An all-white, and possibly albino, killer whale has been spotted in seas off eastern Russia, scientists reported Monday, dubbing the adult male "Iceberg."
"In many ways, Iceberg is a symbol of all that is pure, wild and extraordinarily exciting about what is out there in the ocean waiting to be discovered," Erich Hoyt, co-director of the Far East Russia Orca Project, said in a statement. "The challenge is to keep the ocean healthy so that such surprises are always possible."
The researchers, who are studying killer whales in an area that's also seen as an opportunity for oil development, say Iceberg is the first adult, all-white male orca to have been documented.
Young, all-white orcas have been seen before -- including two in Iceberg's pod -- but none has ever been recorded living into adulthood.
Iceberg and his pod of 12 relatives were first spotted off Russia's Kamchatka Peninsula.
"We have no genetic data" on Iceberg's pod, Hoyt wrote in a blog post Sunday, "but we are hoping to meet them again in summer 2012 and learn more about the phenomenon of white whales, why they occur, what it means and whether Iceberg is a true albino — perhaps we can catch a glimpse of a pink eye — or 'just' one of the most beautiful orcas anyone has ever seen."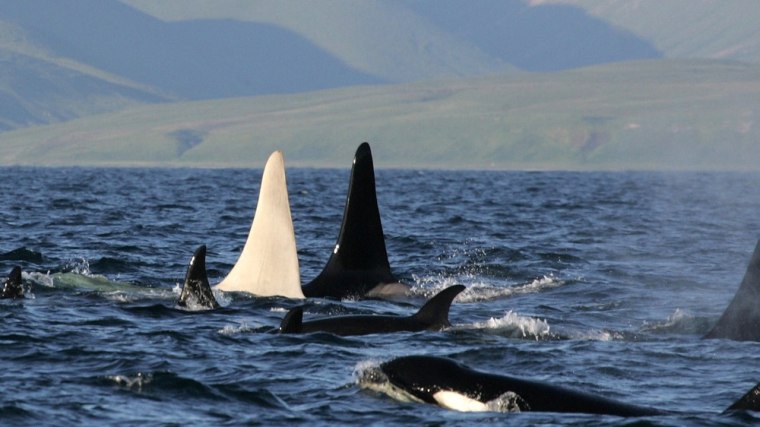 The area where Iceberg was first seen is inside Russia's largest marine reserve and the scientists hope it will be expanded to create a "network of reserves."
"Such a call is in response to local overfishing in some areas, and increased oil and gas exploration, which poses a threat to marine mammals from increasing noise levels, ship traffic and potential oil spills," the scientists stated. "As noise levels increase, the ability of whales to communicate over long distances may be compromised."
More world news from msnbc.com and NBC News:
Follow us on Twitter: @msnbc_world