The man who allegedly paid for the shooting of David Ortiz is on the run, while the man who served as the liaison between the fugitive suspect and the people who carried out the attack is under arrest, authorities in the Dominican Republic said.
Gabriel Alexander Pérez Vizcaíno is the 10th suspect arrested in the shooting of Ortiz. Jhoel López, a local television host, was also injured in the leg by the same bullet that struck the former Red Sox star, known affectionately as "Big Papi."
Court documents said a man who is in prison for an unrelated case reached out to Pérez Vizcaíno a week before the shooting, sending him a picture of the target to pass along to the hitmen.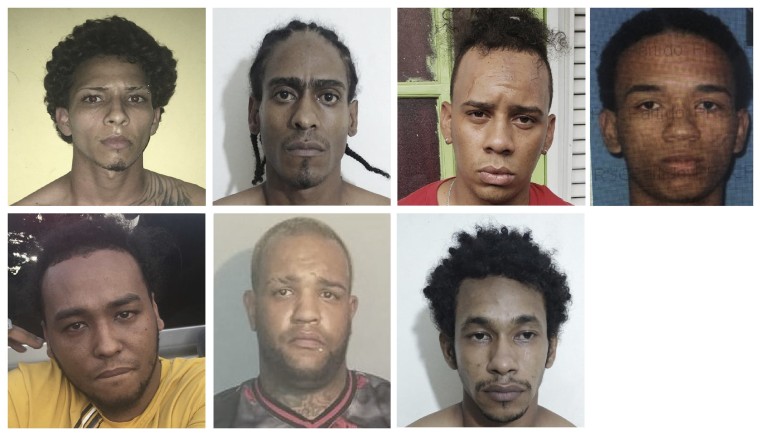 Pérez Vizcaíno allegedly showed the picture to other suspects just minutes before the shooting, which was carried out at a bar in Santo Domingo. Officials have not said if the picture was of Ortiz.
The Dominican Republic Attorney General's Office said the fugitive, Alberto Miguel Rodríguez Mota, paid for the hit.
Authorities have encouraged a second suspect at large, Luis Alfredo Riva Clases, known as "The Surgeon," to turn himself in.
Six people, including the alleged gunman, Rolfi Ferreira-Cruz, 25, also known as Ramon Martinez Perez, were arrested last week. Police said that the group was offered almost $8,000 for the coordinated hit on Ortiz.
Cruz told reporters from jail that Ortiz was not the intended target, according to NBC Boston.
Three more people, Lanny Estefanny Pérez Reyes, José Eduardo Ciprián (Chuki) and Carlos Rafael Álvarez (Carlos Nike), were later arrested for their alleged involvement in the shooting.
Ciprián and Álvarez are already serving prison sentences for other crimes, according to a statement from the attorney general's office.
Ortiz suffered liver damage, and his gallbladder and a part of his intestines were removed following the shooting.
He was airlifted from a clinic in his native Dominican Republic to Massachusetts General Hospital, where his condition was upgraded to good on Tuesday, his wife, Tiffany Ortiz, said in a statement.
"We remain grateful to everyone who has helped David through this ordeal, both in the Dominican Republic and here in Boston," her statement said. "David's journey to good health has been bolstered by the many expressions of love that have come to us from across the globe. Your support has lifted his spirits tremendously during this challenging time."