The man who allegedly organized a botched murder plot in which former Red Sox slugger David Ortiz was shot was taken into custody Friday.
Victor Hugo Gómez was arrested in Santo Domingo for allegedly organizing a hit on his cousin, Sixto David Fernández, Dominican Republican authorities announced. Gómez, a fugitive believed to be part of the Del Golfo drug cartel in Mexico, orchestrated the attack on Fernández but the men who executed the hit mistook Ortiz for him, authorities said June 19.
Authorities said Friday that Gómez called his family in the United States through FaceTime during his arrest and that the family posted a video of the call online. The family also uploaded a video to YouTube on Friday in which Gómez declares his innocence.
Gómez alleged in the video that Fernández was known in Dominican Republic for connecting American tourists with drug dealers and that he had no reason to go after Fernández.
"It's very easy to put the blame on someone else," Gómez said. "I think there's a need for a more profound investigation. But I want to clarify that I have nothing to do with any attacks on Sixto David."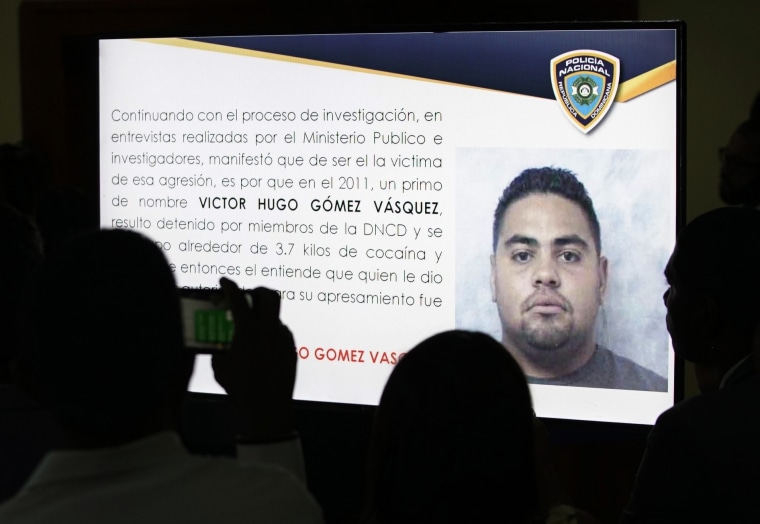 Gómez was allegedly retaliating after Fernández turned him in to Dominican drug investigators in 2011, prosecutors said earlier this month.
Ortiz, known as "Big Papi," was shot instead on June 9 at the Dial Bar and Lounge in his native Dominican Republic, which he visits several times a year. He was flown to a Boston hospital for treatment where he was recently moved out of intensive care, his wife said Saturday.
Gómez was also wanted in the U.S. in a Drug Enforcement Administration investigation into alleged drug trafficking and related crimes called "Operation Wrecking Ball." He was indicted in March on four counts, including possession with intent to distribute 20 kg of cocaine.
Gómez said in his video Friday that he was not home during the raid on his home and that he has not turned himself in to American authorities because he does not have a lawyer.
Another suspect, Alberto Rodriguez Mota, who allegedly paid for the hit, was also arrested while on a boat trying to flee to Puerto Rico, authorities said. Rodriguez Mota was traveling from Samana to Santo Domingo, the national police said.
At least 11 other suspects, including the alleged gunman Rolfi Ferreira-Cruz, have been arrested in connection with the Ortiz shooting. Authorities are still looking for an additional suspect, Luis Rivas-Clase.
Federal prosecutors in New Jersey said last week that Ferreira-Cruz was facing charges in an unrelated case of three criminal counts of conspiracy to distribute heroin and cocaine, possession with intent to distribute heroin and cocaine, and weapons possession.