BEIRUT — Stop calling her George Clooney's fiancée.
While Amal Alamuddin's star rose internationally when she nabbed one of the world's most eligible bachelors — and is destined to climb even higher once she weds the actor in the coming weeks — the London-based Lebanese lawyer has long been a celebrity in the tight-knit and secretive Druze community.
"George Clooney is lucky to have a girl like Amal," said Rafeh Khodr, a restaurant owner in Alamuddin's ancestral home of Baakline, a sleepy town of around 20,000 tucked away in the mountains of Lebanon. "She's very well-educated, and a very well-esteemed person around here."
Some of that can be chalked up to Alamuddin's thoroughbred roots. Her family has long occupied a prominent place among the Druze: Her father is a retired professor at the American University of Beirut, while her mother, Baria, is a well-known former beauty-queen turned journalist with the pan-Arab newspaper Al-Hayat. Plus, they hail from Baakline, birthplace of Emir Fakhreddine, a 16th century Druze prince.
Those credentials bear great weight in the Druze sect, an ancient offshoot of Shiite Islam that boasts a mere 1.5 million followers.
"Family is strong, the village is strong, the area is strong," said Makram Rabah, a doctoral candidate at Georgetown University focused on researching the Druze.
Like many other prominent families, the Alamuddins left Beirut in the 1980s at the height of Lebanon's civil war. They settled in London, with Amal Alamuddin going on to earn a law degree from the prestigious Oxford University and later a Master's degree from New York University.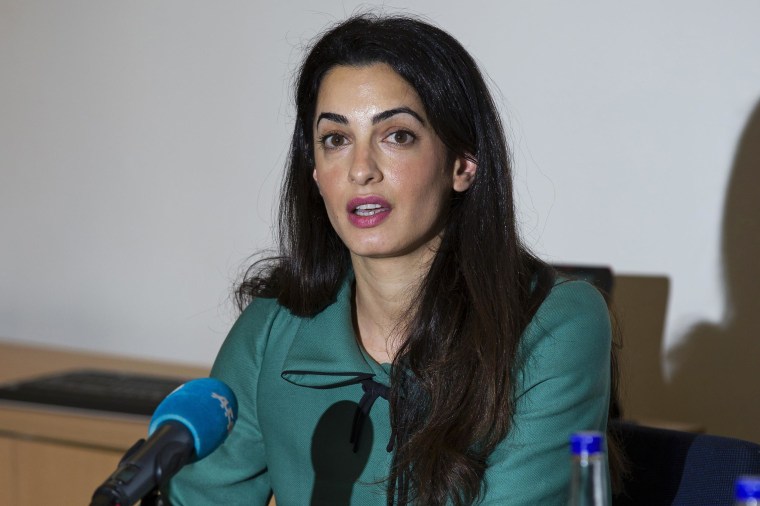 She fully cemented her own star status by taking the world of human-rights law by storm: advising Kofi Annan on Syria and packing her client list with heavyweights such as Wikileaks founder Julian Assange and Ukraine's former Prime Minister Yulia Tymoshenko.
"She is a fabulously bright woman, she's independent, and has a Rolls-Royce mind," colleague Mark Stephens told the UK's Evening Standard newspaper. While the Alamuddin family may have gone on to London, that doesn't mean the Druze community in Lebanon stopped tracking — and cheering — their trajectory.
"The Druze are more tribal than religious, it's a bit like joining a fraternity," said Rabah. He said the Druze feel a "sort of obligation to come to the aid" of their fellow Druze, much like an Ivy League graduate would "feel an affiliation" for fellow alumni.
That would explain why all of Baakline is abuzz over Amal Alamuddin's engagement, and why long after her family left the town, the ties still run deep.
"Amal is an outstanding person and we are very proud of her," Baakline's deputy mayor Jamil Rajah told NBC. "Quite aside from her marriage to George, she has made a name for herself as a talented lawyer."
The fact she is marrying outside the Druze community — which is not typically encouraged — has not fazed her hometown fans. In fact, Clooney blasted the Daily Mail tabloid for writing that Alamuddin's mother opposed the marriage on religious grounds. The actor wrote a scathing editorial saying that the "completely fabricated story" put his family at risk by exploiting "religious differences where none exist."
Alamuddin's mother is not Druze: she is a Sunni Muslim. And while her mixed marriage to Amal Alamuddin's father might have raised eyebrows decades ago, times have changed and Clooney's upcoming nuptials to the hometown star are more than warmly received.
"They would be welcome in my restaurant any time," said Khodr, the restaurant owner. "We wish her a bright future with happiness and good health in her marriage."