Amal Clooney, high-powered human rights lawyer and high-fashion Hollywood wife, swept through Washington this week — bringing the spotlight to a crisis in the Maldives, a honeymoon paradise where her latest client went from being president to prisoner.
The 37-year-old attorney is representing Mohamed Nasheed, who rode a wave of pro-democracy protests into office and led the tiny island nation in the Indian Ocean for three years before being forced out and jailed.
Shuttling from office to office in the U.S. Capitol, Clooney won support for the introduction of a congressional resolution calling for sanctions against members of the Maldives' current regime until they free Nasheed, whose conviction and 13-year sentence has been criticized by the State Department and the United Nations.
In an exclusive interview with NBC News, she took aim at political repression, human rights abuses and rising jihadism in the archipelago, where a $2 billion tourist economy is fueled by pristine beaches, blue lagoons and coral reefs.
"Democracy is dead in the Maldives," said Clooney, who has been doing human rights work for 15 years. "Literally, if there were an election now there would be no one to run against the president. Every opposition leader is either behind bars or being pursued by the government through the courts."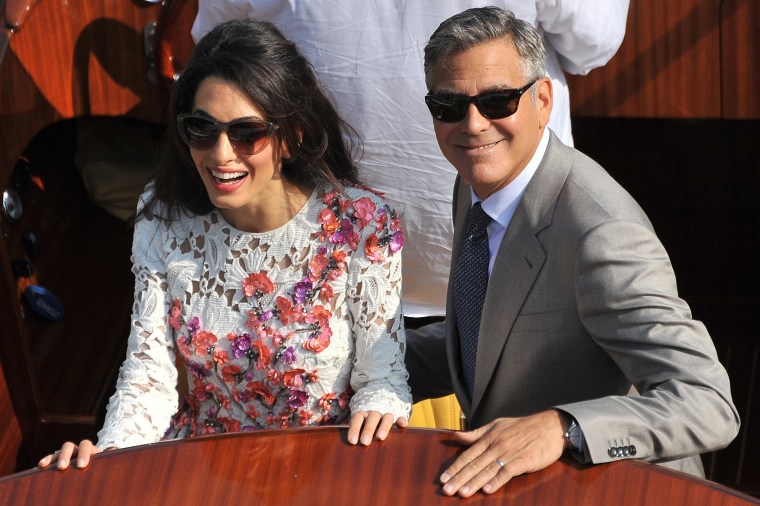 As the Oxford-educated lawyer met with Sen. John McCain and other members of Congress, she was all business. There was no talk about her husband of one year, activist actor-director George Clooney.
But sitting down later, she did acknowledge that her newfound celebrity — a blog devoted to her style choices noted she wore Dolce & Gabbana to D.C. — means more attention for whatever she does on or off the red carpet.
"I think there is a certain amount of responsibility that comes with that," she said. "And I think I'm exercising it in an appropriate manner by continuing to do this kind of work."
In an interesting twist, the Nasheed case has cast Clooney against another accomplished lawyer with a high-profile husband: Cherie Blair, wife of former British Prime Minister Tony Blair.
As international condemnation of Nasheed's imprisonment grew, Blair's firm, Omnia Strategy, was retained by the Maldives government to help "strengthen democratic institutions" and "promote a culture of respect for human rights."
Headlines focusing on the battle between the two women are a "distraction," Clooney said, but she dryly noted that "we don't see that there's been any improvement in the conduct of the government since they hired expensive advisors."
Blair and Omnia declined to discuss their work in the Maldives but the firm said in a statement that it "is intended to support the development of the rule of law in a young nation facing multiple challenges."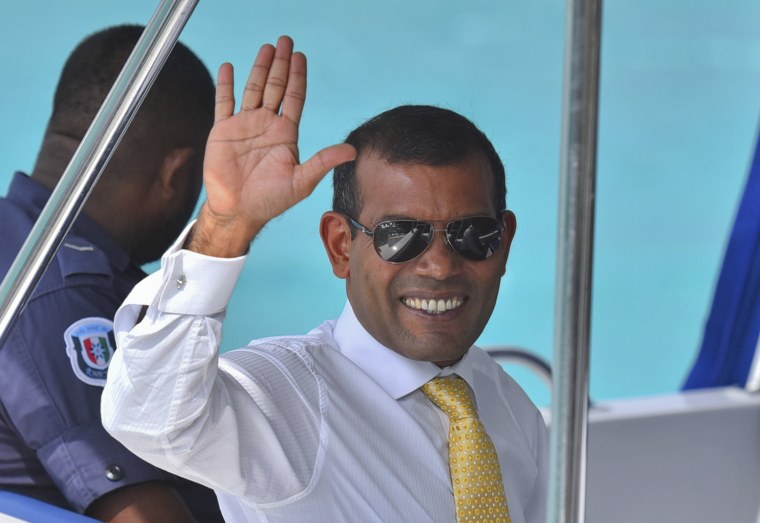 For 30 years, the Maldives was ruled by one man, Mamoun Abdul Gayoom, and during his tenure, Nasheed, a government critic, was jailed 20 times. Three years after returning from self-exile in 2005, Nasheed beat Gayoom in the country's first-ever multiparty elections.
The media-savvy new leader's positions on climate change and democratic reform won him praise from the West and the starring role in "Island President," a documentary about the Maldives, which are only eight feet above sea level, and the threat of rising waters from global warming.
Nasheed didn't finish out his turbulent first term, leaving the presidency in early 2012. The circumstances remain in dispute; the government says he voluntarily stepped down amid a crush of opposition, while he maintains it was a gunpoint coup d'etat.
Either way, he was soon under in custody and charged with terrorism for ordering the arrest of a judge during his time as president. U.N. officials blasted his trial as "clearly flawed" and a "mockery" of the constitution.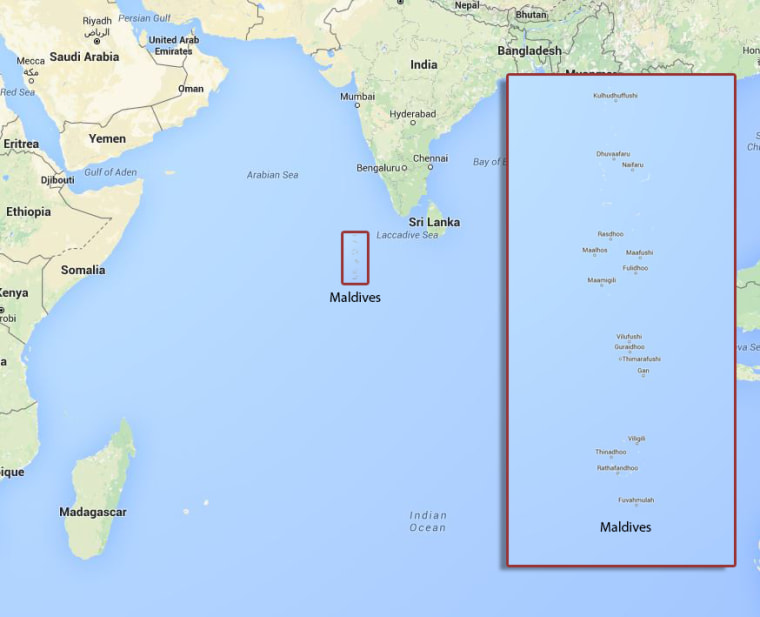 Nasheed's appeal is now with the Maldives' highest court, but Clooney said she has no confidence in the judiciary, where a quarter of the judges have criminal records, according to a 2012 State Department report.
She said sanctions are needed to force the regime — now helmed by Gayoom's half-brother as president — to release her client, whom she is representing for free.
"Here we are a year later, and he still sits in prison," she said.
"And so we're calling on states like the U.S. to now use the tools at their disposal, including targeted sanctions — which means travel bans, which means freezing assets of those officials in the Maldives who are most responsible for human rights abuses."
The Maldives might have only 345,000 citizens and be nearly 10,000 miles from the U.S., but Clooney said what happens there next should matter to all Americans, not just the 25,000 or so that visit its shrinking shorelines each year.
It's on an east-west trade route and just 650 miles from the U.S. military base at Diego Garcia. And it holds the alarming distinction of having the highest per capita rate of ISIS recruits.
According to a U.N. report, at least 200 people from the Maldives have joined the terror gang in Syria and Iraq — the equivalent, Clooney says, of 14,000 Australians running off to the caliphate.
She notes that before the powers-that-be in the Maldives hired Omnia, Blair's partner in the firm, lawyer Toby Cadman, warned that the country risked becoming a "pariah state."
At the time, Cadman was submitting a proposal through his private practice to represent Nasheed. He branded the prosecution "a politically motivated show trial aimed at cementing further an already authoritarian regime" and said he saw "clear signs of a military dictatorship, rising Islamic fundamentalism and abuse of women in the Maldives."
Six months later, Omnia began advising the regime — which Clooney called "rather surprising." Asked how he could square his earlier criticism with his current representation, Cadman pointed to a statement that explained he based his pitch to Nasheed on information he now believes was "inaccurate.'
He declined to respond to Clooney's argument that democracy in the Maldives had worsened since Omnia was brought on board, but Omnia has said sanctions are unjustified.
"I have always maintained that this matter can be and ought to be dealt with before the Courts, and you will note the matter is currently pending before the Supreme Court," Cadman wrote in an email to NBC News.
The Maldives government did not respond to two inquiries from NBC News passed on by its U.N. mission in New York.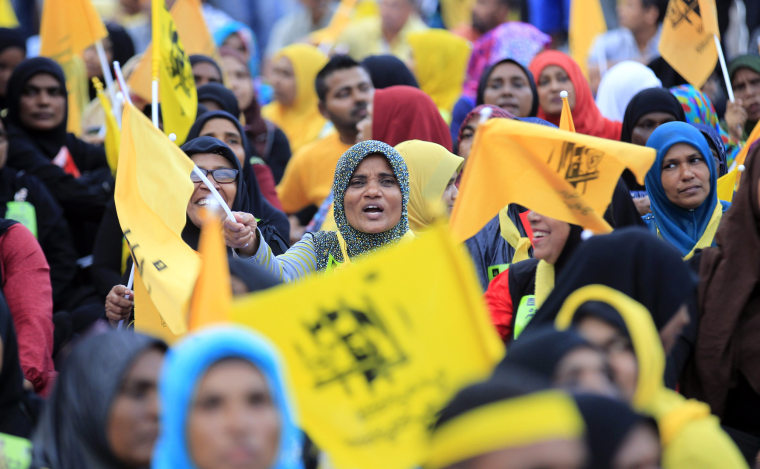 Clooney has only met Nasheed once, during a September visit to the Maldives. Days before she arrived, her local co-counsel was ambushed and stabbed in the head.
"It was actually a miracle that he survived," she said. Asked whether the attack could have been seen as a warning to her, she said, "I think that's a very plausible interpretation, given the timing."
"It wasn't the most comfortable position to be in, but I was determined to go," she said.
She said she was bringing that same determination to Washington, pushing the Obama administration to freeze personal bank accounts and ban travel by regime officials, without imposing sanctions on the Maldives itself.
"We know that the Maldives isn't typically on the top of people's to-do list, so we're encouraged that we got such high-level meetings with some of the people we're meeting today," she said before a face-to-face on Tuesday with Rep. Joseph Crowley, D-N.Y.
Then it was onto Sen. Chris Murphy, who raised some questions about whether the U.S. needs to apply sanctions more evenly across the globe, followed by meetings with Sen. Patrick Leahy, a Democrat from Vermont, and Rep. Chris Smith, a Republican from New Jersey.
The next day, her team met with McCain, who promised her, "We'll go to work on it."
As they navigated the corridors of power, Clooney was joined by her co-counsel, Jared Genser, a veteran human-rights attorney and founder of Freedom Now, who has represented some 40 prisoners of conscience, including Nobel Peace Prize winners Aung San Suu Kyi and Liu Xiaobo.
Genser, who is also working pro bono, described Clooney as "just like any other fabulous partner."
"I think we make a great team. I think it makes it very difficult for the government of the Maldives to run away," he said.
Clooney said she's not going anywhere, either.
"We'll keep pushing until we get him released, which is what the U.N. has said should be done. We are not gonna give up," she said. "It could be still be a long wait ahead. I hope it's not. But we'll keep pushing."