LONDON — The ex-president of the Maldives, jailed more than a year ago after a trial condemned as a "mockery," was reunited Thursday with his wife and the human-rights lawyers who have been lobbying for his release.
The current government of the island nation gave Mohamed Nasheed permission to travel to London for spinal surgery just days after attorney Amal Clooney, in an exclusive interview with NBC News' Cynthia McFadden, made the case for sanctions to win his freedom.
Clooney, who is married to activist actor-director George Clooney, and her co-counsel Jared Genser were waiting at London's Heathrow Airport when a beaming Nasheed, 48, arrived from a stopover in Dubai.
"I feel strange and uncertain. Just two days ago I was in solitary. And now I'm able to be free, at least right now," Nasheed said. "I'd like to thank everyone who made this possible. Especially my lawyers. Everyone —the people of the Maldives who worked so hard."
Clooney said Nasheed's arrival in London brought him "one step closer to justice."
"But there's still a lot to do," she said. "There are still grave problems in the Maldives and we have a lot to discuss."
"We have miles to go," Nasheed added.
Watch Amal Clooney's Exclusive Interview with NBC News' Cynthia McFadden
Nasheed served three years as president after winning the Maldives' first democratic elections, then left office in what he says was a gunpoint coup and what the government claims was a voluntary resignation.
He was charged with terrorism for ordering the arrest of a judge while he was president and sentenced to 13 years. A United Nations official said the trial was a "mockery" of the tiny nation's constitution and a U.N. panel called for his release.
Despite criticism from Britain, the United States and other countries, the regime running the Maldives refused to free Nasheed, whose wife, Laila Ali, and children have been living in self-exile in Britain.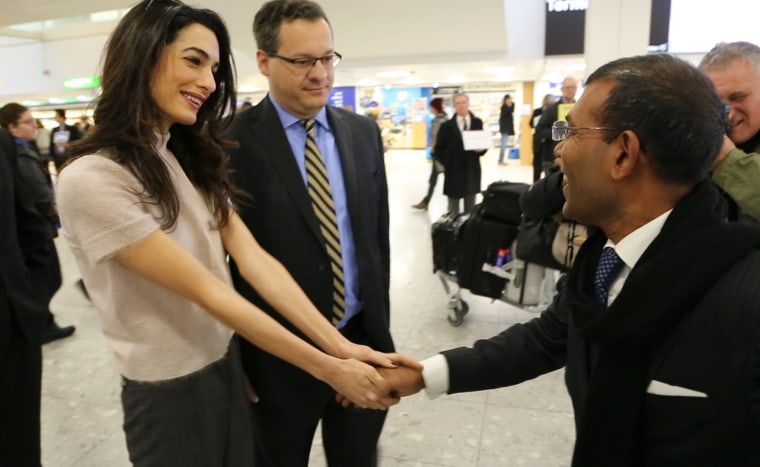 Last week, his legal team traveled to Washington and met with Obama administration officials and members of Congress to push for targeted sanctions against the Maldives leaders unless they agreed to let Nasheed go.
Within days, the government announced that it would allow Nasheed travel to the United Kingdom for back surgery, but that he had to return to finish out his sentence within 45 days.
Foreign Minister Dunya Maumoon told NBC News earlier this week that she has no idea if Nasheed will come back and would not say if the Maldives would press for his extradition if he balks at returning.
She called him a "convicted criminal" and said Clooney's assertion that "democracy in the Maldives is dead" was "factually untrue."