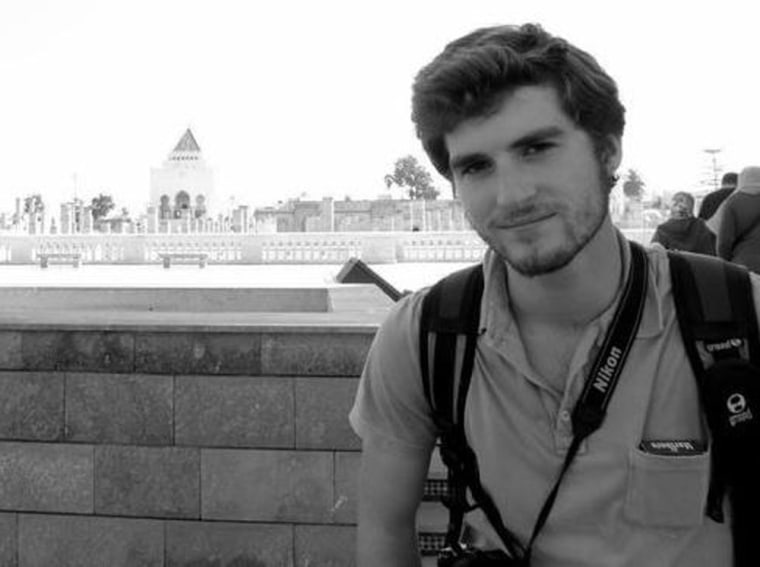 The American college student killed Friday amid bloody protests in Egypt was in the country teaching young children English and bettering his Arabic speaking skills, family members said.
Andrew Driscoll Pochter, 21, a student at Kenyon College in Gambier, Ohio and a native of Chevy Chase, Md., was killed in the city of Alexandria during clashes between anti-government demonstrators and supporters of President Mohamed Morsi, the college said in a statement.
Pochter was apparently watching the violent protests as a bystander when he was fatally stabbed by an unidentified protester, his family said in a statement uploaded to Facebook.
"He went to Egypt because he cared profoundly about the Middle East, and he planned to live and work there in the pursuit of peace and understanding. Andrew was a wonderful young man looking for new experiences in the world and finding ways to share his talents while he learned," the statement reads.
Gen. Amin Ezzeddin, a senior security official in Alexandria, told Reuters that Pochter was using a mobile phone camera near an office of Morsi's Muslim Brotherhood as it was being ransacked by protesters. He died at a military hospital, Ezzeddin said.
Pochter, a religious studies major, was due at the end of the summer to begin his junior year at Kenyon, a liberal arts college northeast of Columbus, Ohio. He was planning to spend his spring semester abroad in Amman, Jordan, his family said.
The college said in an online statement that Pochter was an intern at AMIDEAST, an American non-profit organization "engaged in international education, training and development activities in the Middle East and North Africa," according to the group's website.
The AMIDEAST internship is not affiliated with Kenyon, the college said.
"Andrew represented the best of his generation of young Americans. He was concerned about the state of the world and wanted to improve it," AMIDEAST President and CEO Theodore Kattouf said in a statement. "It is hard to imagine such a senseless base act occurring to someone trying to accomplish something so noble."
Two years ago, Pochter lived with a host family in Morocco, according to an article he wrote for the Al Arabiya News in June 2011. The article centered on the promise of the Arab Spring protests that ousted President Hosni Mubarak of Egypt earlier that year.
"By their participation in community protests, members of my host family and friends are trying to reinvent themselves as members of their society and changing how the rest of the world perceives them," Pochter wrote, referencing his Moroccan host family. "By voicing their opinions, they can help shape the true face of this Moroccan generation, not by what the media say."
Pochter was one co-manager of the Hillel House, a campus Jewish group with chapters across the country, according to a November 2012 article in The Kenyon Collegian, the student newspaper. He was also a member of the Middle Eastern Students Association, according to the college.
"He was one of the rare kids who lived what he believed," Kenyon Hillel director and Jewish chaplain Marc Bragin told the college, according to an online obituary. "His belief was that everyone should be included, everyone had a voice, and no one should be left out because what they think is different than what others think."
The U.S. State Department on Saturday confirmed Pochter's death and offered sympathy to his loved ones.
"We extend our deepest condolences to his family and friends. We are providing appropriate consular assistance from our Embassy in Cairo and our Bureau of Consular Affairs at the State Department," said department spokeswoman Marie Harf.
At least 80 other people have been injured in the Alexandria protests, Egyptian state news agency MENA reported.
The protests are part of the buildup to nationwide "June 30" demonstrations marking a year since Morsi's election. Morsis opponents hope to force early presidential elections, citing a range of social and economic issues.
Morsi's supporters have promised that they will also take to the streets to defend the Muslim Brotherhood-backed government.
"There are no services. We can't find diesel or gasoline," Mohamed Abdel Latif, an accountant, told Reuters. "We elected Morsi, but this is enough."
NBC News' Charlene Gubash contributed to this report from Cairo, Egypt. M. Alex Johnson and Jeff Black also contributed.
Related: